WEDDING WISDOM: BRIAN & JOHN
Who better than your ex to introduce you to the "man of your dreams?"
Brian and John were both in long-term relationships when they met. Brian had been in his for 8 years, while John was in his for 6. They were introduced through John's ex whom Brian knew socially on the Chelsea gay scene, while both were in their respective relationships. The couple hadn't seen each other in years and had been broken up with their ex-boyfriends for a couple of years. But, as fate would have it, their paths crossed again at Barracuda, a celebrated gay bar in New York City. Never mind that Brian didn't recognize John who had turned into quite the silver fox, and a sly one at that as he did remember Brian! And, so began their relationship.
Fast-forward five years to Paris, where John proposed on a boat on the Seine. "John knew that I wanted to be married, so it was going to be he who'd do the asking," said Brian. "It was very romantic for a man who isn't necessarily so." John wished for an intimate wedding without all of the pomp and circumstance. John had City Hall in mind. One year into their engagement, on the occasion of their 6th anniversary, Brian set to planning the wedding.
All. By. Himself!
Well, almost! John wanted a small wedding, but his and Brian's circle of family and friends made a small wedding impossible. And, having explored the idea of a destination wedding – both as a means for embracing John's native Canada and trimming the guest list – the couple decided on New York City. "Actually, getting married in the City just made it easier," said Brian. "But when I told John what the budget would likely be, he nearly had a heart attack!"
So, Brian set out to planning a luxe NYC wedding on a budget, no easy feat. After scouting 10 venues, interviewing four and sharing two with John, the couple decided on the Harold Pratt House, a townhouse on Park Avenue. "The venue was the inspiration for the Art Deco, Gatsby theme of our wedding."
Next, Brian selected Emily's Catering Group. Being based in Connecticut made catering far more affordable, without compromising the elegance Brian was keen on giving his and John's guests.
Thumbtack, the online professional listing service, and New York Magazine Weddings listings, proved the sources for flowers, music, and the photobooth. Brian tapped an old friend, a fixture on the NYC dance scene, to DJ. And, Justin McCallum was their photographer. (We will be profiling him later this month!) Next, armed with a can of spray paint, vases, candlesticks and more, collected from every thrift store, flea market and Salvation Army in NYC, Brian created the perfect table centrepieces. "I really got into finding this stuff." And, through Zazzle and Michael's, he created all of the signage and couple imagery that completed the wedding's look. "But the Harold Pratt House was so beautiful, all it really needed was candles and flowers."
Brian pointed out: "About ten days before the wedding, we had a walk through with all of our vendors. One of them said: 'we've got it from here. You've selected great partners and we are going to do a great job for you.' And, so I let them!"
Guests, decked out their Art Deco finest, witnessed Brian escorted to the ceremony by his Best Woman, Shelly (whom he cleverly dressed at Rent the Runway) and Best Man, Jim, while John was escorted by his long-time friend, a general in the Canadian Air Force. Together, the wedding party cut quite a pose, rivalled only by the guests in their finery.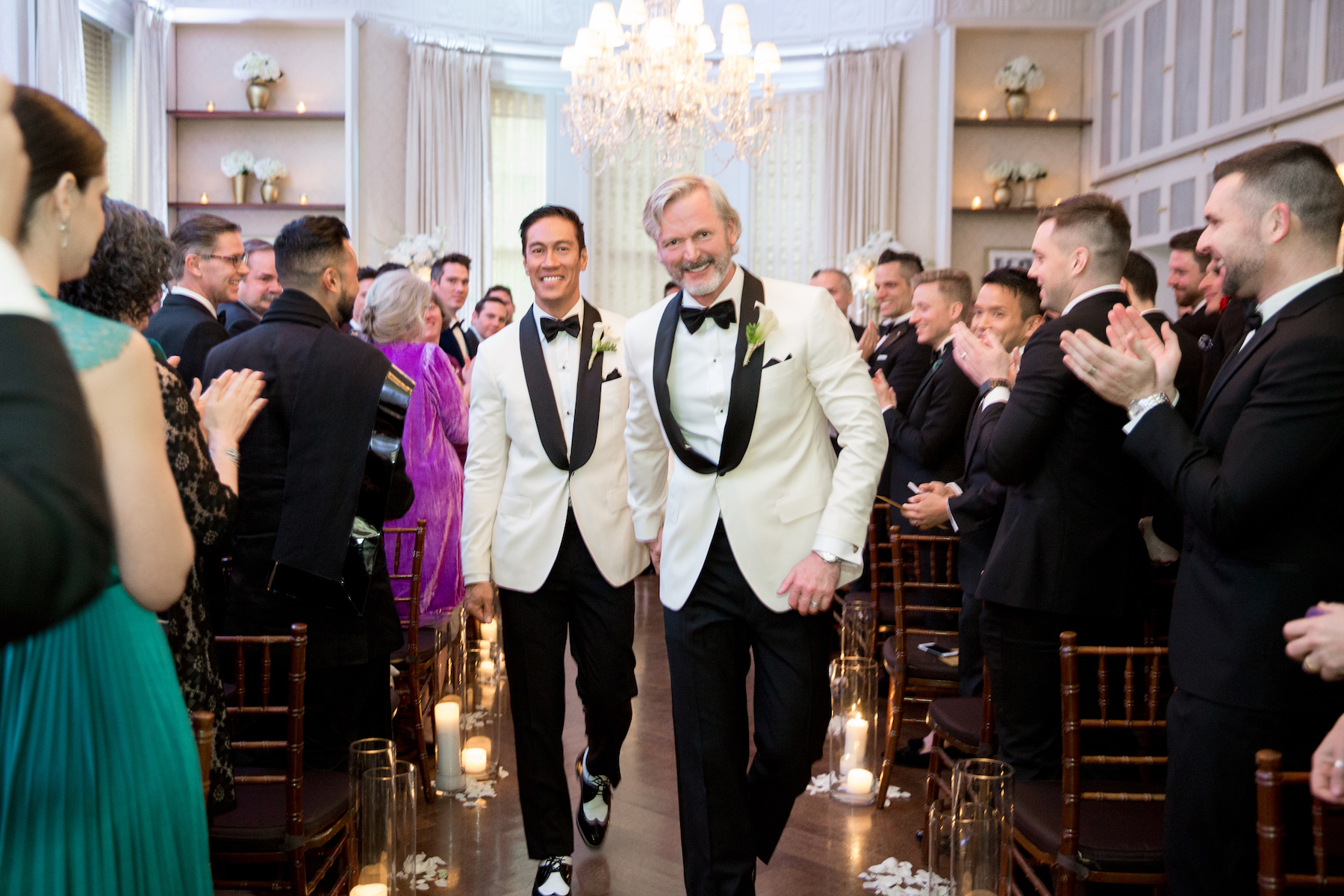 The ceremony was presided by one of the couple's gay friends, Rich, who led a ceremony that John created. John is Anglican and Brian is Roman Catholic, and both drew from their religions for the ceremony: their vows John selected from the Anglican Book of Common Prayer, Brian included the lighting of a unity candle in the ceremony. Also, Brian celebrated the differences between them with words about how opposites attract. Even their hashtag, #brianandjohnsayido, was meant to be deliberately traditional.
Brian and John walked down the aisle leaving the ceremony to join their guests for a roving event throughout the venue: cocktails in one room, dinner and dancing in another. Their first dance was to Lee Ann Womak's "I Hope You Dance," which they started dancing to in its original two-step beat (Brian and John like are known to enjoy a twirl 'round New York's Flaming Saddles), but then had remixed to a decidedly more dance-friendly track which everyone joined in for. And from that point onwards, the dance divas took over the playlist and the dance floor. "Before you knew it, six hours had gone by!"
"Everything was exactly as we'd hoped for – except for the candles that weren't lit along the stair rail! While we created the wedding that we wanted – one that John very sweetly recognized as being down to my efforts - we ultimately did it for our guests," said Brian.
"I am proud of the relationship and to call John my husband. It feels like a weight has been lifted. Everything that was meant to be now is."