ENGAGEMENT STORY: ADAM & BRIAN
Adam and Brian met at work. Adam was a stylist and Brian a shampoo tech at a hair salon in Virginia Beach. And, despite Brian not being out, the pair found themselves spending more and more time together, developing a meaningful friendship and unfolding Brian's coming out story. It wasn't long before the two committed to each other as a couple.
On their three-year anniversary, Brian asked Adam for dinner at Waterman's. While a great restaurant, it wasn't one that Adam would have considered "an anniversary restaurant," but Brian remembered it as the place the couple had their first date. After their nice dinner, Brian invited to a new happening restaurant and art space called, Esoteric, where Brian wanted to show Adam its latest exhibit.
Much to Adam's surprise, said exhibit was a series of paintings Brian had made of the couple's time together. On each wall, scenes from the 4-hour car ride in which they realized they'd fallen for each other to a portrait of the two with their dog to a collage of movie ticket stubs for every single movie they'd seen together to another collage of every love note that Brian left for Adam before their workday begun. The last painting was of a ring.
After a long speech explaining what life had become for Brian with Adam as part of it, he got on bended knee and proposed to Adam. The ring was by Minter & Richter, made from koa and maple wood.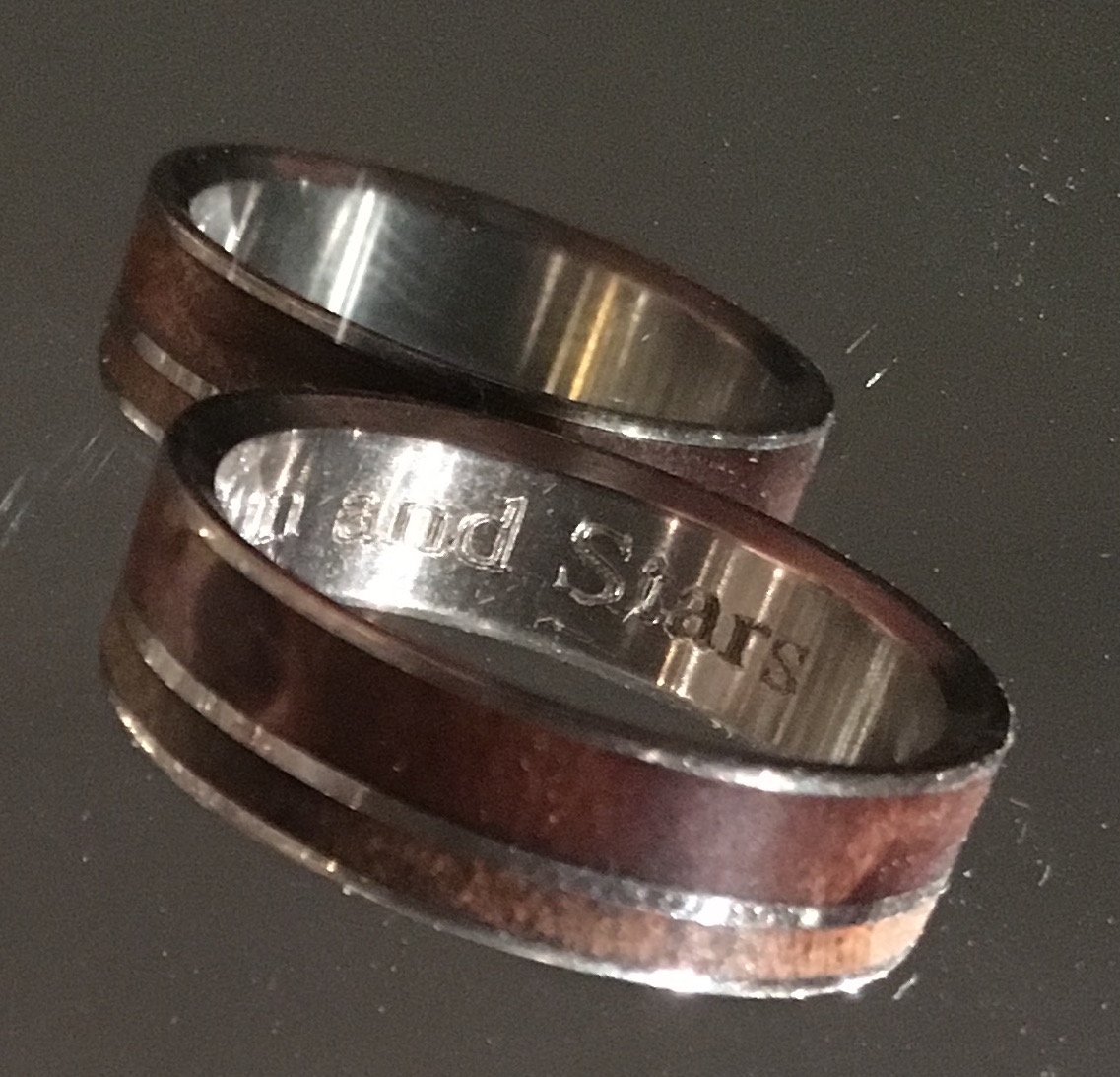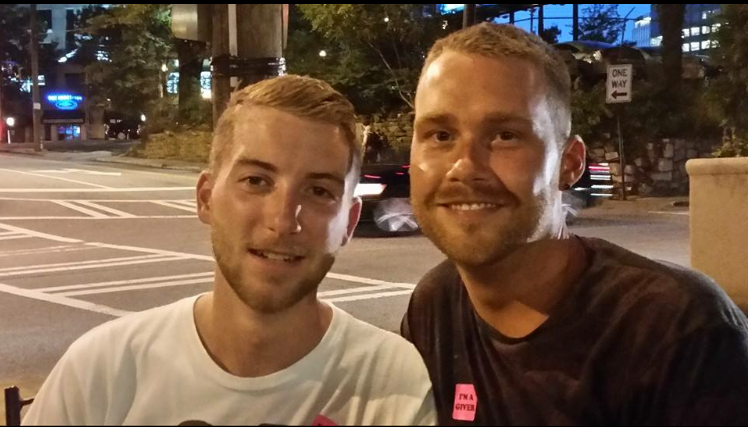 Adam has commissioned a ring for Brian made from buffalo horn, maple wood, inlaid with white concrete holding wood chips from his grandmother's front porch.
"While I thought our anniversary could be the moment for an engagement, Brian has always been incredibly creative so a gallery exhibit of our life was in keeping with any number of experiences he'd created before," said Adam.
For most, this would have been the ideal culmination of a pretty fantastic proposal, but not for Brian. Awaiting the couple back at their home was every one of their friends and family in a their backyard made to look like "Pinterest had thrown up!" Brian and their friends had created the décor from scratch, "literally under my nose, pretending it was for their goddaughter's photo shoot," Adam said. "It looked absolutely amazing."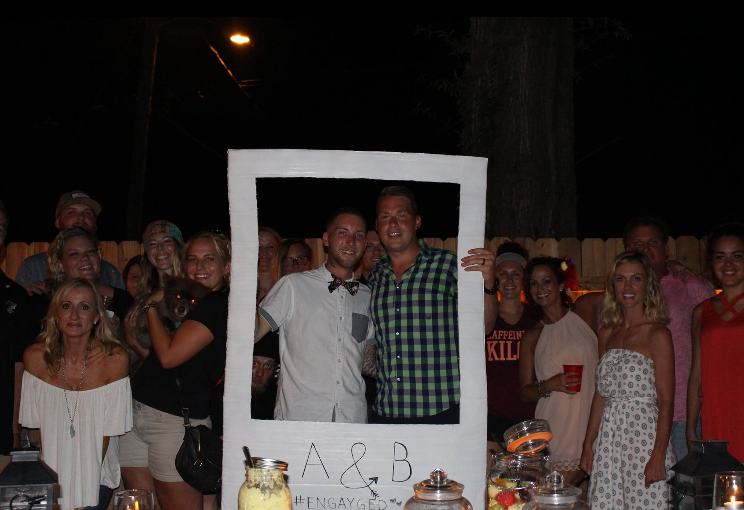 The engagement didn't stop there! Months prior, Brian had arranged for the couple to visit Brian's gay uncles in Atlanta and then on to see his grandfather in Panama City. While in the Atlanta airport, Brian surprised Adam with a trip to Paris and Barcelona.
This couple rolled an engagement, reception and a honeymoon all into one incredible event. "He keeps me fun and enjoying life."
But, we already know that there is more in store for Brian and Adam's wedding that will take place in Panama City next October. Planning is underway for a "laid back" and "masculine" weekend that will culminate with the couple marrying under the Spanish moss surrounded by loved ones.
"Though our backgrounds are very different, we have a strong foundation coming from our military families and the fact that Brian grew up with two gay uncles and my father is now openly gay and married to a man. We have a very supportive community around us."
Would it that all of our engagement stories were as romantic, creative and dynamic as Adam and Brian's! We look forward to sharing their wedding with you all next year! Let's hope Pinterest keeps it together!!