ENGAGEMENT STORY: BEN & ELIJAH
What is it about rain that makes for romance? Well, for Ben and Elijah the rain on their first date helped wash away their inhibitions and let their true colors show.
The two started chatting with each other online three years ago as Ben was moving from his native Colorado to Tennessee. "I always just say it was a lucky day because without all these apps, we probably would not have met due to living in different cities," said Ben. Two months into their chat, the couple decided to make their first face-to-face meeting a picnic. The weather had other plans, though. Thunder and lightening prompted Elijah to tell Ben of how trees in this weather turn up their leaves to protect themselves from the impending storm. "I thought it was the nerdiest thing in the whole wide world, but he was super cute the way he told this story. That was when I let all my defenses down," said Ben.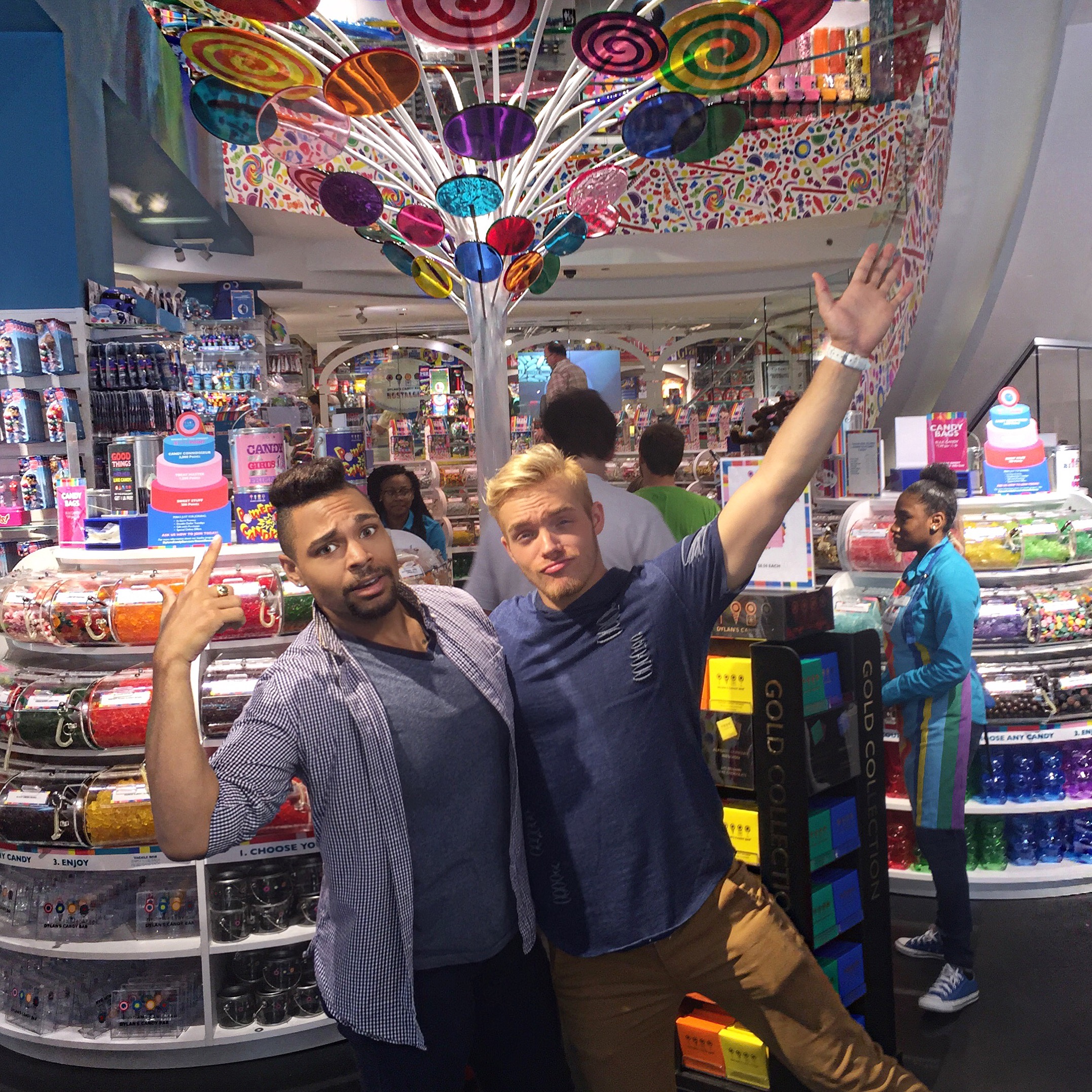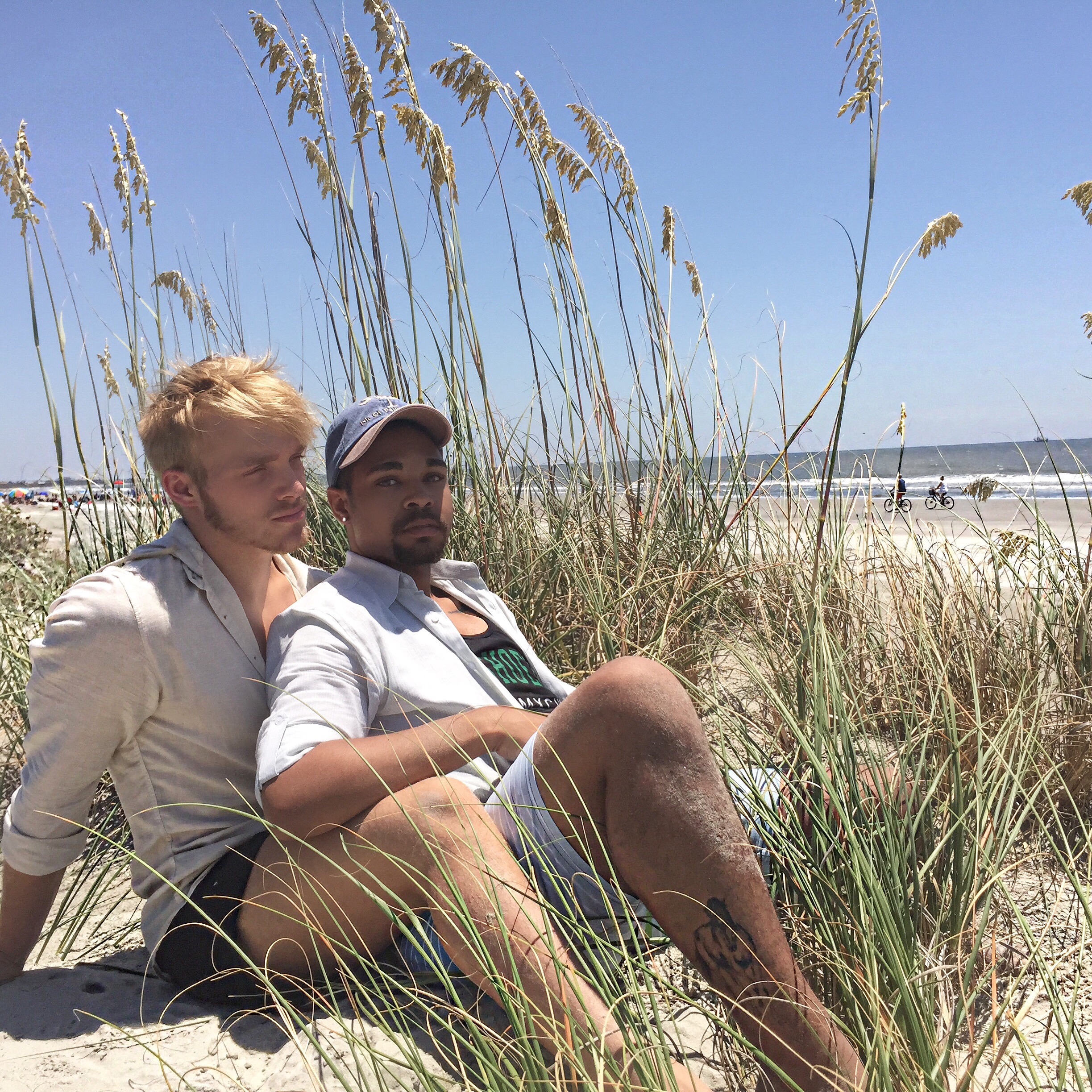 Speaking about Ben, Elijah said: "Online he was the biggest goofball, but in person he was so sophisticated and down to earth, that he made me feel so comfortable and open up," Apparently so, as the two sat in the rain drinking coffee and really talking. "We'd gotten all of the small talk out of the way online, " Elijah went on.
Their next date found them outdoors again on a hike to Look Rock and the views of the Smoky Moutains and Tennessee Valley. "We spent two or three hours chatting, dipped our feet into the lake and then to dinner to meet my friend Anna," said Ben. "My friends are almost too involved in my life, so it was important for them to meet Elijah early. Anna loved him off the bat because he's so genuine." The love was mutual.
(Photos by T&K Photography)
As friends often do, they opine and when Ben and Elijah decided to "make it official" after their third date, their friends' opinion was the two were moving too quickly. But, as Ben explained, "I knew what I felt for this guy and I was going to jump on it."
Elijah got to know Ben's family by dint of the fact that Ben was living with and taking care of his elderly parents. By contrast, Elijah was not yet out of the closet to his very religious parents. "It went better than I'd thought, but they said I could not bring Ben over, which was not an option." As a result, the two spent more and more time together.
About six months ago, Ben started making his wish to be engaged know the age-old way: from snide comments about not being able to officially live together without a ring all the way to leaving magazines open to pages featuring engagement rings! But, when Christmas last year rolled around, Elijah was ready to make Ben an honest man.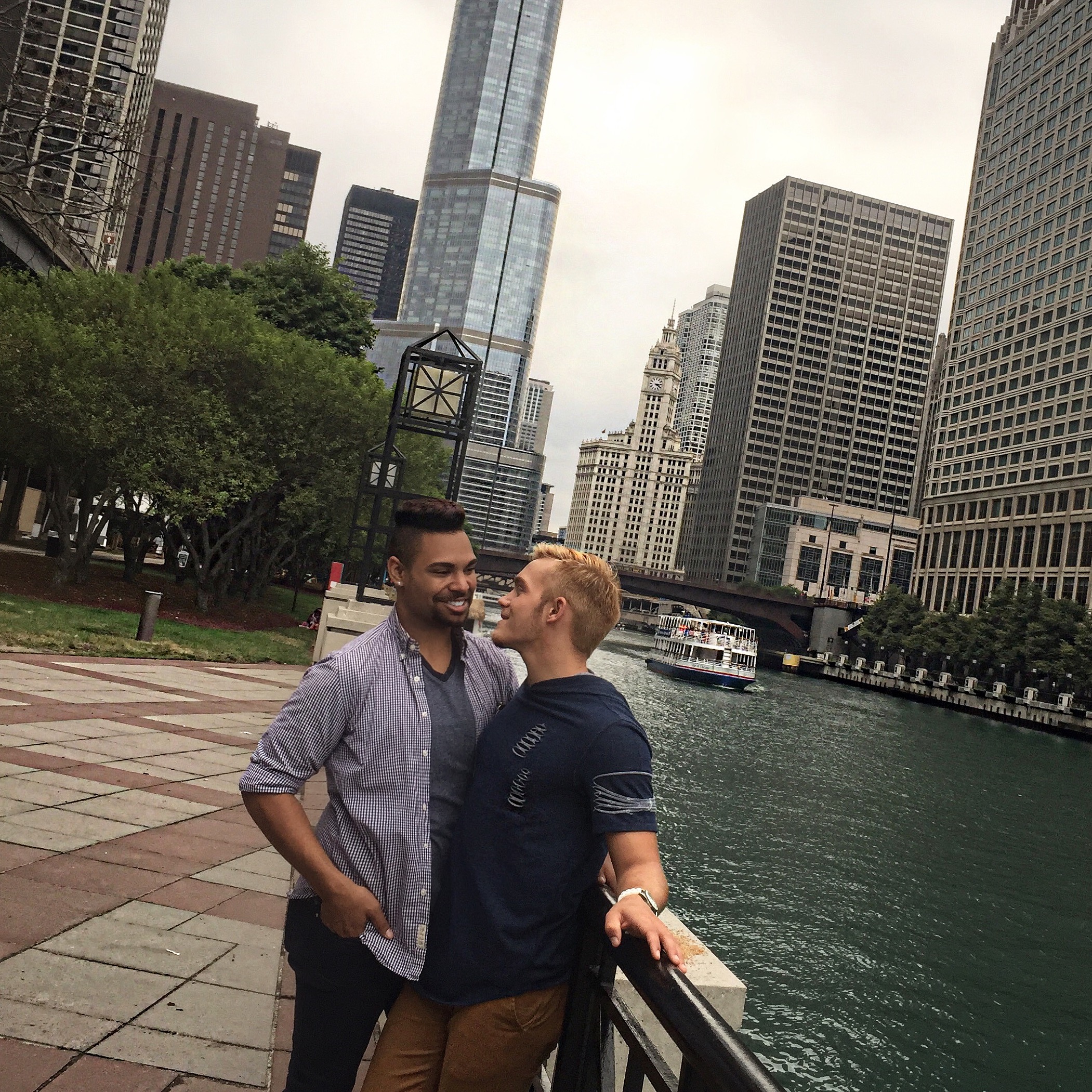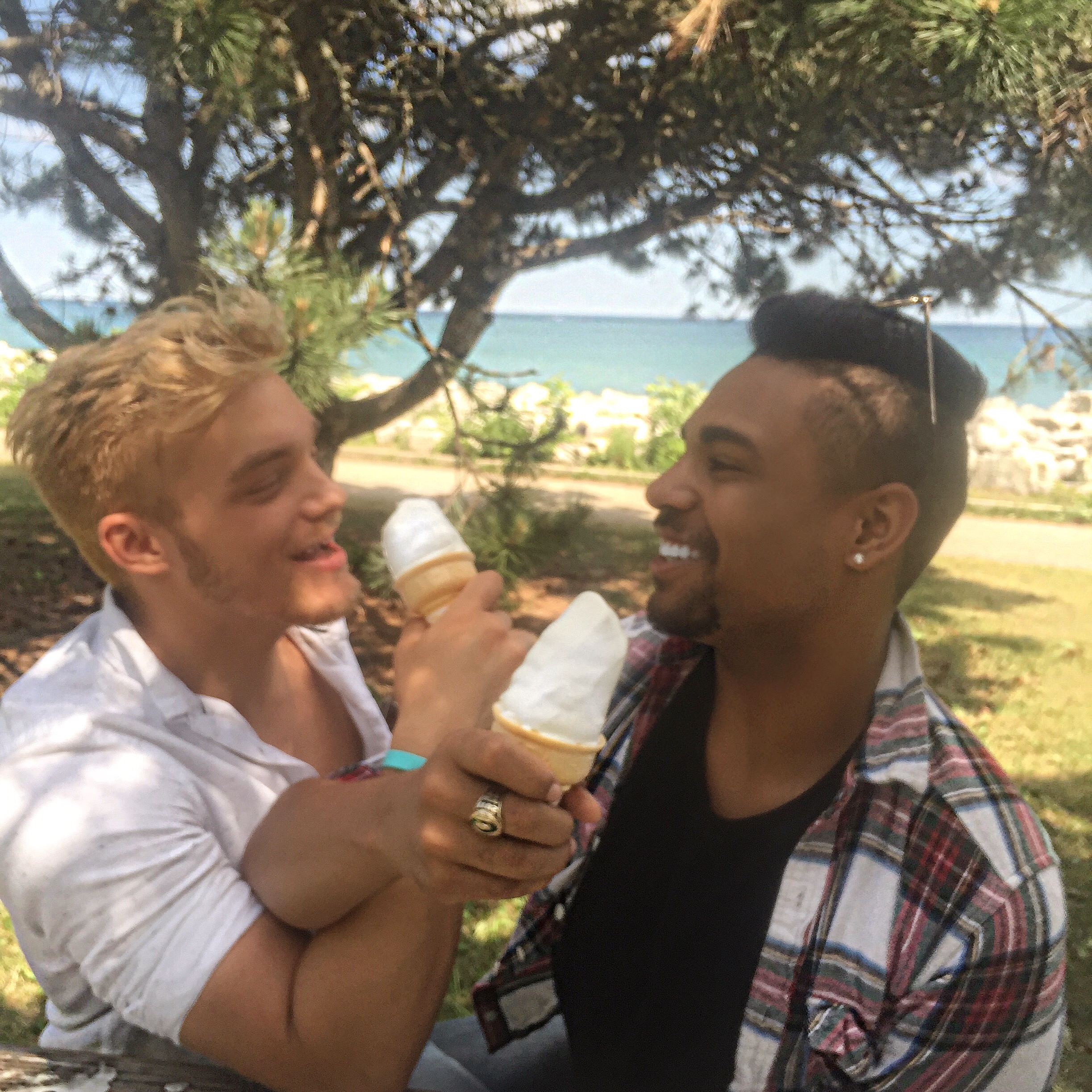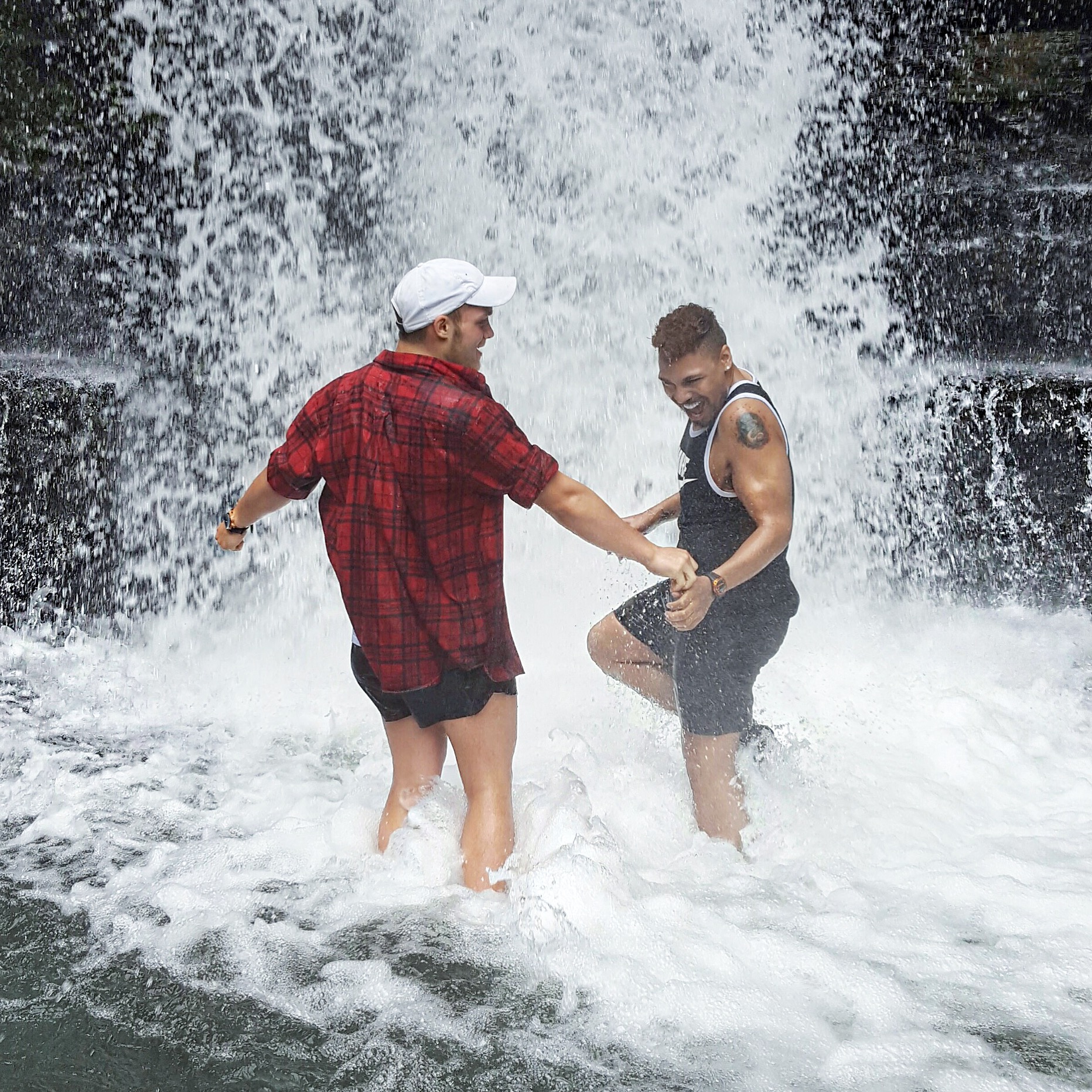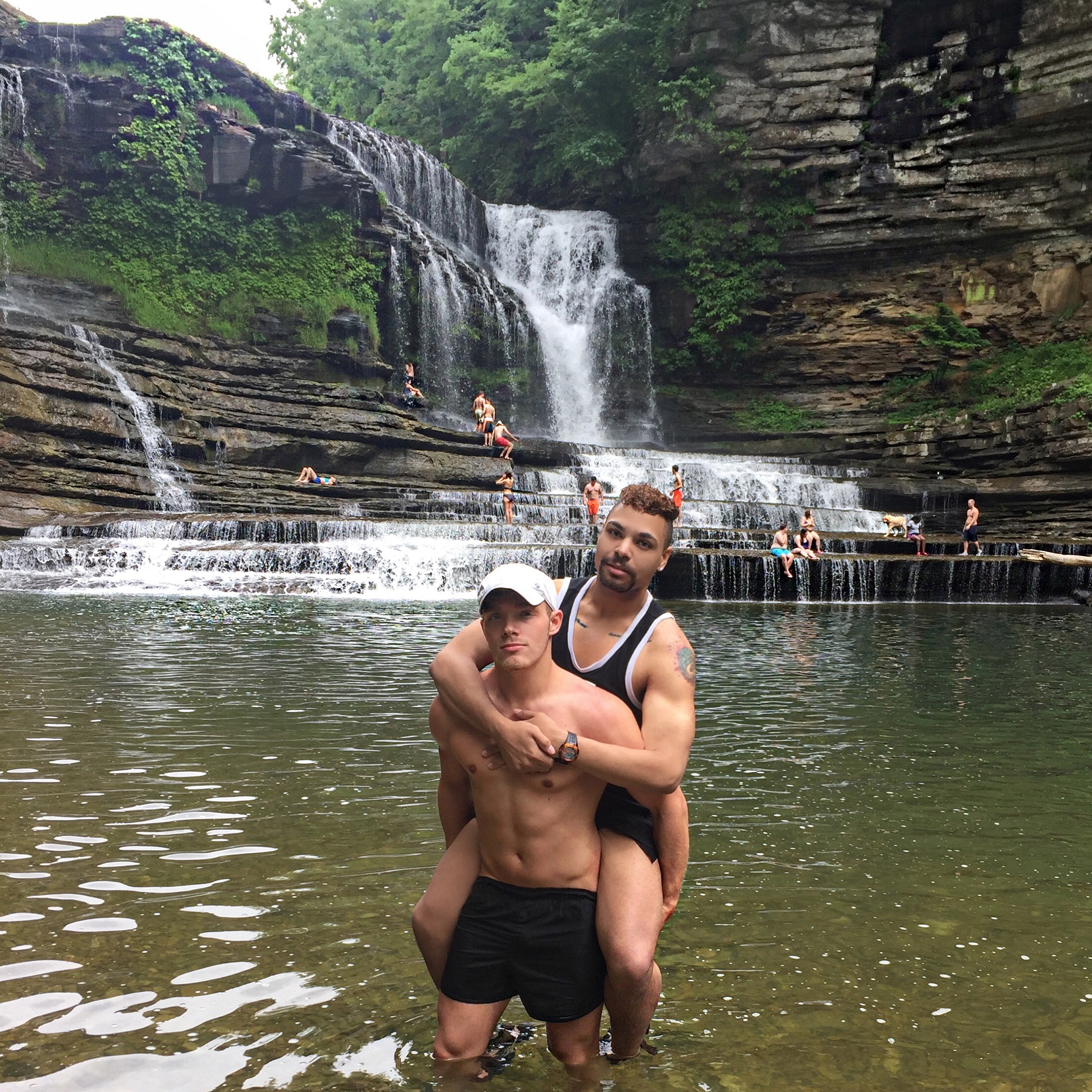 "My first plan failed, because he's a sneaky butt-face and found the ring receipt and started snooping around for it," Elijah said. The original plan was to have Ben open a gift on Christmas morning containing the engagement ring affixed to a Little Mermaid snow globe. (The Little Mermaid being Ben's favorite Disney movie.) Ben started shaking Christmas gifts in search of the ring. "I had to wake up in the middle of Christmas to take the ring out, rewrap the gift and come up with a different plan."
Elijah invited his and Ben's friends to Ben's parents' home for a Christmas gathering. Their friends came armed with Christmas décor and candles to transform the back yard into the setting in which Elijah would propose. "We created a candle-lit aisle that Ben's friends walked him down blindfolded and where I was waiting with the ring." Britney Spears' Hold on Tight" – Ben's favorite song - played as Elijah declared his love in front of "friends, family and the universe!" Elijah went on to say: "Ben was a wreck!" From there, the two went out and partied all night long. And, days later, the two went to buy a ring for Elijah.
"I've wanted to have a wedding since I was a child," Ben said. But, he drew a difference between a wedding and getting married: "Growing up I used to think that in getting married, people lost a lot of their freedom and I honestly hated the idea of that because I am more of a 'wildfire' type of person. Now that I have actually found the person that I want to marry, I am discovering new types of freedom and that's exciting in its own way,"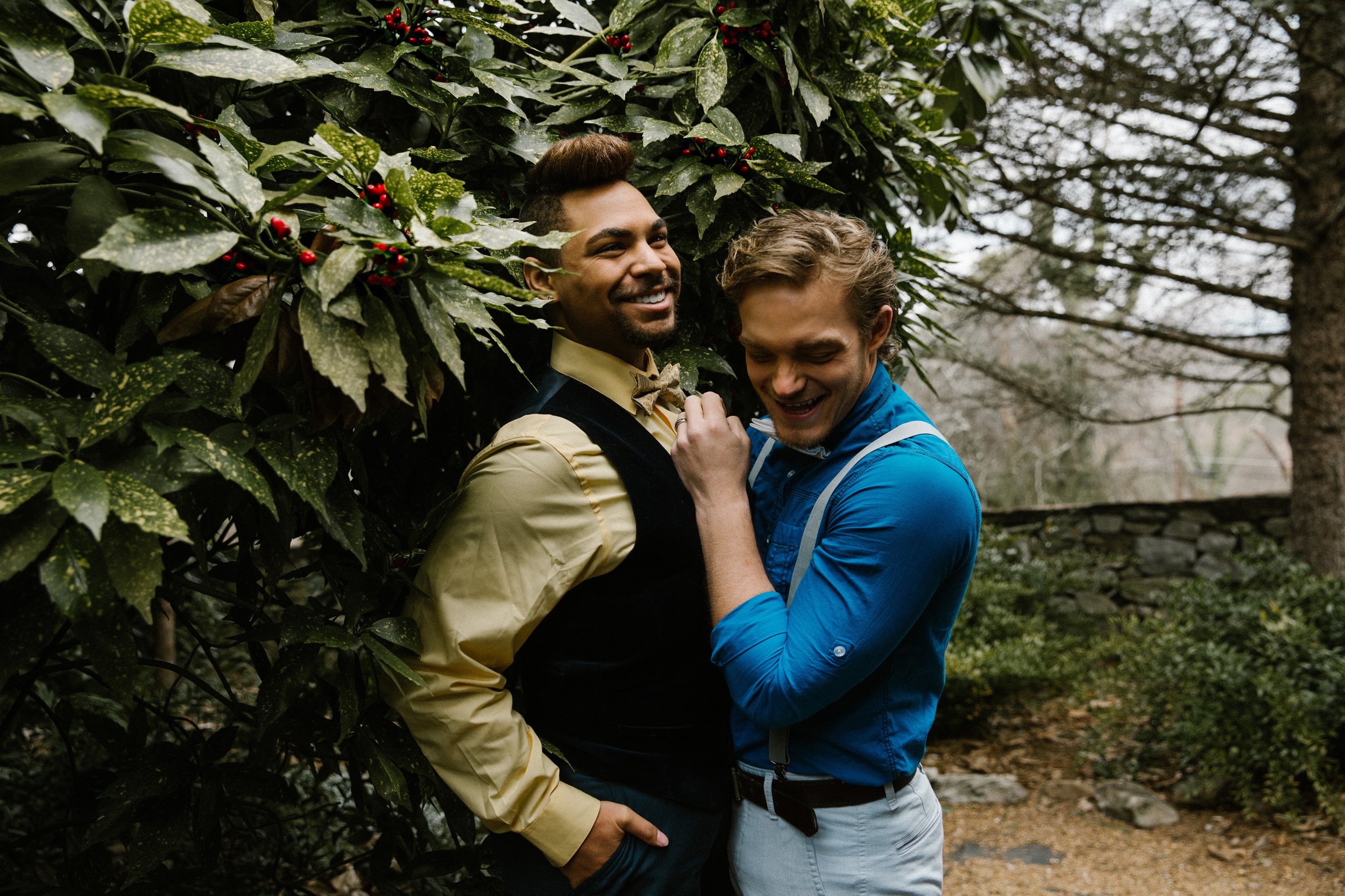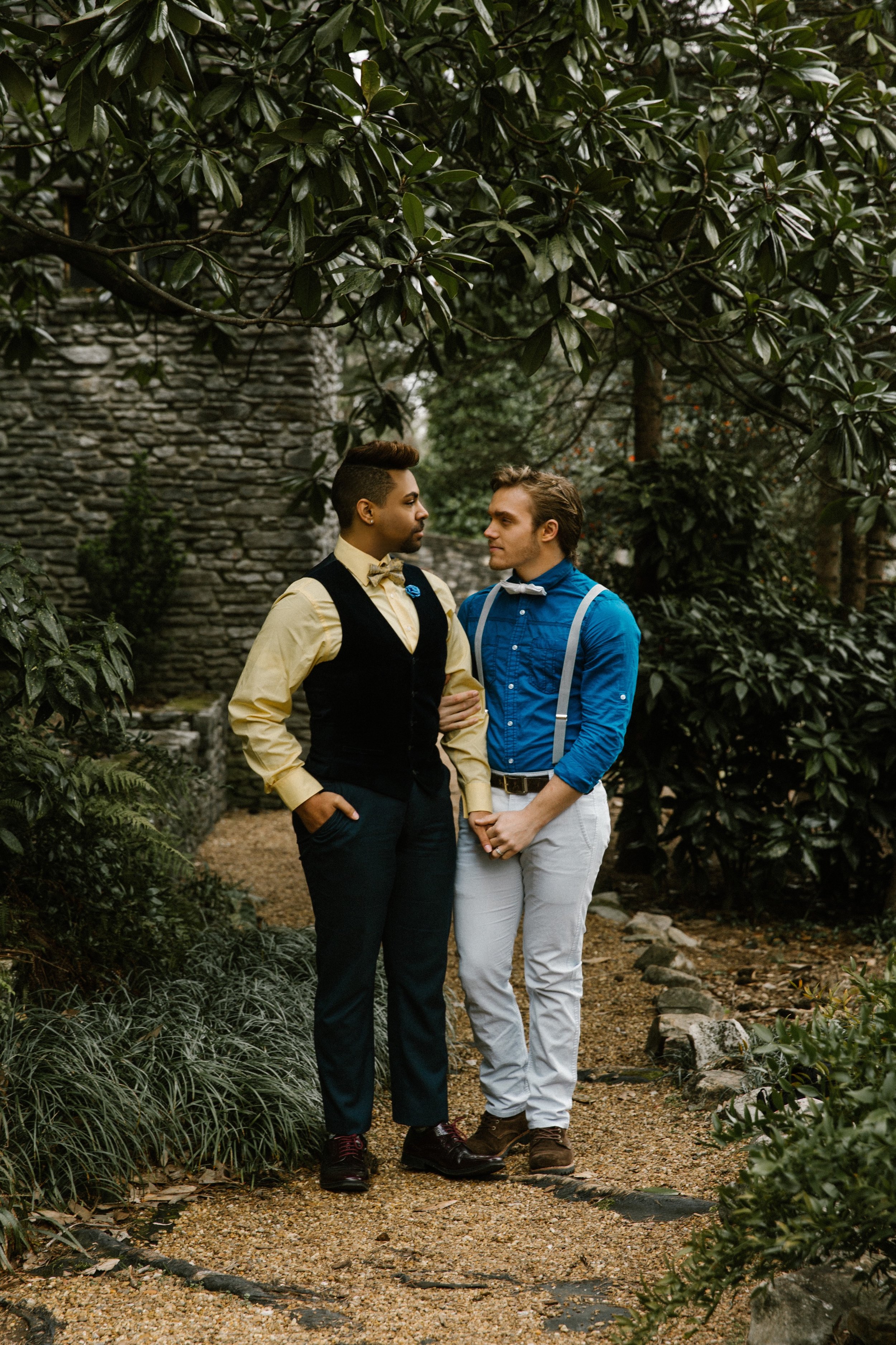 (Photos by T&K Photography)
The two are now focused on planning the big day. But, like the engagement, their planning has taken some turns! "I have too many siblings. He's a triplet and has two other brothers. We both have a lot of friends who started texting to say 'I am coming anyway so put me on the list.' Things just got out of control," said Ben of their experience just determining the guest list. "The wedding spiralled out of control. It wasn't happy anymore because we were making everyone else happy." So, Ben and Elijah, along with their parents and closest friends have decided to have a small wedding of about 20 people. "We are celebrating our love, instead of celebrating everyone else celebrating our love," Ben went on.
So, theirs will be a fairy tale wedding come this June. The two have selected Williamswood Castle in Tennessee where they and their family and friends will be together for an intimate candle-lit affair. By the sounds of it, they won't need to rely on the rain to add romance to their big day.