HONEYMOON SPOTLIGHT: TELLURIDE
Few places will give you such awe-inspiring views & romance like Telluride, Colorado. Nestled at the end of a lush canyon, surrounded by the rocky, rugged peaks of Colorado, no where else in the country awards such breathtaking scenery. Some travel here for the renowned alpine skiing, others flock here for summer festivals, outdoor activities and gorgeous hiking trails. But, no matter the season or reason for visiting Telluride, there's no denying it's one of the most romantic destinations on the planet!
Main Attractions
With the town's colorful Victorian-era homes, clapboard storefronts, boutiques, art galleries, gourmet restaurants, historic buildings and more, Telluride is the perfect mountain destination for those wanting to escape it all.
The towns of Telluride and Mountain Village are linked by a spectacular, 13-minute ride on a free gondola—the first and only free public transportation system of its kind in the United States. The scenic means of transportation provides access to hiking, biking and ski slopes in the winter months.
Whether your an avid skier or not, Telluride Ski Resort is a must-see! The massive complex boasts 2,000 scares of skiable terrain in the San Juan Mountains, which features slopes that cater to all levels of skiers. In the summer, travelers can spend time hiking one of the many trails for stunning views, or wander through it's unique Mountain Village. The resort also features a beautiful 18-hole golf course!
By far, one of the most romantic ways to spend your day in Telluride is at Town Park! Its 36 acres are also home base to an outdoor swimming pool, basketball and tennis courts, a fishing pond, multiple playgrounds and even a Frisbee golf course. The park also provides campgrounds, and plays host to many of Telluride's festivals and events, including the Telluride Bluegrass Festival.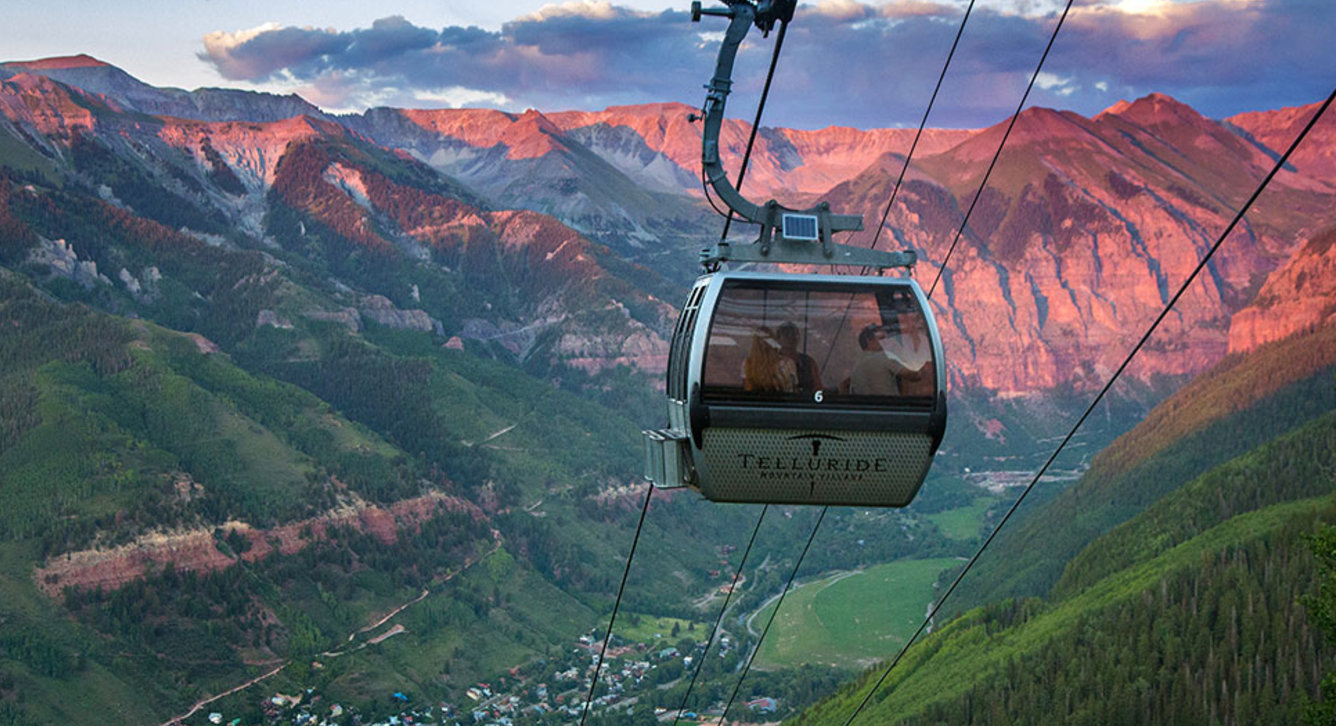 Food
The best way to describe the Telluride dining experience - simple, elegant & romantic, making it the perfect place to wine & dine your man! Don't let it's small mountain town vibe fool you though, there's over 50 restaurants in Telluride and Mountain Village alone.
Visit 221 South Oak for modern, fine-dining bistro with an eclectic menu. Ride to the top of a mountain via gondola and feast at Allred's restaurant. Perched at 10,551 feet, Allred's offers an unique, American menu and award-winning wine list - perfect for a post-ski treat. While you're at it, try Alpino Vino, situated at 11,996 feet in elevation at the Telluride Ski Resort. It's a European chalet restaurant with wines, cheeses, soups, sandwiches, and antipasti plates. Dinner also comes with the experience of riding in a snow-coach from the San Sophia mid-station of the gondola to the restaurant. If that's not enough, dive into classic Italian dishes at Baked In Telluride. From homemade sandwiches and pizza to robust salads and mouth- watering pastries, you'll instantly fall in love with this local gem!
Lodging
One of our top fave Telluride lodging choices is Madeline Hotel & Residences! Between the Telluride Ski Resort in Mountain Village, the Madeline Hotel and Residences looks like a traditional chalet. The property offers pet-friendly accommodations, flat-screen TVs, deep soaking tubs and breathtaking mountain views. In the summer, cool off in the sparkling swimming pool, or relax in the full-service spa. You'll love the convenience of two on-site restaurants as well as Dylan's Candy Bar store & Starbucks. The hotel is also a part of the Leading Hotels of the World, meaning Leaders Club members have access to perks here!
For a whimsical getaway, visit The Peaks Resort & Spa, overlooking the Telluride Ski and Golf Resort from its perch in Mountain Village. The Peaks offers easy access to ski slopes, hiking trails & year round attractions. For honeymooners that don't want to stray far from the resort, you'll find two pools, tennis courts, a spa and game room (perfect for some friendly competition). In your room, look forward to modern furnishings, mini fridges, sweeping mountain views & complimentary wireless internet.
Whether you're planning a mountain wedding, or simply need an escape from reality, Telluride should be at the top of your list for a high altitude getaway you'll never forget!