WEDDING WISDOM: TOM & PATRICK
We love a love story that starts the good-old-fashioned way: in person. Better yet, we love one that starts as a friendship and evolves into a 27-year relationship!
Back in the early 90s, there was no option but to meet in real life, or in the case of Tom and Patrick, at a barn where Tom had a horse in training and where Patrick was a groom. For two years, the couple built a friendship around their shared love of horses and Tom's regular visits to the barn.
When they finally decided to spend time with each other away from the horses, they found themselves at a bar in downtown Phoenix. "It wasn't even a date. We went out for drinks, but things progressed from there," said Patrick. And, lest we believe this not-date-date was the first moment the two felt stirrings for each other, Tom pointed out: "I always thought he was gorgeous!"
"When you know it is the right person, your heart just goes there," Tom described as their first drinks turned into movie nights, dinner dates and "being good friends, really having a good time and kinda falling in love." To hear a couple say that their romance is as strong now as it was in the early days, makes a great love story even better.
As is typical, real estate helped move things along with Patrick's lease on his apartment coming up and Tom's house being ready for a new dweller. "I moved in and here we are 27 years later," said Patrick.
For the couple, what bonded them together for all this time was simple: "When you're deeply in love, you take care to not hurt the person in any way," Tom noted.
Patrick added: "We still are individual people and we allow each other to grow separately and together. The relationship is work but we are willing to do it."
And, of course, there are still disputes about how one manages the toothpaste tube! Who would have imagined that dental hygiene would be the source of so many couples' squabbles!
Needless to say, for two in love for so long, marriage would be a topic of discussion. But, Patrick wasn't much interested in getting married. And, of course, Tom was. "It used to really bother me that he'd say we'd get married when it was legal in [Arizona]. I always wanted a wedding and a wedding ring that matched his."
And, the day came in 2014… but so did another condition. Patrick would only marry if their friend Rachel would preside! "She went out and got her minister certificate online immediately," Tom exclaimed! Patrick went on to describe that the proposal came while the two were sitting on the couch. "[Tom] was texting Rachel and said: 'She's going to marry us so you need to marry me! I want to be legitimate.' and I said I would be happy to marry him!"
When it came to selecting rings, the two turned to a gift Patrick's mother had given the couple: a set of her diamond earrings. "We'd had these diamonds for the longest time and decided we wanted to make our own rings," Patrick described. Working with a jeweler the couple created a design using the diamonds – discovering that the jewels were much older than either had thoughts – and created a connection to Patrick's mom who didn't have a chance to see the two marry.
Perhaps ironically, Patrick took on planning the wedding. "I had been working on it for 25 years," Tom said laughing. What the couple noted as the hallmark of the planning experience was how nice everyone who helped – cake maker, caterer, rentals, etc. – turned out to be. Not to mention the generosity of their friends and family.
Selecting the 25 guests proved easy. A combination of family, friends they'd made together and a list of people they knew wouldn't be able to attend but invited anyway, were present for their vows. "It just felt so much at peace and comfortable," said Tom. Once everyone gathered, their officiant gathered the grooms and led them to the tree in their yard that served as their altar. Each shared their vows with each other, Patrick took Tom's face in his hand and, then came "the best kiss ever," the two shared.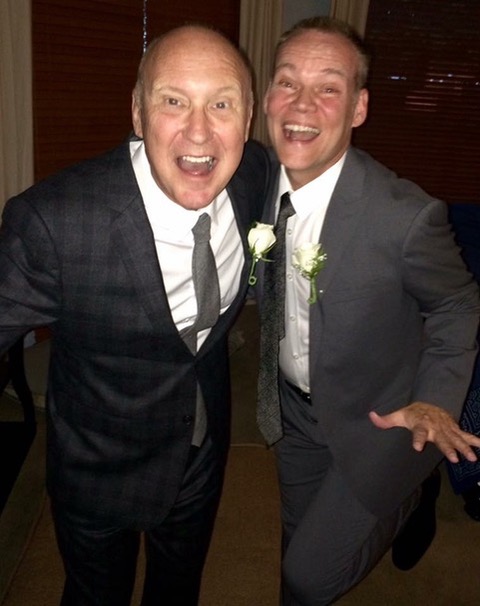 The newlyweds then spent a gorgeous afternoon with their guests, reveling as husband and husband and beginning to experience what Tom described as "a stronger bond between the two of us." Being married "changes your heart," Patrick went on to say. "It makes everything complete."
No matter how long one is with his partner, there is a difference between finding the one and becoming one. We are thrilled that Tom and Patrick did both.