OUR FAVORITE THAI HONEYMOON HOTELS
Thailand is a country of abundance: natural beauty, generosity of spirit and incomparable hospitality. So, setting out to select our favorite hotels across the country was nothing short of impossible.
Reflecting the country itself, the hotel experiences we've selected in Bangkok, the north and south, bring you closer to what it is like to be one with and in Thailand. Whether living the urban intensity of the capital, communing with the natural richness of the north, or escaping life as one knows it at water's edge, each of the following properties are destinations that will make your honeymoon a life-changing event.
137 PILLARS SUITES & RESIDENCES – BANGKOK
This luxurious and ultra-modern boutique hotel is in the heart of downtown Bangkok. Its amenities and style will be familiar to the well-heeled, urbane traveller, but its sumptuous Asian design and hospitality details, make the 137 Pillar Suites & Residences the exemplar of Thai city living.
Our favorite feature of this property is, without doubt, the rooftop infinity pool. And, for a bit of international charm, the London-style cab that will ferry you to and fro Bangkok's sites and shopping, are at your service. Ultimately, we will let the 137 Pillar's images speak more than 1000 words we could use to describe this ultra-chic hotel.
KEEMALA – PHUKET
Authentic is one of those words that is too often used to describe experiences that are far from authentic. But, when it comes to Keemala, authentic rings beyond true. Designed to be an extension of the surrounding landscape, respecting all of the existing trees, water features and other natural elements, this resort is nothing short of magical.
The many Tent Pool villas are designed as a nod to the customs of adventurers of the past to set up semi-permanent homes that they could easily move when the time came. The Tree Pool houses celebrate the 'We-Ha' people who wanted to be closer to the universe, thus living in suspended tree houses. And, Bird's Nest Pool villas celebrate the 'Rung-Nok' community who valued opulence and privacy. Needless to say, today no one ever wants to leave Keemala.
If you do manage to pry yourself away from your villa, rainforest adventures, beachside relaxation and endless holistic treatments await.
RAYAVADEE – CHANG WAT KRABI
Part of Rayavadee's allure is its exclusive location; only accessible by boat from Krabi, it's fantastically private. It's also breath-takingly beautiful: three azure-lapped sugar-white beaches are crowned by vast, jagged limestone cliffs, pocked and riddled with caverns and caves. The adventure you'll have here is equal parts James Bond glamour, Jurassic Park adventure and meditative retreat.
What also sets Rayavadee apart is its restaurants, especially The Grotto. You'll be hard-pressed to find a more dramatic dining location anywhere in the world.
While there are truly innumerable physical activities to partake of – from sea and beach to jungle and sky – Rayavadee is ultimately a place of supreme relaxation, one you'll likely be changing your travel plans around to accommodate more time in this particular paradise.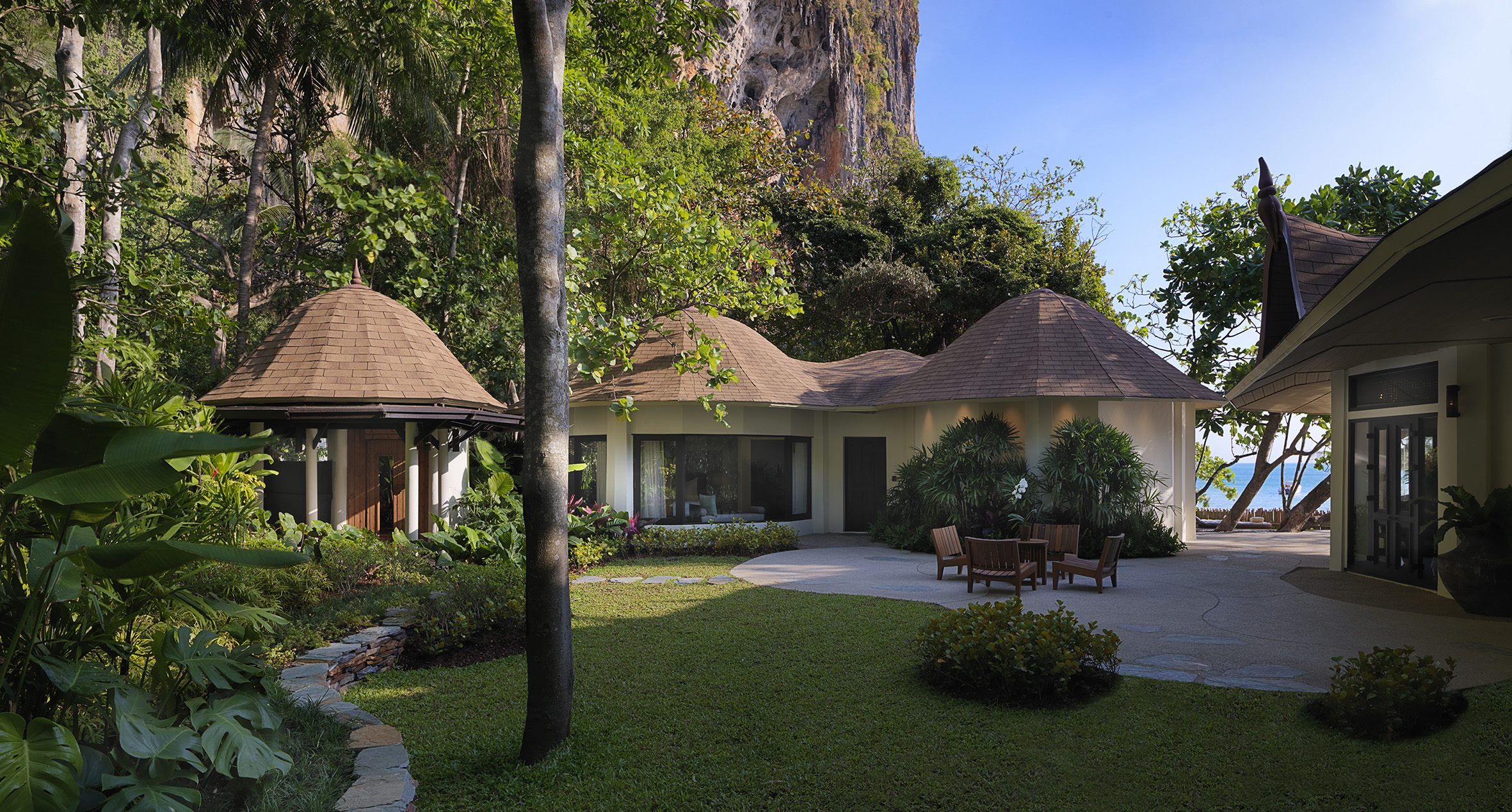 ANANTARA GOLDEN TRIANGLE ELEPHANT CAMP – CHIANG RAI
You can literally see the world from your balcony or, at the very least, three countries of this world: Thailand, Laos and Burma. And, while geography is one of its many draws, everything fades away to the interactions you'll have here with the earth's beloved giants: the elephants.
Your experience with the elephants will have you learn basic training as well as lope through the jungle escorted by these gracious and gentle animals. And, later explore the acres of bamboo forest, indigenous gardens and rice paddies for a truly deep experience of Northern Thailand.
The property is equal parts jungle monastery, tropical boutique hotel and colonial manor sophistication and offers the best in food and beverage and spa experiences. All are Thai luxury at its finest.
The Anantara is the best destination for those looking to commune with nature, revel in exceptional service and be inspired by the riches of the world. All from the comfort of a balcony in the jungle.
(All photos are compliments of the respective hotels and properties.)