WEDDING WISDOM: JORGE & MANNY
We love finding a Wedding Wisdom story that reminds us at Men's Vows the reason why we do what we do. Because, few are the love stories, like Jorge and Manny's, that resonate as much as theirs did for us.
Jorge, a 20-year Army veteran and Manny, a trucking impresario and driver, met on Facebook commenting on the picture of a mutual friend. The spark between the two was quickly lit and the connection deeply forged in online conversation over a handful of months.
"One day Manny told me he'd bought a ticket and he was coming to visit me in El Paso." Jorge was stationed there readying his retirement and had declared to Manny that he'd not be coming to LA! "I met him in my uniform. And, a few days later we declared ourselves boyfriends." The early months of their relationship were long-distance between El Paso and LA. "I couldn't not visit my boyfriend where he lived!" Jorge admitted.
Their relationship deepened quickly and for Jorge it became clear Manny was for him, late one night as he woke up from a nightmare screaming. "That is what happens to those with PTSD." Jorge had been deployed to Afghanistan and Iraq multiple times and experienced the trauma often associated with active duty. "He was scared of me, and Manny is a big guy. He said he'd never experienced something like [my reaction to the dream]. But, he held my hand and told me it didn't have to be that way. That he'd be there with me." For Jorge, this was the first time he'd felt the love he needed to find a way through his PTSD.
For Manny it was Jorge's family and their acceptance of him that made real the fact that they, together, would build a loving community with them at the center. Inclusivity would become a hallmark of the most significant stages of their marriage.
"Manny had told me: 'I am not asking you to marry me!'" So it was going to be down to Jorge to set their engagement in motion. He did so on the evening that Manny was celebrating Jorge having completed his undergraduate studies. "I had told everyone who was at our house that I was going to propose," Jorge explained.
As Jorge set out to thank all those attending for their support of his studies, he turned to Manny to acknowledge him for his support and, to Manny's great surprise, drop to one knee and propose! Manny, after polling the room to ask if he should say yes, did! "Manny wanted the evening to be all about me and I made it about him."
Despite their intentions to marry at the courthouse in LA where they'd eventually moved to support Manny's business, their wedding became an exquisite black-tie affair in Tequila, Mexico, near where Manny's family was from. On a trip to the Hacienda Centenario, the two decided that it would be the ideal venue for a wedding. In fact, their wedding became the ideal experience for the owners and employees of Tequila Centenario as theirs would be the first gay wedding ceremony ever in the venue.
Working with Coco Evnt Design, the two set out on the process of planning the wedding. "We aren't those gays who know exactly what we want," Jorge said, "So we needed a lot of help." But, from not being "those gays," to Manny getting very specific about the whiteness of the flowers, the two ran into the usual stress of wedding planning. "We had to take a lot of time outs from each other!"
Yet, before either knew it, they were in Tequila at the hacienda, surrounded by 160 guests, in black-tie standing before their dear friends, getting married. They incorporated elements of a traditional Mexican wedding – the "lazo" and the lighting of a unity candle – and incorporated original elements. For example, every guest was given a candle and lit each one-by-one, back to front of the congregation, until lighting Jorge and Manny's candles to, in turn, light the unity candle. This while a chamber group and singers filled the room with music.
After their "I do's," the couple took time to be quietly together, while the guests made their way to a reception set to mariachi music and margaritas. The wedding reception was held outside with the whitest of flowers hanging over the dance floor and adorning the tables and fireworks punctuating the night. The big surprise was when Jorge, joined the mariachis to serenade Manny. An even bigger surprise was when Manny's father dedicated a song to his son.
"Manny's dad wasn't going to come, because he has deep religious beliefs," Jorge explained. "A few weeks before the wedding, we went to see him and Manny asked: 'why aren't you coming?' to which his father said: 'I just don't understand.'" Thankfully, friends and family conveyed to Manny's father the importance and legitimacy of the event, one that he would regret missing forever, "and a few days before we had him in a tux and ready to go to Tequila!"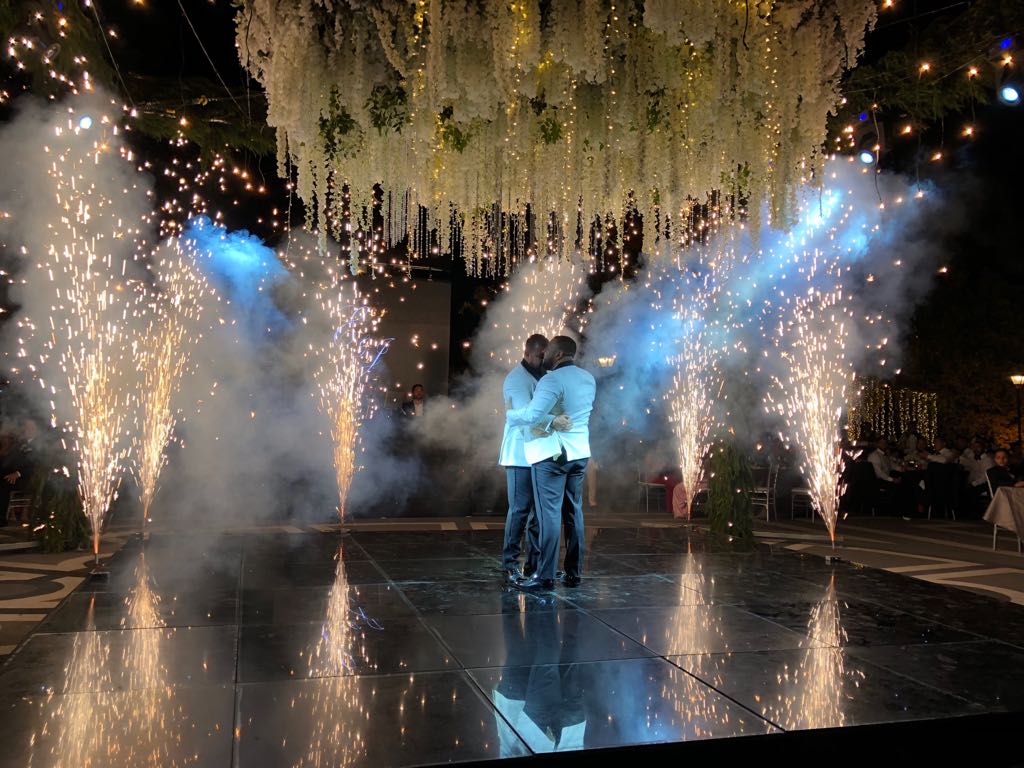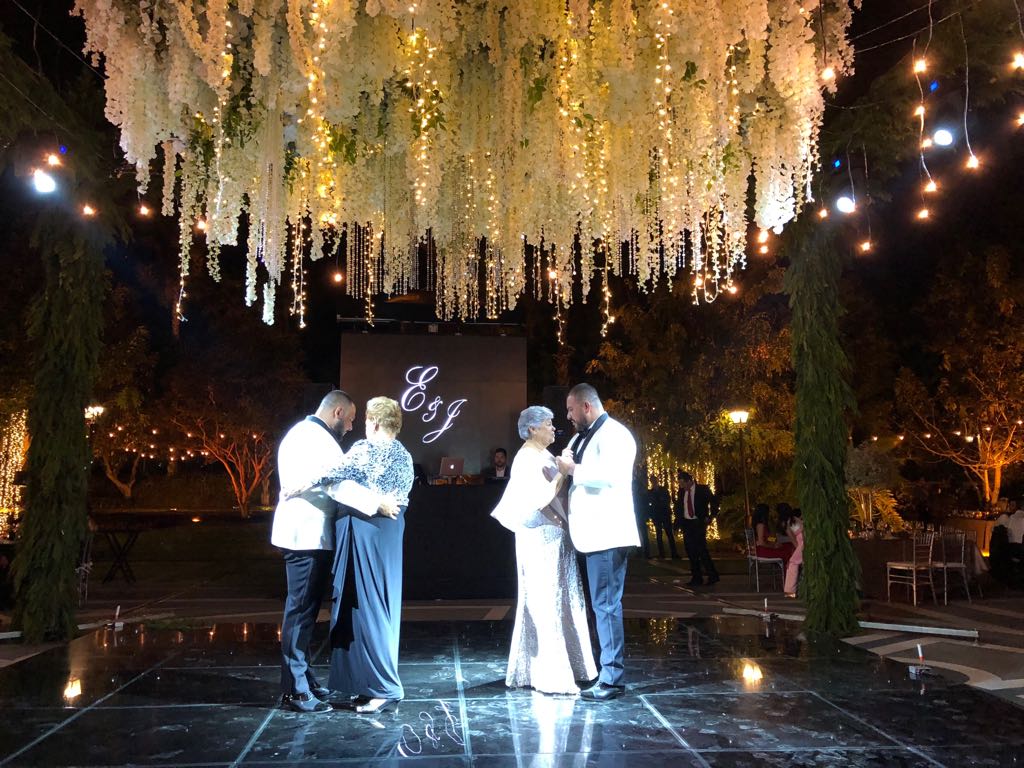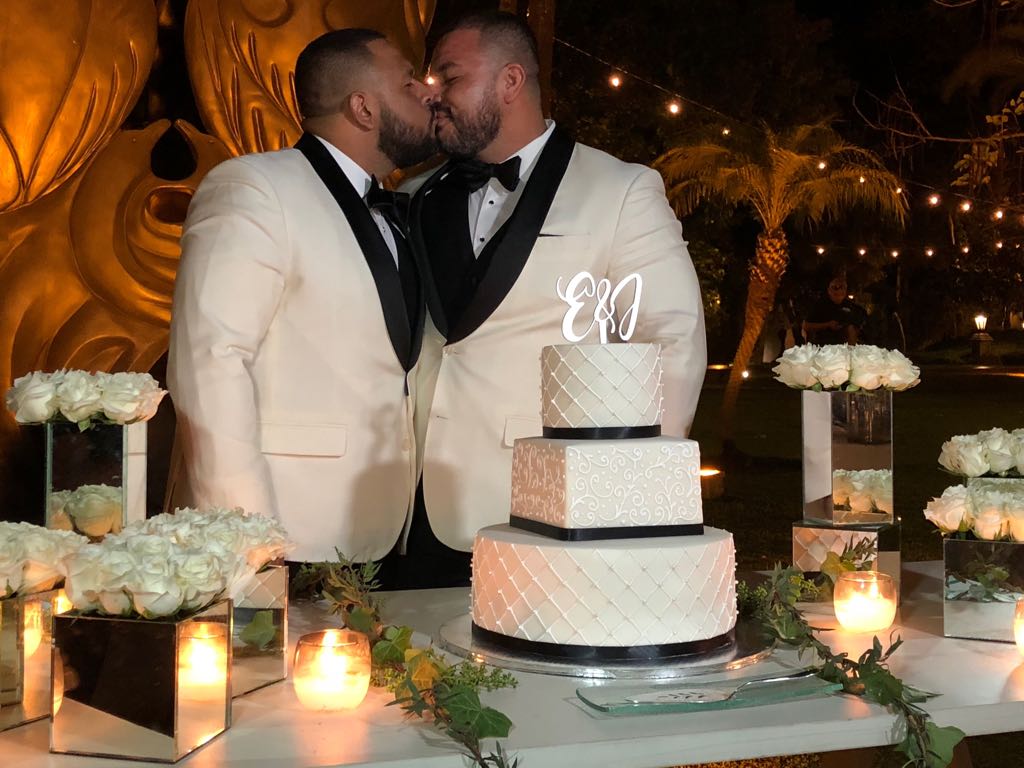 For Jorge, the highlight of the evening was the pictures taken with their families. Once again, community coming together, setting an example for many to follow. "I believe that we need to be more noticeable in positive ways and to celebrate and love each other. We are loving people and you can see exactly who we are in every picture."
After an evening of celebrating and "dollar dances where men danced with men, and came up to kiss us on the cheek," came time for the honeymoon. A very unique honeymoon. "50 people from our wedding got on buses in Tequila and joined us in Puerto Vallarta!" The community strengthened at their wedding, deepened on their honeymoon.
From the earliest stages of their relationship, making a family was important to Jorge and Manny. So, it was a month before their wedding that they began the process of adoption. "By the end of December, we should have two, or maybe three kids. Adopting siblings is important so that they aren't separated," Jorge explained.
Those children, like all of us reading this story, are lucky to have men like Jorge and Manny setting example of what it is to be exceptional people in the world.