WEDDING WISDOM: DON AND DAVID
In September 2008, Don was on a trip to Bogotá in the early days of this Latin American city becoming more welcoming to foreigners. Until then, the city presented many dangers so there weren't many foreign visitors. "I was considered a rock star there for having come to visit," Don explained. It might have been his rock-star-ness that drew David, a native of Colombia, to Don on one of those fateful "first dates" gay men are known to have.
If things weren't heady enough for Don meeting a new man in Bogotá, the financial shenanigans that were a hallmark of 2008, drew Don back to the US and left him and David questioning if they'd ever see each other, again. But, the two kept in touch over video chat and, a year later, Don was back in Colombia on a whirlwind trip around the country with David and met his friends.
Next came the opportunity for David to visit Don in his hometown of Puerto Vallarta. After 9-months securing a visa, the two were reunited. Don went on to say:
"He came for a two-week visit and never left!"
Like David, Don swiftly fell in love with (and in!) Puerto Vallarta years prior when he first moved there. Don had moved to P.V. because he was looking for a place to learn Spanish, that had a beach and a gay life. "And within a week I'd fallen in love with a waiter... and the place!" But, more meaningfully, he found in Vallarta a place where everyone let their hair down making it easier for him to connect with friends, old and new. "In the gay community today, everything is virtual, but here people still actually meet in person and talk to each other."
Because of their love for one another and Puerto Vallarta, Don and David set out on their coupledom. But, perhaps ironically, "getting married didn't appeal to either of us," Don said.
Don had been as married as one could be in the early 90's in Seattle. But, after two-and-a-half years, his marriage fell apart and he felt "jinxed." However, as marriage started to become legal over the course of the couple's relationship, David and Don decided to get married, as a matter of practicality. "We thought it was the best way to solidify our relationship as two foreigners living in Mexico." Their "shotgun" wedding in the summer of 2015 in Seattle was an intimate affair that got the legal matters out of the way and allowed them time to plan their spiritual wedding, to be in Puerto Vallarta in November of the same year.
"Typically engagements start off all romantic and then couples want to kill each other when it comes time to getting married," Don explained. "But, for us, we got all of the stressful stuff out of the way first and our wedding, and planning, was purely joyous."
When it came to planning, Don and David enlisted the help of a friend who'd been a wedding planner in the US. It also helped that Don's Puerto Vallarta hotel - Casa Cupula, the number one gay hotel in PV - and restaurant, were starting to plan weddings, too. "Our wedding was considered a good trial run," he pointed out. "And, we didn't have to discuss at all about where we'd get married!"
People considering Puerto Vallarta for their wedding often think about a beach wedding, which Don and David actually did, too. But, private beaches are expensive and farther out of town; and public beaches run the risk of uninvited interlopers. So, Don and David opted to have their rehearsal on the beach and their ceremony and reception in the garden of Casa Cupula.
Don and David's good friend Julie, a real estate broker in Puerto Vallarta, presided over the wedding. "When we sat down to consider who we wanted to marry us, we both immediately had Julie in mind." Central to the ceremony was a "sand ceremony." Using sand of three different colors, the officiant, grooms and wedding party, together build a "sand sculpture" which serves as a metaphor for the grooms' lives coming together based on the support of family and friends. Julie put in the first layer of sand into a vase, while the 8 members of the wedding party added layers, in alternating colors of sand, until the vase was nearly full. Then, Don and David completed it. "It is symbolic of the various people in our lives coming together to create a foundation for our marriage." Their original vows completed the ceremony and their wedding ceremony.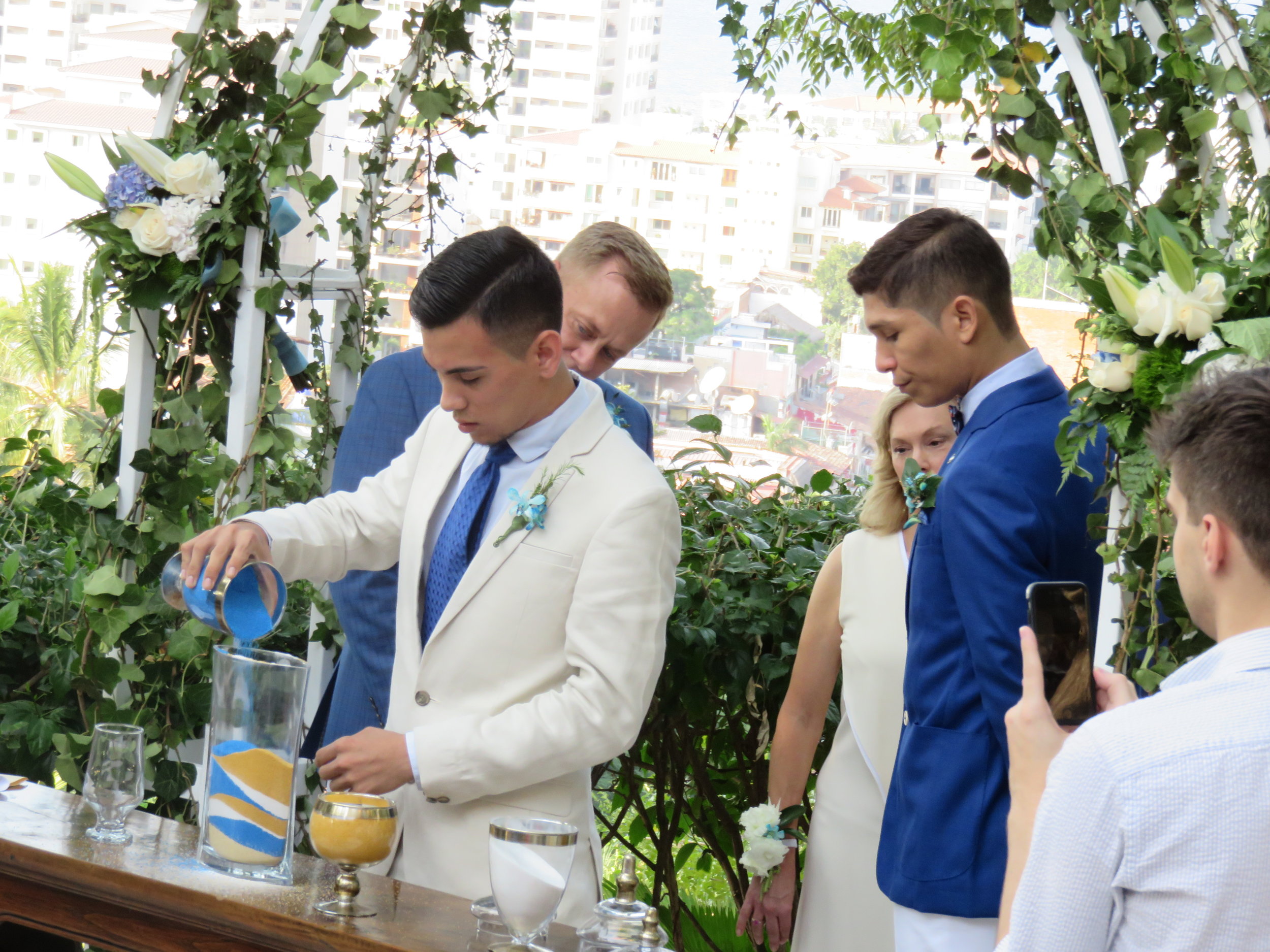 And, while one doesn't expect a technical glitch to become a couple's favorite moment of their wedding, a faulty microphone did deliver one of Don's most memorable moments. "After the mic kept going out, Julie turned it off and raised her voice to ask if everyone could hear. They all shouted enthusiastically "yes!" which turned into a bonding moment that brought everyone together." Don's more emotional moment was when David arrived at the wedding area and David was in tears. "I hadn't expected it and it was very moving."
When it came down to the reception, 70 guests got to enjoy the music of Puerto Vallarta Latin band Piel Canela, with a surprise performance by vocalist Kim Kuzma and, of course, the incredible hospitality of Don's hotel and restaurant. Much like their relationship, their wedding was one that embraced all things Latin and the signature love and warmth of Puerto Vallarta.
About the planning, "the most surprising thing for us was trying to coordinate everyone coming to Puerto Vallarta! Despite all these means of communication, we still had to follow up a lot with our guests." And, more generally, Don went on to share tips about making the most of a wedding in Puerto Vallarta. "Come and get married in the shoulder seasons of April - June and October - November, and best yet, May and November. During these months you avoid the high season and competing with the influx of tourists." Also, for those still craving a wedding on the beach, you don't actually have to get married on the beach for it to be a beach wedding, with so many inconveniences. "As long as you can see the ocean," Don astutely points out, "then all your guests will say they are going to a beach wedding. Have the rehearsal dinner on the sand!"
Needless to say, Don also recommends Casa Cupula as a place to get married. "Because we are all gay or gay friendly here, what you get is a real cheering squad with you." But, he also generously recommended his friend and ex-Casa Cupula Manager Tina Kunkel at Hotel Playa Fiesta, as an exceptional planner and venue. "It caters to wedding groups." This is the kind of generosity that makes of Puerto Vallarta a welcoming and tight-knit community.
When communities are welcoming, love flourishes. Simply ask David and Don.
(Photo credit: Joel Avalos @capturaimagen)