WEDDING WISDOM: JOE & MATT
"We met just after I finished university, and just before Matt started university. Before the apps like Grindr and the Tinder world… we met through friends."
Through a wild string of connections, Matt and Joe found themselves together at a bar waiting for their mutual friend to meet them for drinks. Of course he was late, which left the two plenty of time to chat and get to know one another. Before long, their friend had to rush off again, but Matt and Joe hung back and from there went dancing together.
There was an instant connection. They continued to text each other after that night, and within no time Joe asked Matt out on another date. However, since Matt was just about to leave to study at Oxford there was a little uncertainty as to how they could be together. "We weren't sure if it was going to go anywhere, but we clearly got on really well." Matt said. "The great thing about being in the modern world is that we could just keep in contact through text and all that."
So, Matt and Joe gave it a shot. Matt explaining, "I have since realized a split between how people like to date. Some people really like that explosive passionate kind of thing. There's fireworks and everything happens all at once.. Others like the slow burn, like it's all very natural. There's no official date, it all just happens quite slowly. That was us. It's almost like we had been friends for years, but hadn't really known each other. It just grew very naturally and didn't fizzle out."
Matt and Joe continued their relationship long distance between Oxford and London, spending as much time as possible together during Matt's breaks from school. After Matt's graduation, he moved back to London to study a MA, and a year later they found a place together.
As their relationship deepened, the topic of marriage came up. "I remember about 4 or 5 years ago, when we had been living together for a couple of years, saying that I was quite ready. But Matt wasn't, and he said that I would have to wait, and then he would ask me." Joe explained. Matt adding "He basically said that he was never going to ask me to marry him because he didn't know what my answer would be. And it was like saying that he would say yes whenever I was ready to ask him. I wouldn't say he's impulsive, but if he wants something he goes for it. Where as I'm much more considered and like to take my time." The task to propose now in Matt's hands, he began to exercise ideas of proposing in Venice or somewhere else romantic, and then the opportunity to visit Japan came in April of 2017.
In preparation for the proposal, Matt went with his mom and dad to purchase Joe's engagement gift - a Cartier watch. Matt explaining, "We always talked about getting an engagement accessory, not an engagement ring." They wanted to choose their wedding rings together after the proposal.
"I told enough people beforehand so I would have to do it. I couldn't put it off any longer!" At The New York Bar & Grill atop Tokyo's Park Hyatt, Matt readied himself to pop the question. "My mom kept texting me leading up to the proposal, so I was getting really frantic about it. I didn't really think it through; I definitely should have rehearsed it beforehand. So I get this big present out, then Joe asked me what it was and I just started crying… a lot." Joe adding, "He didn't say 'will you marry me,' he said 'I want you to marry me.' It was all very Matt!"
Now Matt and Joe were both crying over the gifted watch. "The poor Japanese waiter is just seeing these two guys wiping up all these tears and crying at their dinner table as he came to ask us about our mains." Joe laughed. The entire experience flooded both with indescribable joy.
Matt and Joe quickly turned to celebrate, contacting their family and friends to tell them the good news. Both looking onward to planning their wedding.
"We made three very expensive decisions right away. We wanted to get married on a Saturday, in the summer, and in London." Joe said. Both being form London, it was very important that everyone they cared about could make it to the celebration. Through Joe's school, they found a gorgeous medieval guild hall in Central London - Merchant Taylor's Hall. Matt describing "It was very grand, but not stuffy. We wanted something that was already laid out and that we could just add finishing touches to. It was really nice, and we were sold on it straight away."
Through wedding planning, Matt and Joe played to their strengths and tackled separate tasks efficiently. "While Joe did the logistics, negotiating and contracts, I was left to do the creative stuff such as the outfits, the tables, and the theming. I liked the idea of us wearing matching suits, but I wanted something that looked similar but still different. While Joe wore a tie, I wore a bowtie, but both had the same pattern, and we both had our grandfathers' pocket watches - but his was silver and mine was gold. Little detailing like that was a lot of fun."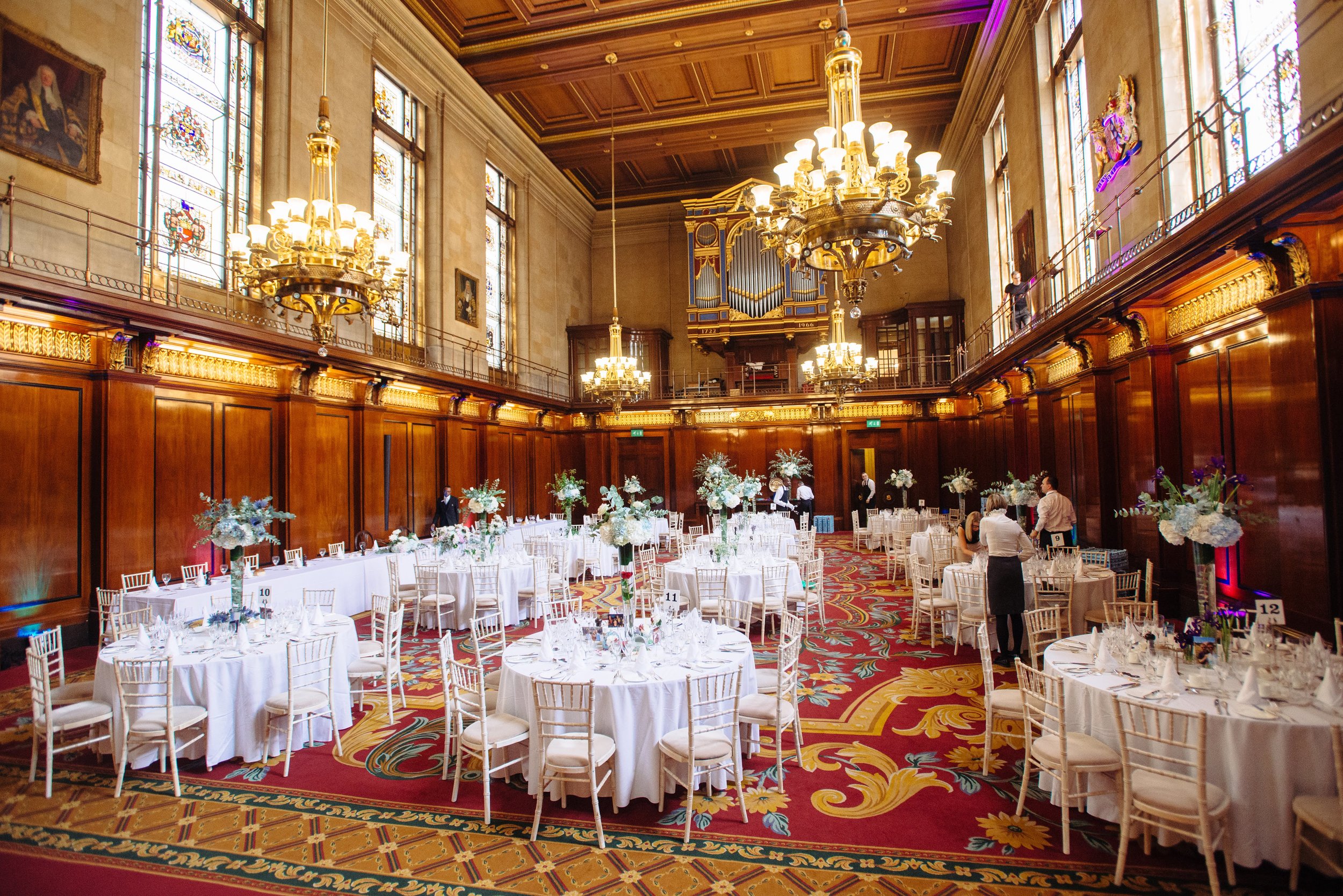 Having been together for almost 10 years, they had a lot of history to draw on when it came to deciding how to decorate the tables. They had flowers from each of the different countries they'd visited together complementing the table centre pieces, including tulips from Amsterdam and thistles from Scotland. One of the wedding favorites being a Disney themed table featuring a single rose in a glass bowl for Beauty and the Beast, white roses with red paint after Alice in Wonderland, and a gold pumpkin to represent Cinderella. The high table was themed after Japan, representing where Matt and Joe got engaged.
As the wedding day began, Matt and Joe took off for a morning run together. "Neither of us could sleep because we were so nervous." Joe said. Matt adding, "We met our grooms party for breakfast. Everyone was chatting and all very excited. Getting ready was interesting. Joe was a little bit nervous, but it was just really exciting having our friends there and having time together. When guests started arriving, that's when the roles reversed. Joe got really relaxed and I started panicking."
The wedding party prepared for the ceremony, and the grooms were left alone to get into position and enter down the aisle together. As 'Can You Feel the Love Tonight' on string quartet began to fill the room, Matt staggered unsure of when to start down the aisle. Matt explaining, "We hadn't really agreed on a walking point. I just said I would walk in when he decides. The music started and Joe is like 'okay we are doing it now' and I was like, 'Oh my God, I'm not ready!' I couldn't look anyone in the eye cause I thought I would cry. I didn't want to be snotty and gross so I just remember looking at the floor. Doing that walk is terrifying." Despite the nerves, as soon as the ceremony began it continued flawlessly. The readings were presented by several friends, all from different parts of the grooms' lives. An excerpt reading, "If you live to be 100, I want to live to be 100 minus one day so I never have to live without you." This elicited quite a few tears in the audience. The vows focused on friendship, companionship, and being there for one another through thick and thin.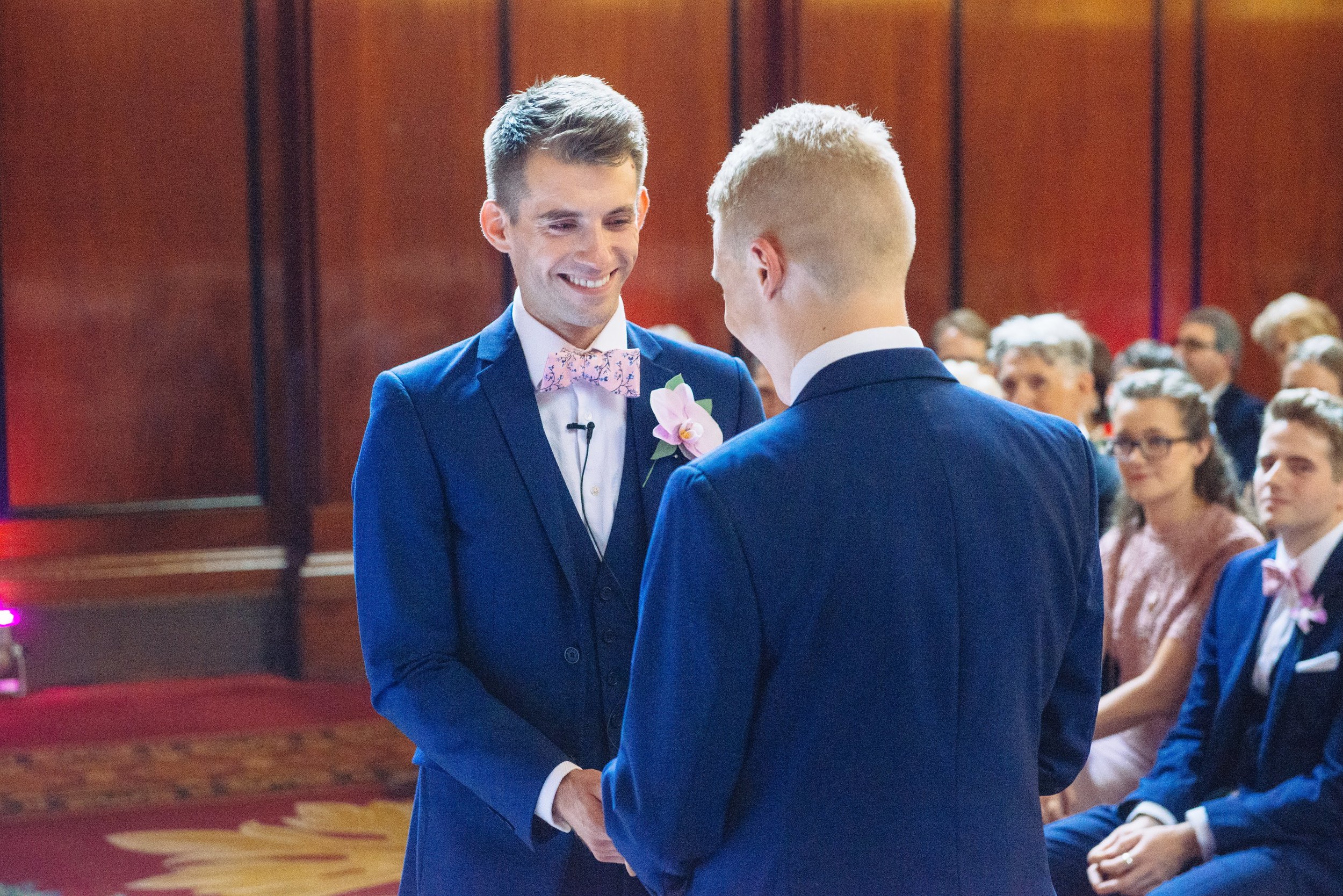 The best welcome to any reception of course is a glass of champagne, which Joe and Matt greeted with open arms as they exited out of the ceremony hall. They tucked themselves away for a quick ten minutes of privacy to be together and reflect on the events that just took place. As they exited into the courtyard, they were greeted by flower petals being thrown into the air. Music, laughter, and plenty of conversation ensued in the afternoon sun.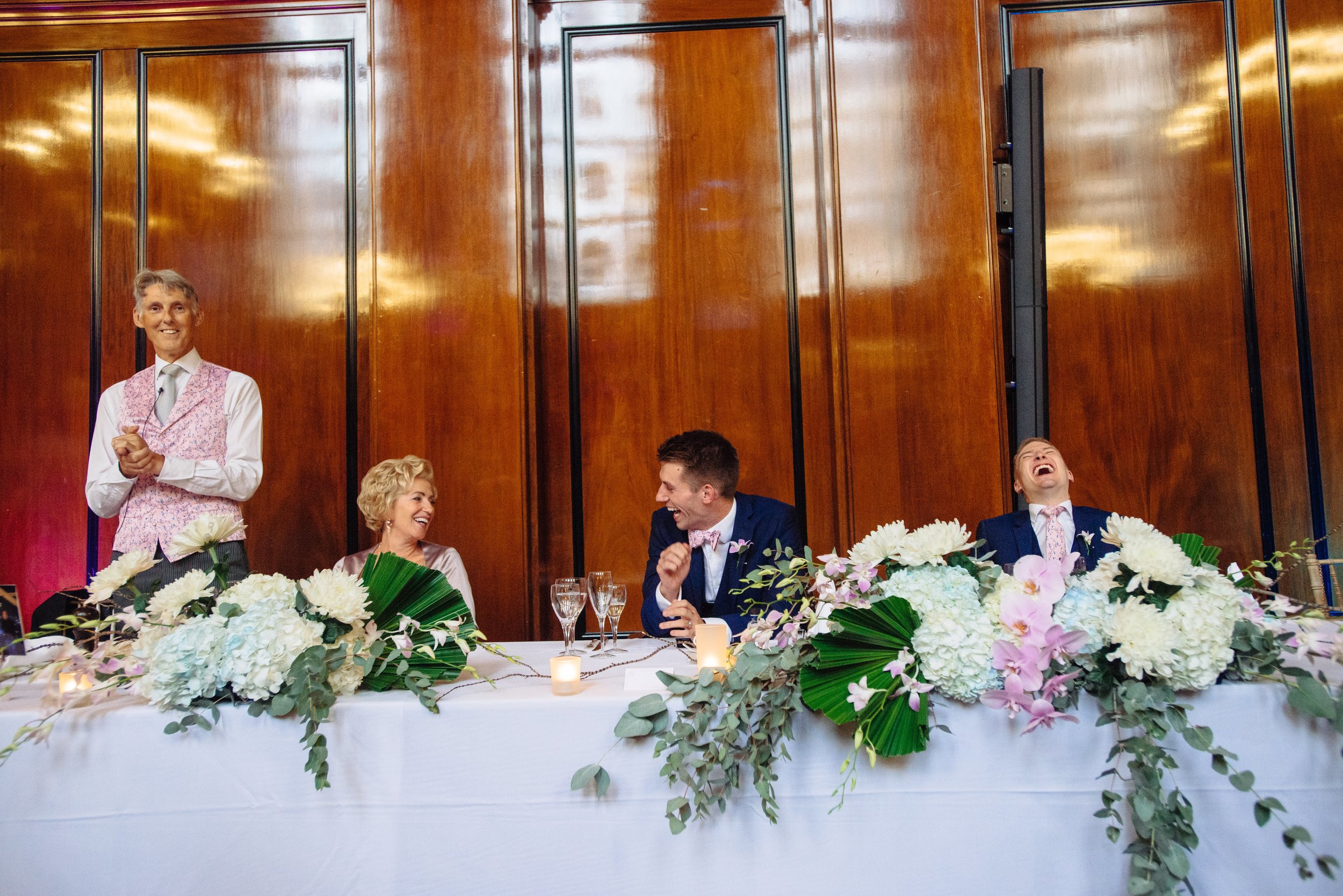 Just as everyone was finishing up dinner, Matt and Joe's favorite drag queen, Le Gateau Chocolat entered the room and belted Nessun Dorma in a deep baritone. Joe commenting, "Everyone was so excited. Our families were just like, 'what on earth is going on.' It's a special moment that everyone is going to remember from the wedding."
Matt described the wedding day as completely overwhelming. "I don't think I stopped smiling. It was just lovely being with friends that were all there for you. We were together for nine years so it felt a lot like just celebrating our life together, instead of being something overly lovey-dovey." Joe adding, "You're surrounded by everyone special and close to you in your life. Family, school friends, recent friends, and they all came to celebrate you and your new husband. That's a really powerful feeling."
Immediately following the wedding, Joe and Matt escaped for a few days to recover by way of sun, wine and a private pool on the island of Crete, Greece. Over the New Year holiday, they spent a longer honeymoon celebrating in Cambodia and Bangkok.
When asked what advice they would give to other couples planning their wedding, Matt suggested that if you're giving a speech at your reception, to practice it in front of others to perfect the delivery. And Joe leaves us with this nugget of advice, "Just try to remember the sounds and the smells and the little moments throughout the day because it goes by so quickly. Like us going on a run together in the morning. It's just a really nice moment that I remember very well. Just keep reminding yourself that this is an amazing day."
Grooms: @Matt_IsardMcnulty & @Joe_IsardMcnulty