WEDDING WISDOM: JON & KEVIN
Jon and Kevin went to the same gym in Dallas Texas and frequently saw one another, but never really exchanged words.
"I had been checking him out at the gym for quite some time and he just had never looked at me. Every time I would go to the water fountain I would take a drink of water, but also check him out." Jon recalled.
However, one day in 2004 Jon had forgotten his workout shoes and was just wearing flip flops. As he was going into the locker room, he ran into Kevin, who was on his way out of the locker room, and asked if he could borrow his shoes. Kevin kindly said no, but from then on they would say Hi and talk when they would see each other at the gym.
About a year later, Kevin moved out to San Diego to train at the Chula Vista Olympic Training Center. Jon mentioned that he could come and visit while Kevin was out there. Kevin had been at the Training Center for 3 months and was making plans to drive back to Dallas when Jon called and said he was finally able to fly out to San Diego to visit. It turned out that Jon flew out to San Diego and helped him drive back to Dallas.
"In the 20 hours of driving we obviously talked a lot and got to know each other better. But still, we took it pretty slowly." Kevin said. Making the 2006 Olympic team in the sport of skeleton was Kevin's main focus at the time. "I was going to be gone for 6 months with the Olympic games. I knew it wasn't a good idea starting a new relationship knowing I was going to be gone for so long."
As Jon and Kevin continued to date, Jon got the feeling that it just wasn't going anywhere. "I always felt like he was holding back, but I don't think I really understood how much commitment was required for his Olympic training." Jon got a job offer in New York City, and knowing that Kevin wasn't ready to commit, packed his bags and left Dallas. Despite the move, Kevin would frequently visit Jon in New York. Jon flew to Europe to watch Kevin compete in the Winter Olympic Games in Torino, Italy. After, Jon returned to New York after Kevin's competition, Kevin broke his back in an accident.
"It was a freak accident. I was sliding down this course and then I got to this retaining wall that was supposed to stop us at the end, but I was going too fast. I ended up with a fracture dislocation in my back." Jon hadn't even unpacked his bags yet, and was back onto another flight to stay with Kevin during his two weeks recovery in the hospital. "We had a lot of time together in the hospital. That's when we really connected."
Jon recalled, "I would wash his face for him and comb his hair. If you knew Kevin, he's a very independent person. I was so emotional because I finally had something to do for him."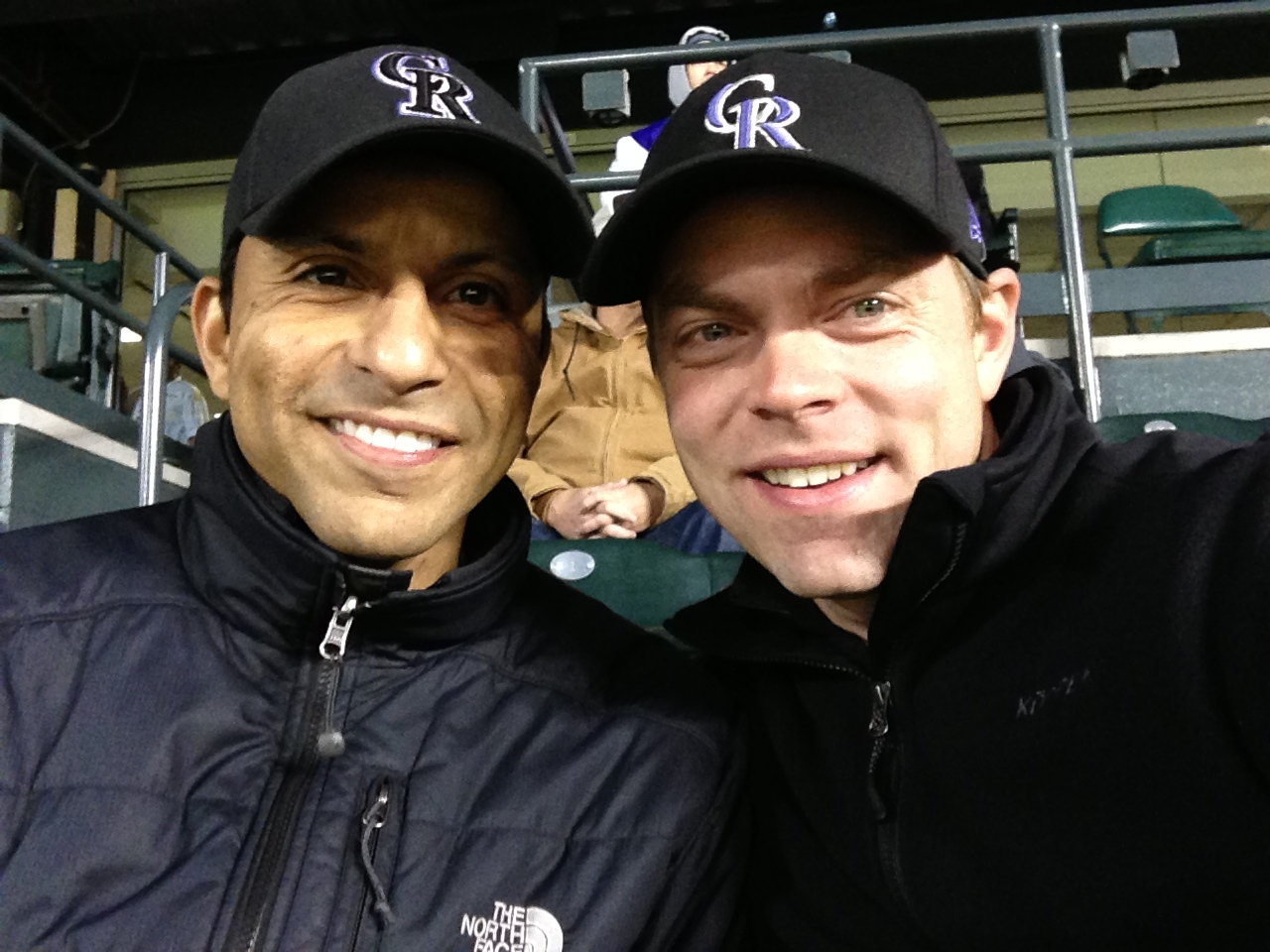 In the years following, Kevin and Jon built their relationship through career decisions and changes of address to ensure they were together, but the topic of marriage wasn't mentioned often. After marriage equality had passed nationwide, however, a deeper appreciation for being together became very apparent.
On a trip to Europe together, Kevin secretly brought engagement rings along with him. Not knowing when to propose, he struggled to find the right moment from Paris to Amsterdam. At their last stop in London before going home, the two sat in Trafalgar Square. "The crosswalk signs at the square were very unique - where you would usually see the walking man illuminated, instead were two Mars or male symbols intertwined (the circle with the arrow pointing to the top right) It was just a nice environment. We sat down on the steps and Kevin started talking about marriage."
Kevin asked, "Do you ever think you could get married?"
Jon replied, "Yes, I think so."
"Do you think you could get married to me?"
"Of course it would be you."
Without anything more, Kevin reached into his shorts pocket and pulled out a box and asked, "Will you marry me?"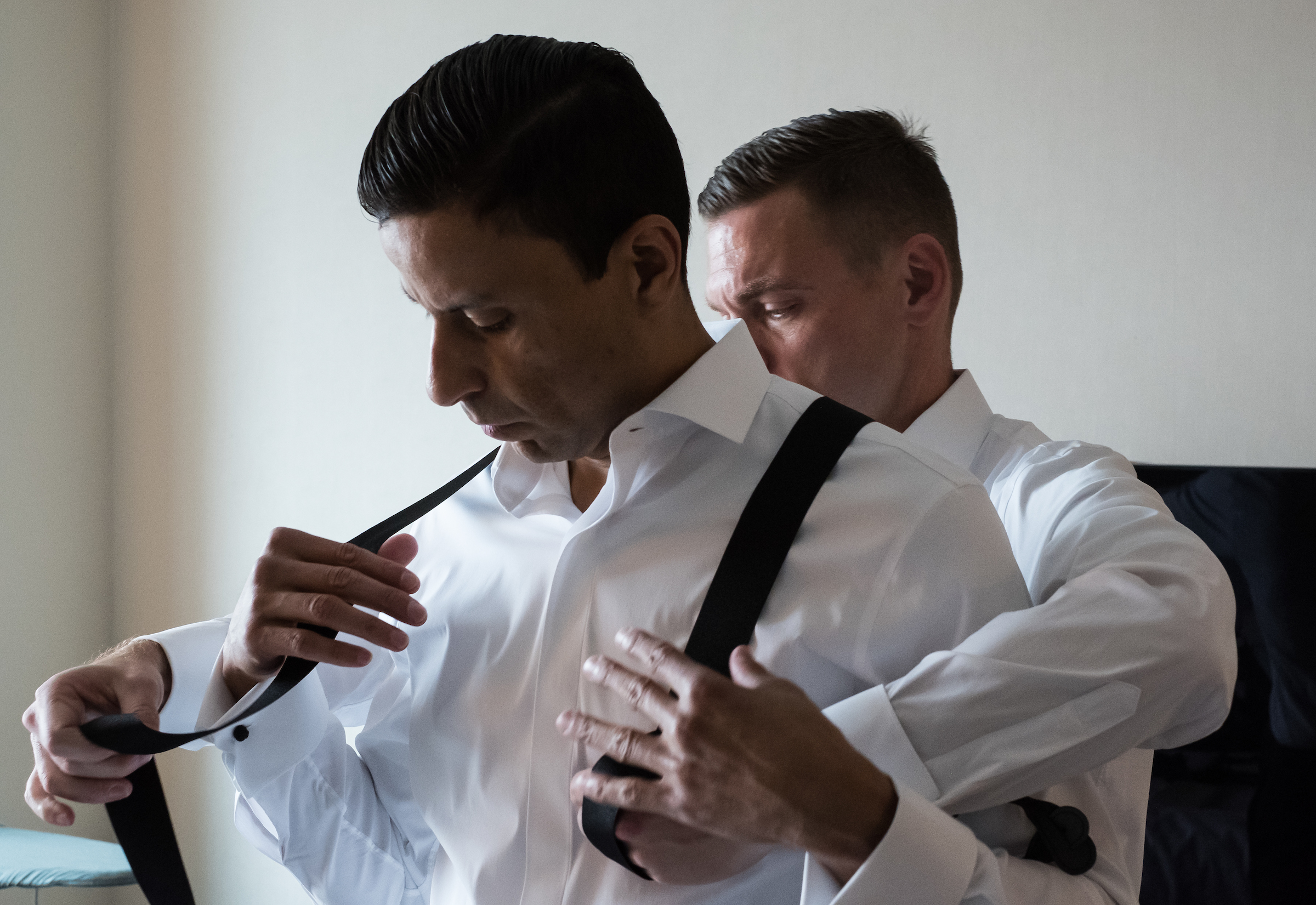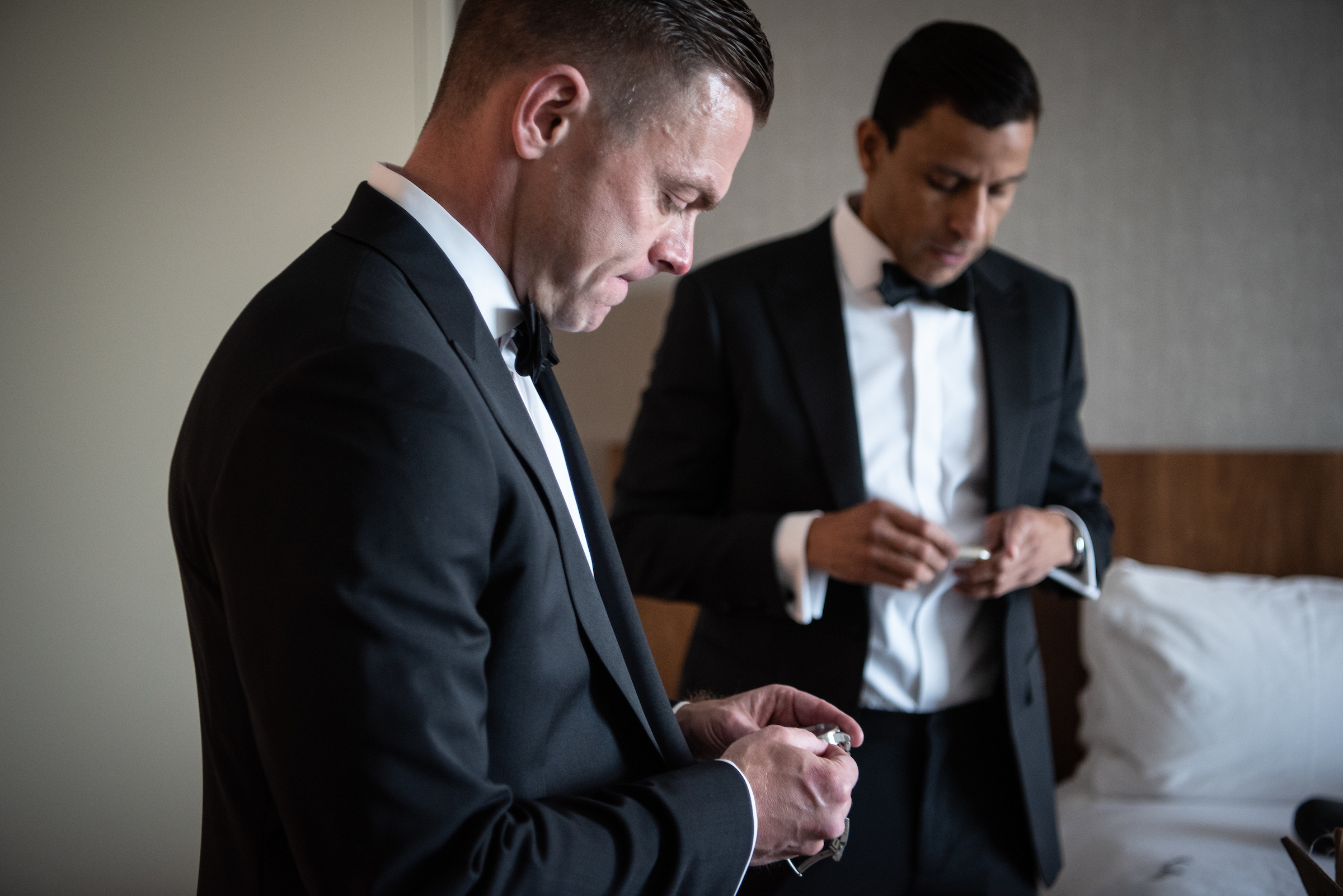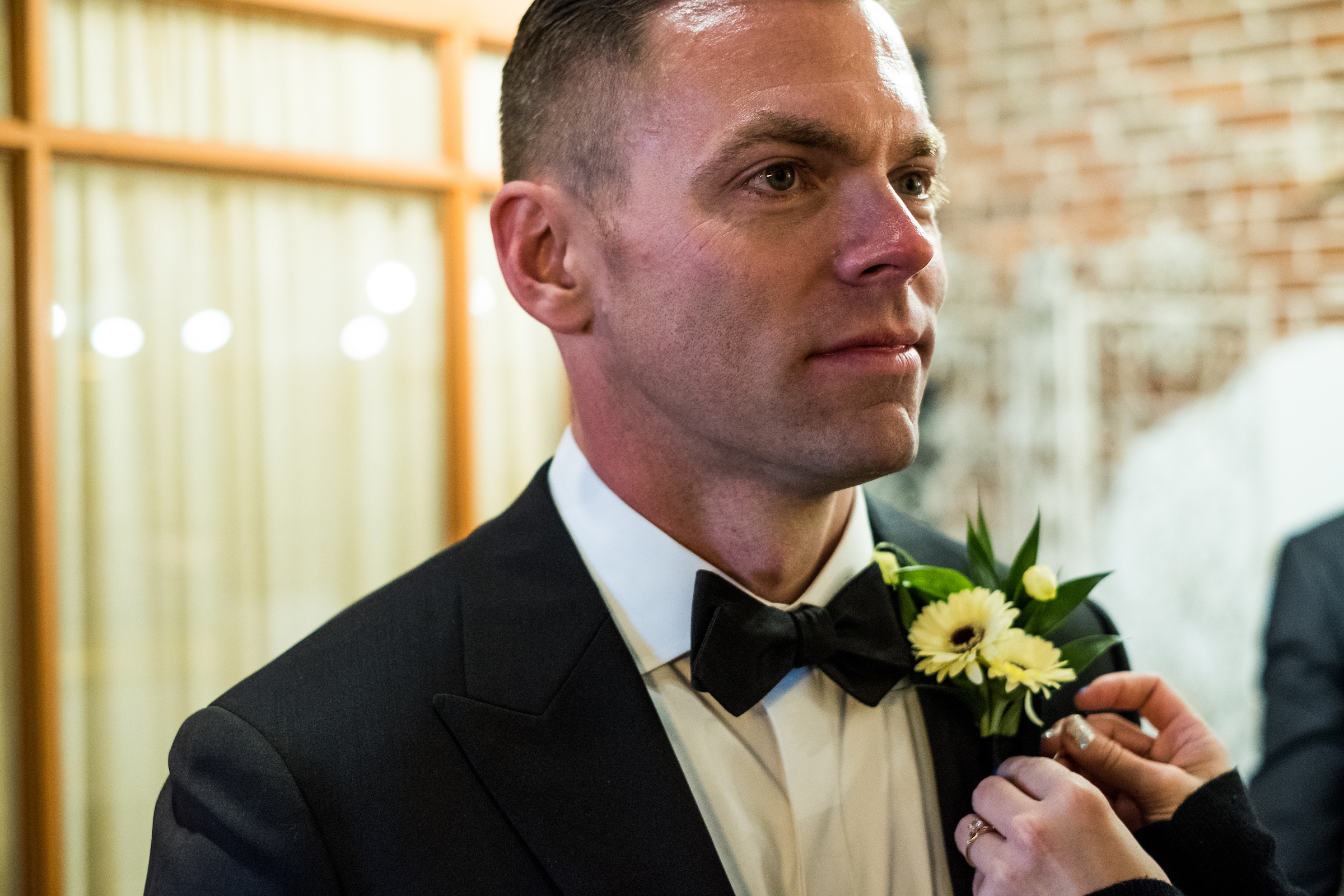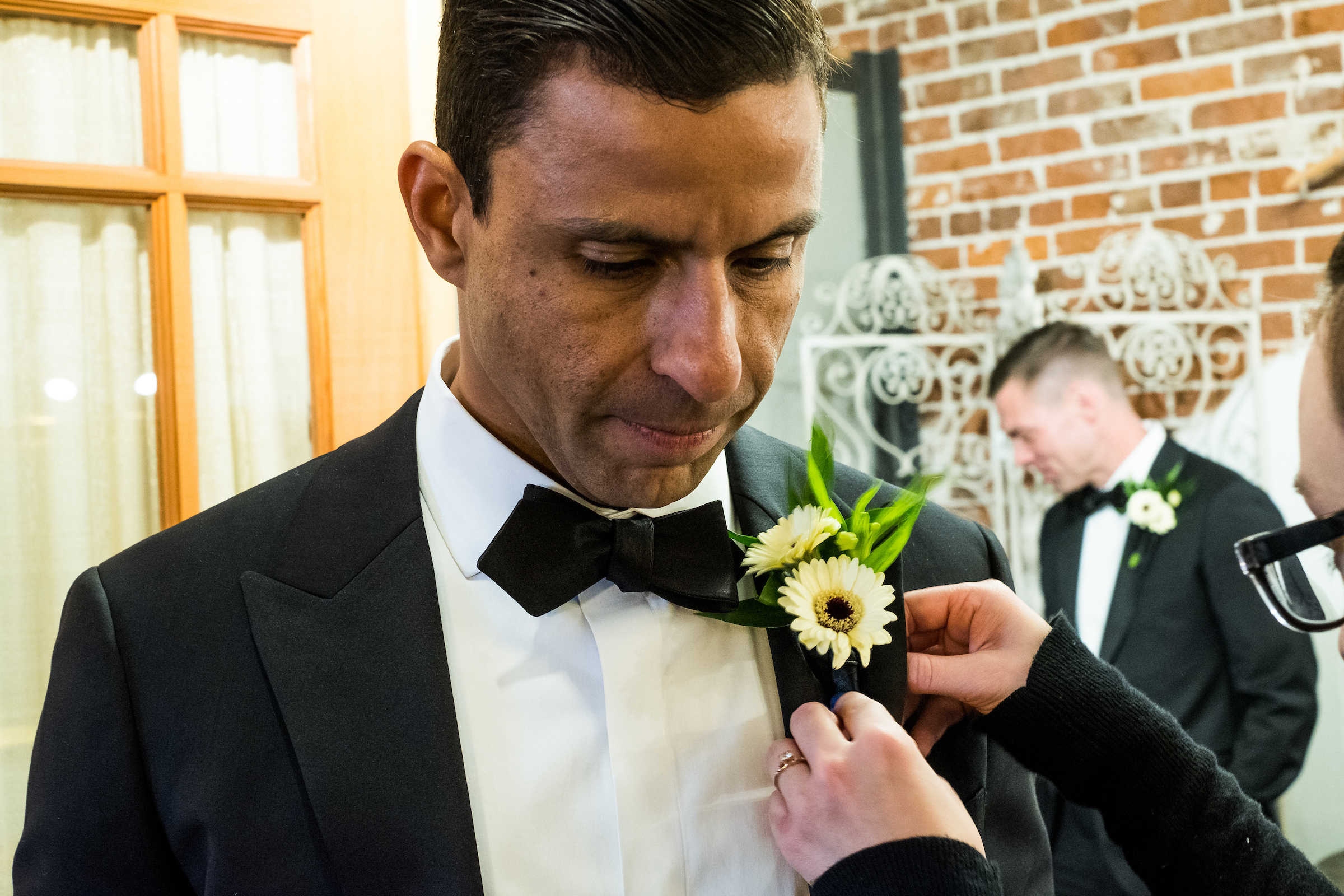 The proposal was quiet, heartfelt, and completely personal. Kevin described the moment, "It was so emotional for me, I could barely get the words out because I just started crying."
Jon and Kevin's venue was called "Moss", in Denver, Colorado. "Wedding planning was overwhelming to say the least." Jon explained, "The whole enormity of the thing, from the venue to the flowers to the photographers. Every time we thought we had hit the last of the big expenses, something else would come up." Kevin says, "As stressed out as we were at times, when all was said and done it just went really well."
The event being a destination wedding, Jon and Kevin arranged a variety of group activities and mixers over the weekend including a cross-fit workout, and a yoga session the morning of the wedding. After some quiet moments in the morning, Jon and Kevin returned to their room to get their tuxes on.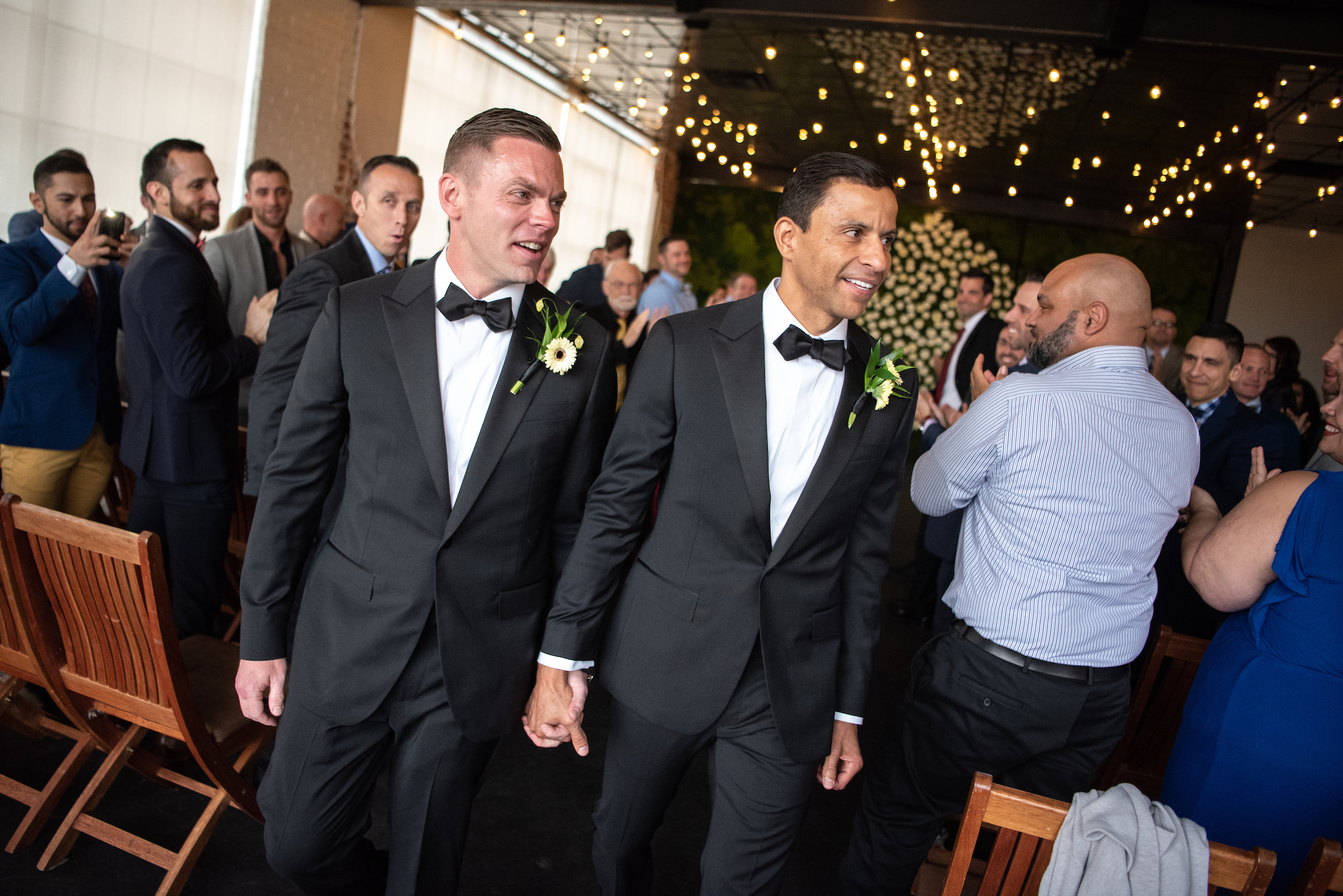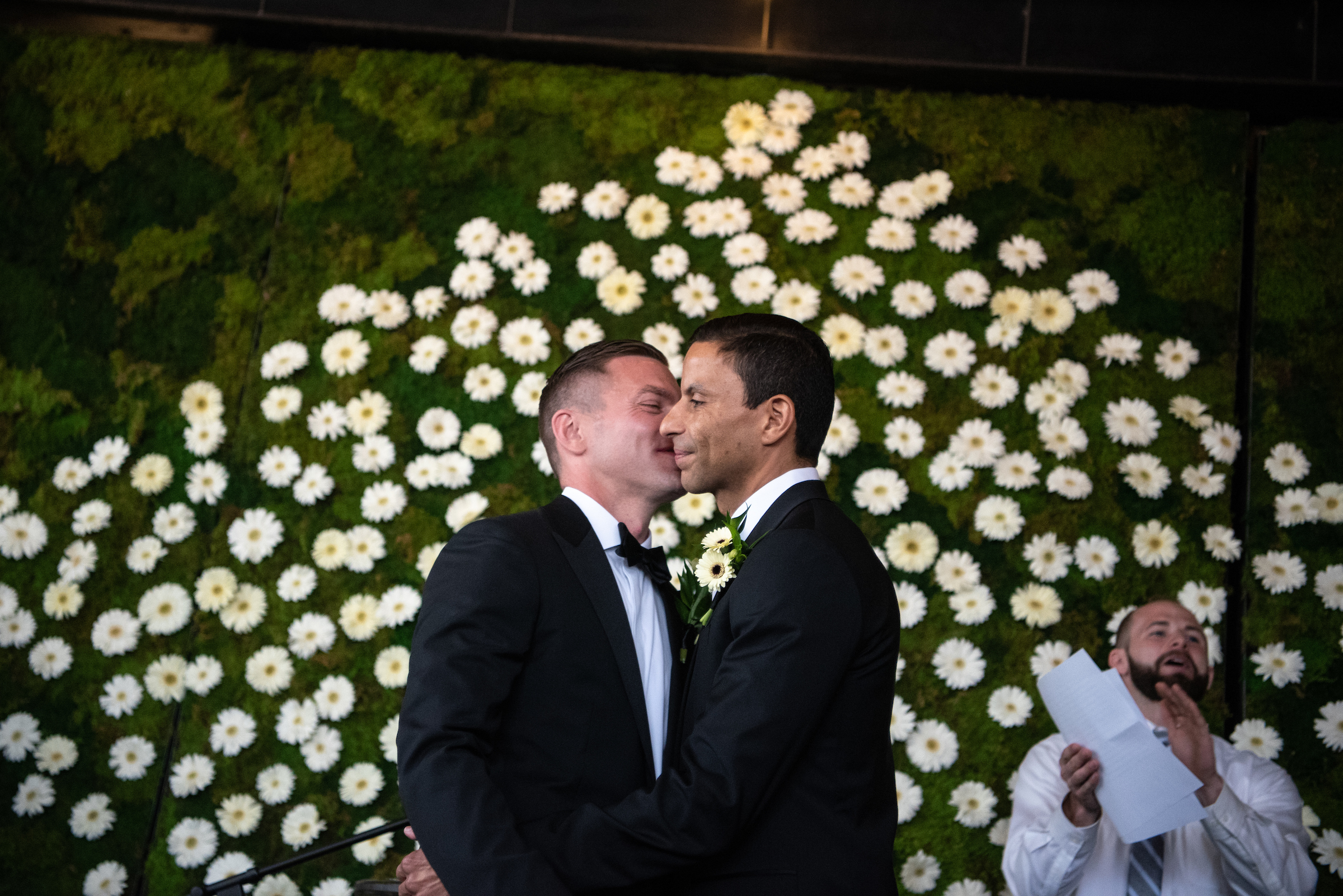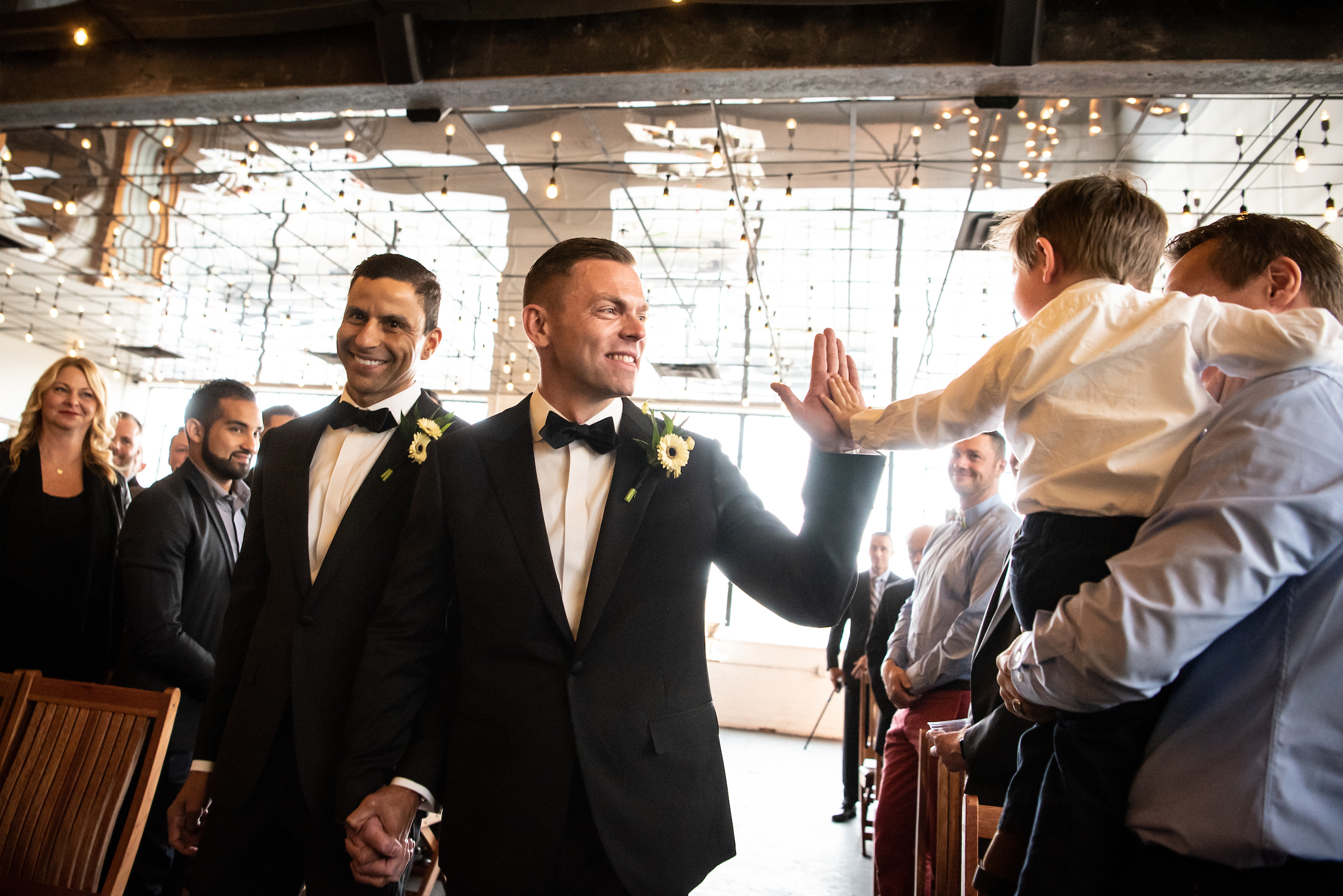 At the ceremony, Jon and Kevin shared their own vows. "I described all the feelings that I feel for Kevin. You've been a mystery, a friend, a lover, a partner. You know me better than anyone, and you still love me." Kevin described his transition from believing that marriage wasn't really for him, to the moment that he proposed. "I realized that we are stronger and better together than we are apart." Jon and Kevin exchanged rings, said 'I do' and kissed amongst the smiles and tears from their audience.
Their first dance consisted of a choreographed sequence of This is Me from The Greatest Showman. "We had rehearsed the dance steps from the song. It started with this very 1-2-1-2 proper dance, and got to the point where we did a dance routine together which really took our guests by surprise."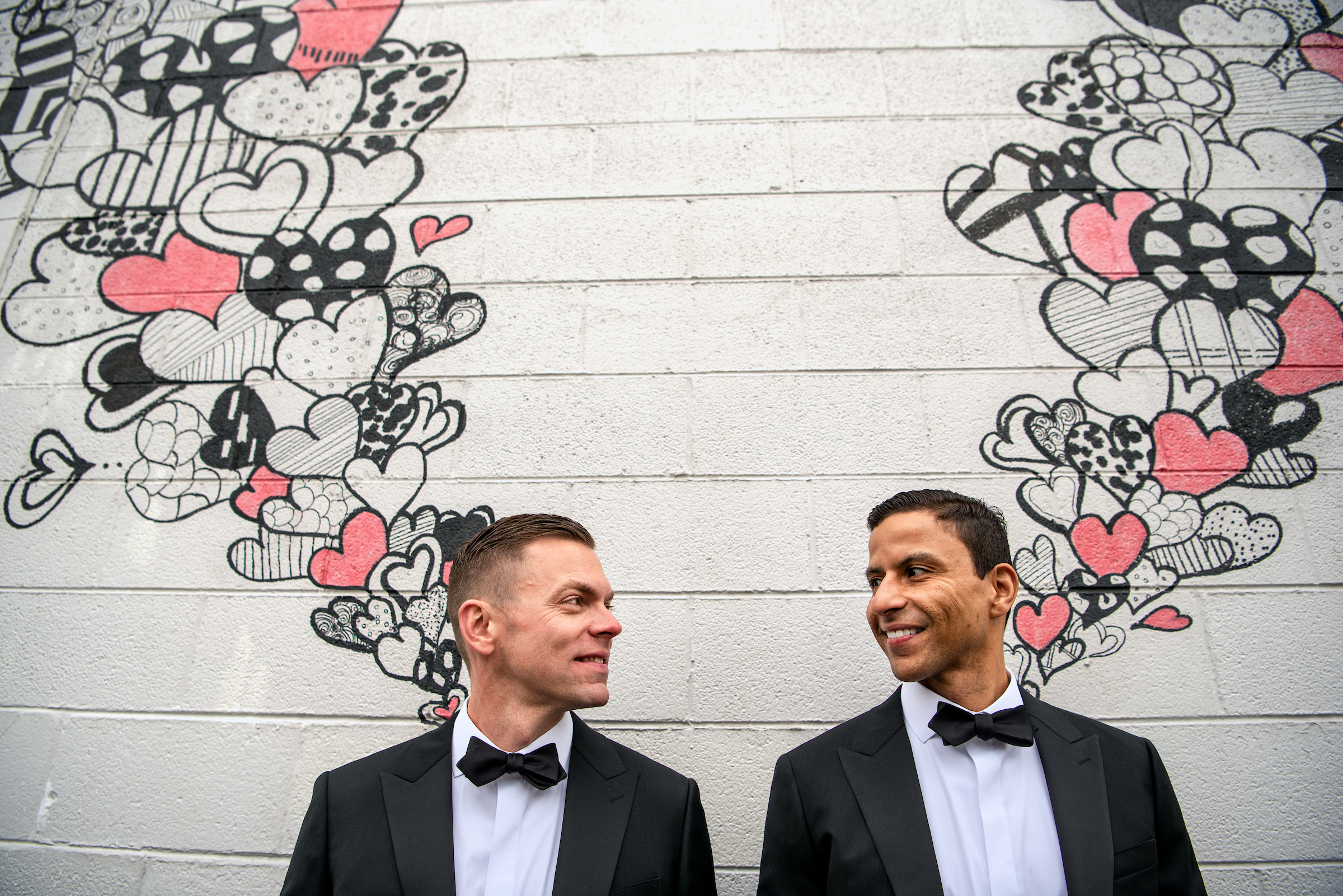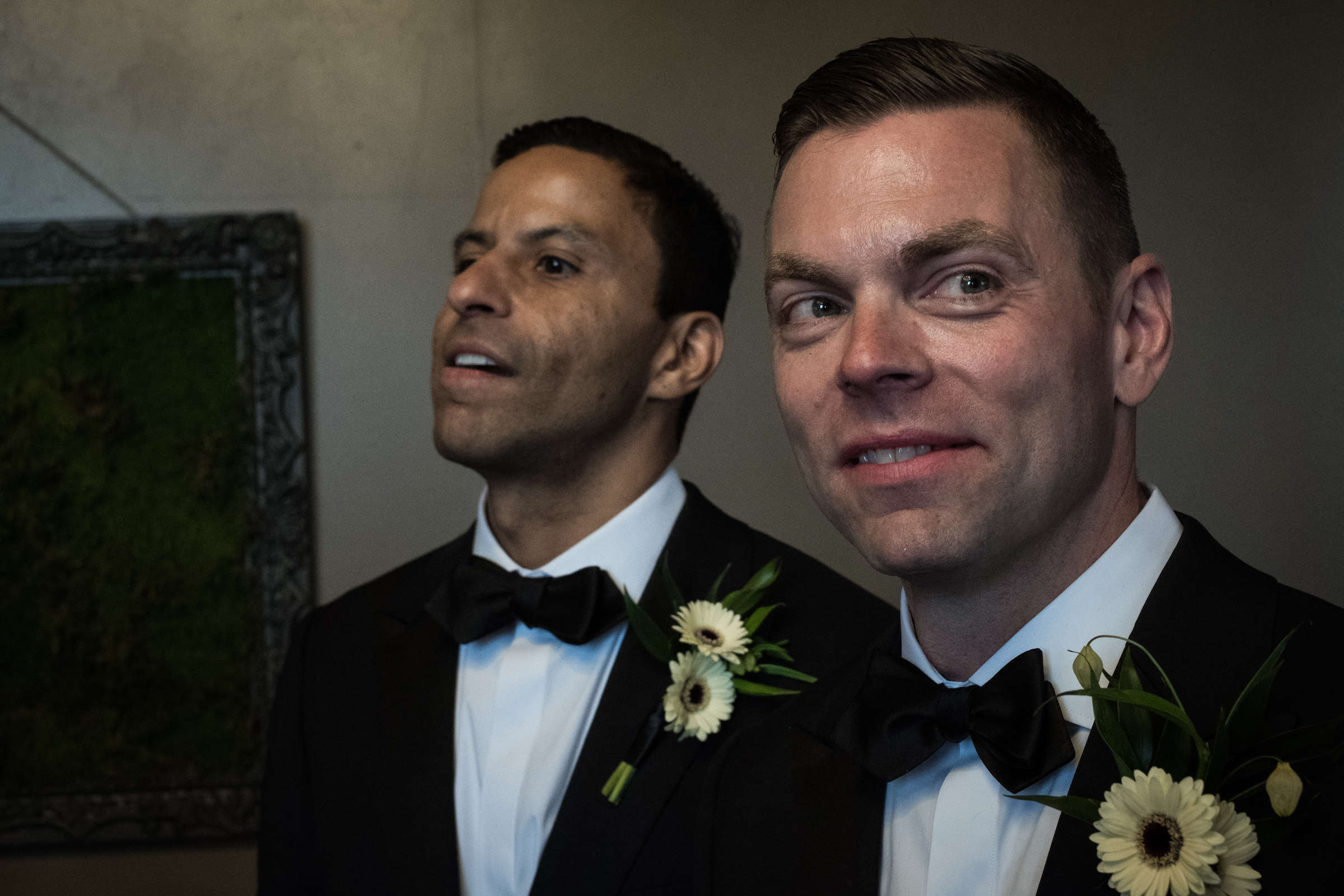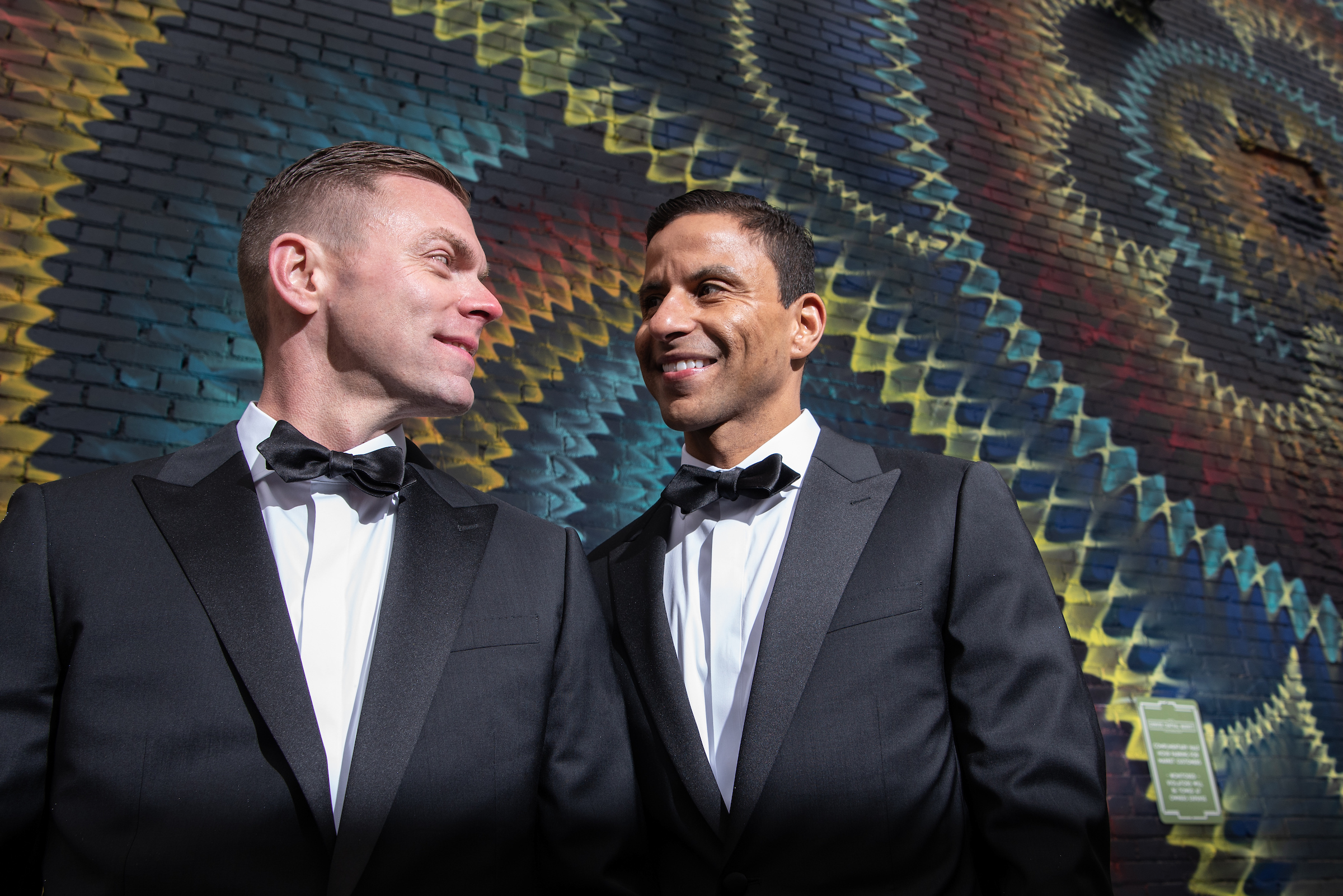 Overall, Jon and Kevin were overwhelmed and incredibly surprised by the number of people who came all the way to Denver to see them get married. After the celebration, Jon and Kevin took a small honeymoon in Vail, Colorado. Jon described it as "the perfect time to decompress. It was great just getting back to the two of us again."
When asked about what advice they would give to other couples planning their big day, both highly recommended hiring a wedding planner. "We thought early on we could probably handle meeting vendors and making the decisions from a distance, but it turns out that wedding planner was critical on the day of. We would have been way too distracted to keep a schedule." Jon adding, "Our planner told us, 'as long as the food is good and the alcohol is free, that is all anyone will ever remember!'" "We really appreciated the great job that our photographers and videographer did to capture everything. Kevin's mother was not able to attend, and having something to show her made us feel like she was able to be share that day with us."
Jon and Kevin, now husbands, happily spend most of their time together between Dallas and New York City.