WEDDING WISDOM: MICHAEL & WHIT
Michael and Whit met on Facebook, of all places! Michael was "randomly searching one day" and Facebook served up Whit, thanks to the one mutual friend the couple shared. "It is an odd thing to describe but I had a gut feeling and thought 'I could really see myself with this guy,'" Michael said. So, he friended Whit.
Whit checked Michael out through their mutual friend and once given the all clear, accepted the friend request. They embarked on getting to know each other over Facebook messenger. "Was there even Facebook Messenger in 2009?!" Michael asked. Chatting on Facebook eventually led to Michael taking his first trip from his native West Virginia to the big city of Chicago to visit Whit. In keeping with his first reaction to Whit's profile, meeting him in person also came with an instantaneous reaction. "I saw him and thought 'I am done. I am in for this.' I think it was the same for him!" Michael laughed.
And, with that began Michael's bi-monthly drive from West Virginia to Columbus, Ohio from where he then took the bus to Chicago to visit Whit… for three-and-a-half years! "That was commitment," said Whit. It was when Michael's grandmother passed away – whom Michael was taking care of – that he moved to Chicago and "we went through our fair share of the growing pains of living together." The couple jokes that "while Michael adjusted to a new city, Whit adjusted to Michael adjusting to a new city." Michael added: "It was a big step, but we made it."
"We've always had a no rush policy," Whit noted when asked about when they realized they were on their way to engagement and marriage. "I always knew that one day whenever it was supposed to happen, it would happen." "We weren't talking about engagement right away because we wanted to enjoy each phase of our relationship as it happened, letting life dictate when we were ready to move forward."
But, when it was time, it was Michael who proposed on the occasion of their 5th anniversary trip to Hawaii. Michael didn't have a specific plan other than to carry the ring with him at all times and, when the moment struck, he'd ask Whit to marry him. Oh, and he was also armed with Whit's parents' approval as Michael had called beforehand to ask for their blessing.
"I think Whit's dad was more excited than I was during that call" Michael joked. "It felt good."
The moment came two days before the end of the trip as the couple was enjoying the sunset following a couples' massage that Whit had arranged. Michael began to tell Whit how happy he was with him and how great their life was together. "He kept giving me one word answers and 'uh-huhs.'" Michael said. Whit commented: "I was like 'just enjoy the sunset!'" unaware what Michael was up to. "Finally – and I don't remember to this day what I actually said – I asked him to marry me and he said: 'of course!'" Whit, not being an overly emotional person, had tears in his eyes.
The very next day while hanging on the beach Whit began pondering how many people to invite to the wedding. "Whoa, whoa, whoa!" was Michael's reaction. "I didn't have a picture of what our wedding would be, but I thought it would be more like a few friends at the courthouse. He threw me for a loop at that point!" Michael went on: "Coming from West Virginia, being gay is something you kept to yourself and didn't have on display," as you would with a big wedding. But, once the couple returned home they slowly began nailing down the first steps of planning: date, venue and budget. "Once we both realized we'd be having an actual wedding, we found that we agreed on pretty much everything from that point on," added Michael.
"The size, the guest list, the overall look; our visions lined up
pretty perfectly."
Michael and Whit got married in June of 2016 in Chicago at Salvage One, "an amazing old warehouse that sells salvaged items from old buildings. The space is very industrial; it has exposed bricks, raw beams, creaky wooden floors, dust in just the right places, and an event space on the second floor, which is where we got married," Michael described.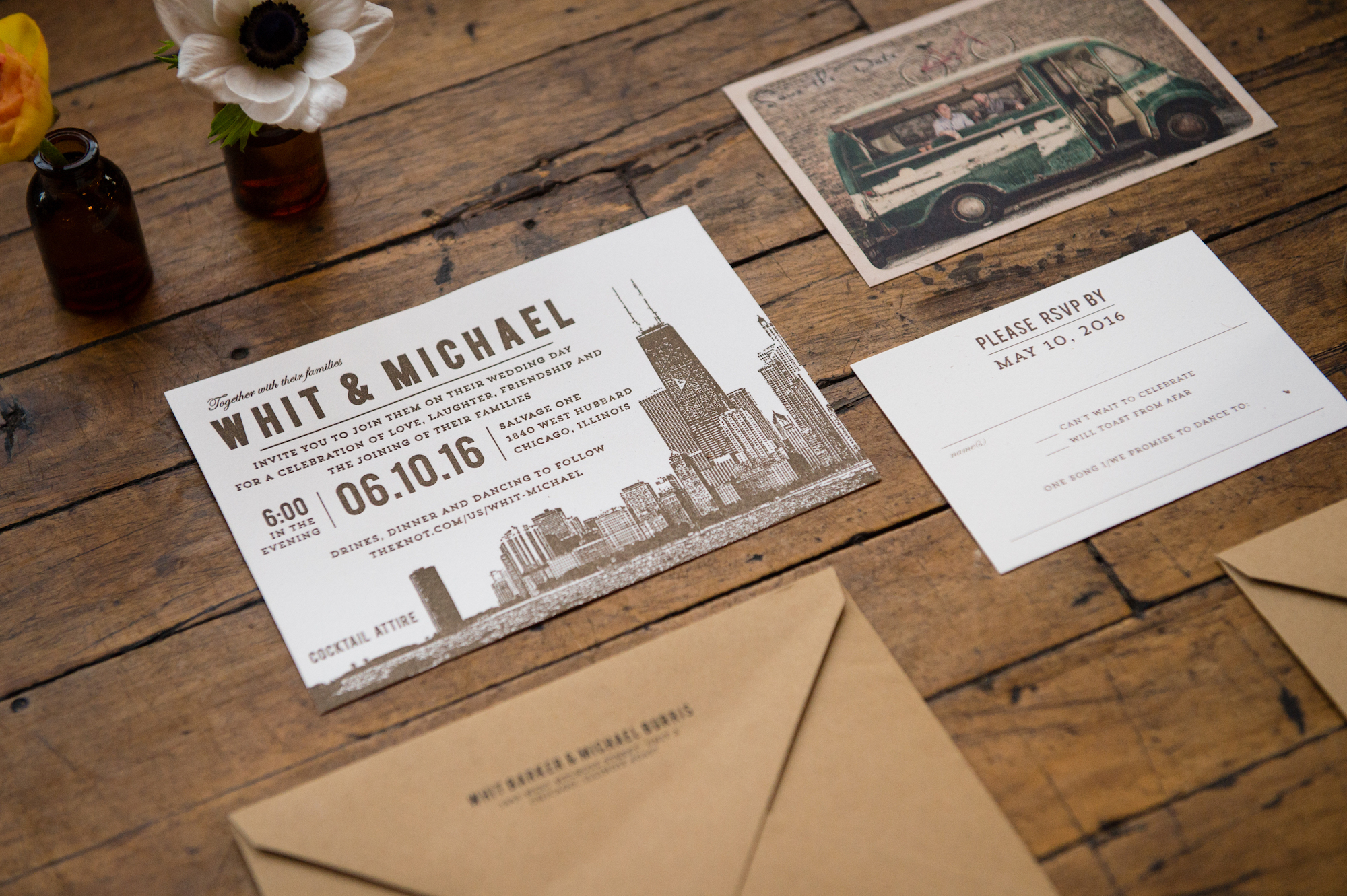 "We didn't have a theme; it was a vibe. Very organic and 'come as you are.'" The couple decorated the venue with family antiques, tokens from their dating years such as love letters and a number of framed pictures of themselves throughout their relationship. Everything was mismatched from place settings, to chandeliers, to the dinner tables and chairs (all of which were actually for sale), all contributing to a very easy atmosphere. As for wardrobe, Whit went on to say that while they had custom suits created, they simply gave a little direction to their wedding party – led by Michael's best man and Whit's "best gal" – and let them all pick their own suits and dresses. "We wanted our best friends to stand with us on that day and be comfortable" Michael added, "letting them choose what fit them best, both physically and financially, was important to us."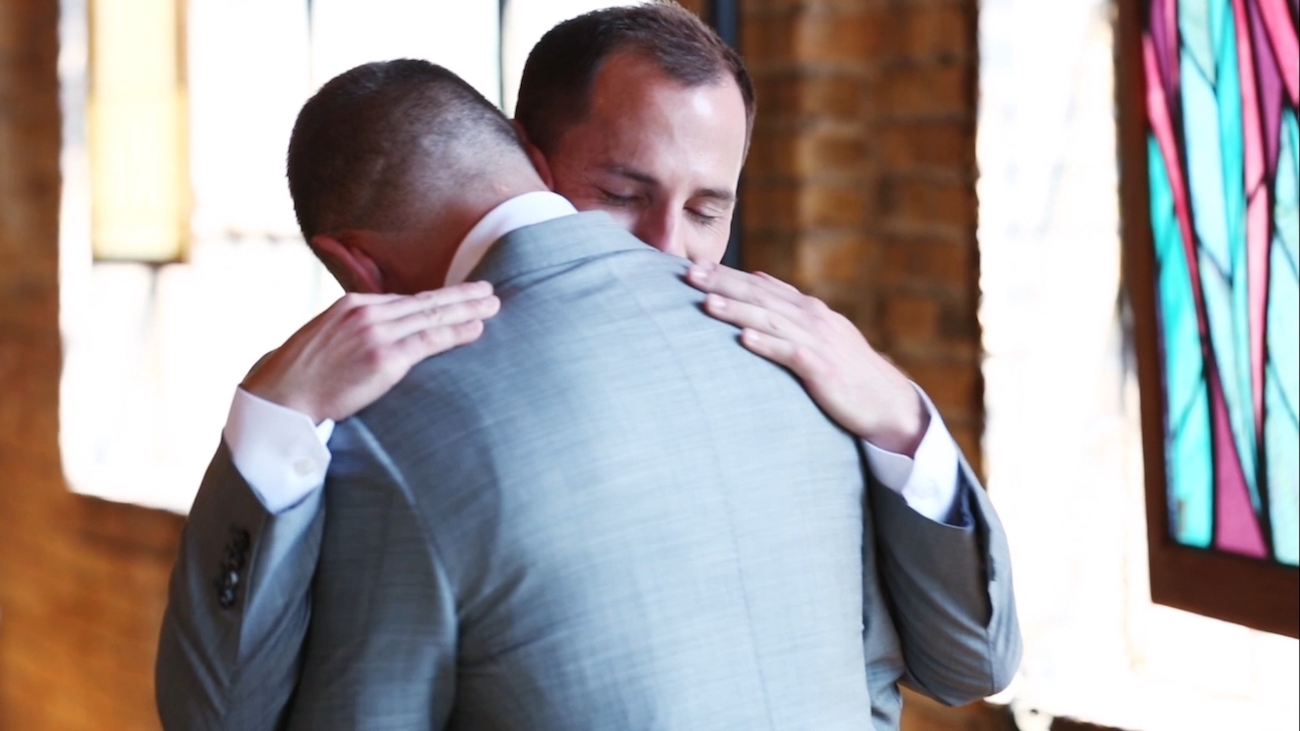 "Our main focus for the entire event was for people to just come and have fun with us." In Michael's opinion, it was all "very, very, very casual, but at the same time there was a classy vibe surrounding everything. To us, this wedding felt very easy, both in planning and participating, because in gay weddings there really are no rules or traditions… you get to create your own."
When it came to the ceremony, Michael and Whit's wedding planner referred them to an officiant who, unable to make the date, then referred them to their actual officiant. "She ended up being perfect," Michael said. "So many people asked us how we knew her; that's how much she felt a part of our lives and nailed our relationship," Whit added. "We also had a hand in writing the entire ceremony so that it told our story. People responded so well to hearing our love story rather than a bunch of random filler." Michael and Whit wrote their vows together and recited them to each other. "We didn't want any mystery moments while we were up there," Michael said with a smile on his face. Very unique to their ceremony was Michael and Whit's "ring warming. As the officiant performed the ceremony, the guests passed around the couple's wedding rings (which were tied onto trays) for each to give a quick blessing or positive thought. "When we were ready to exchange the rings we received them back showered in love from our friends and family," said Michael.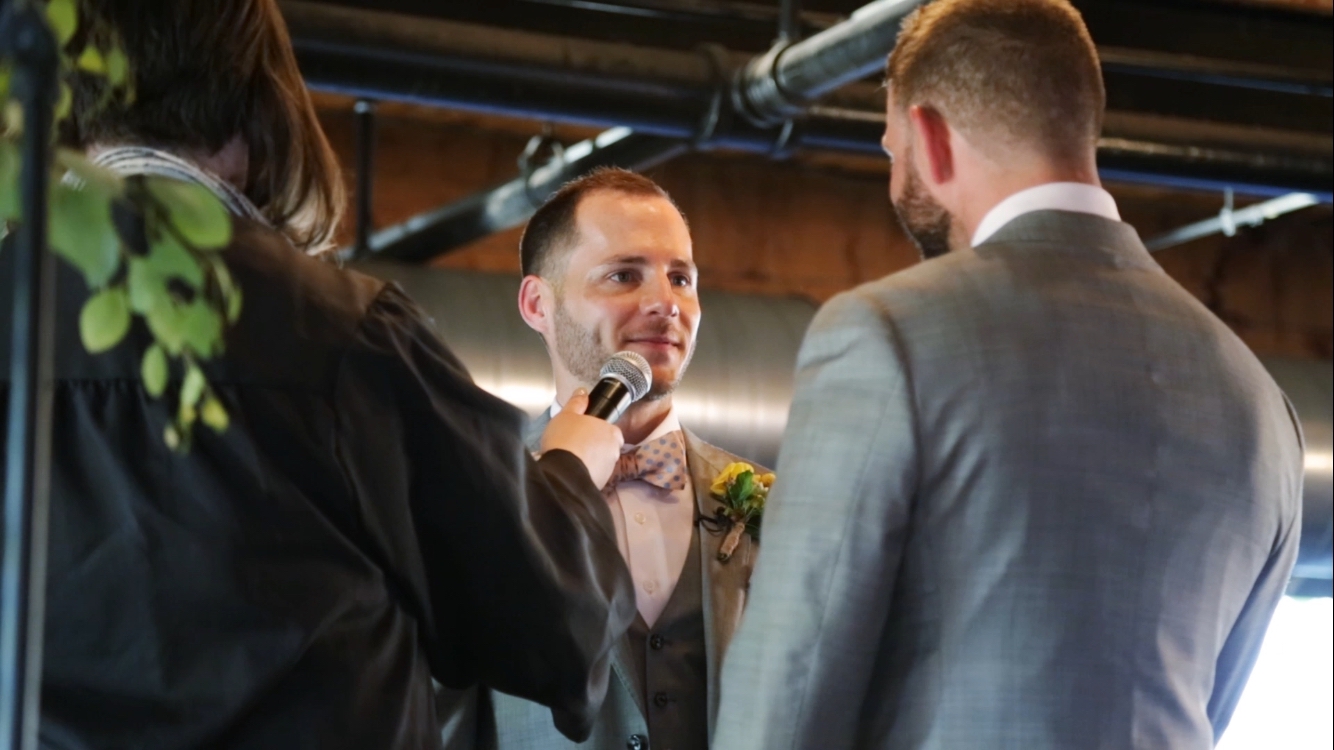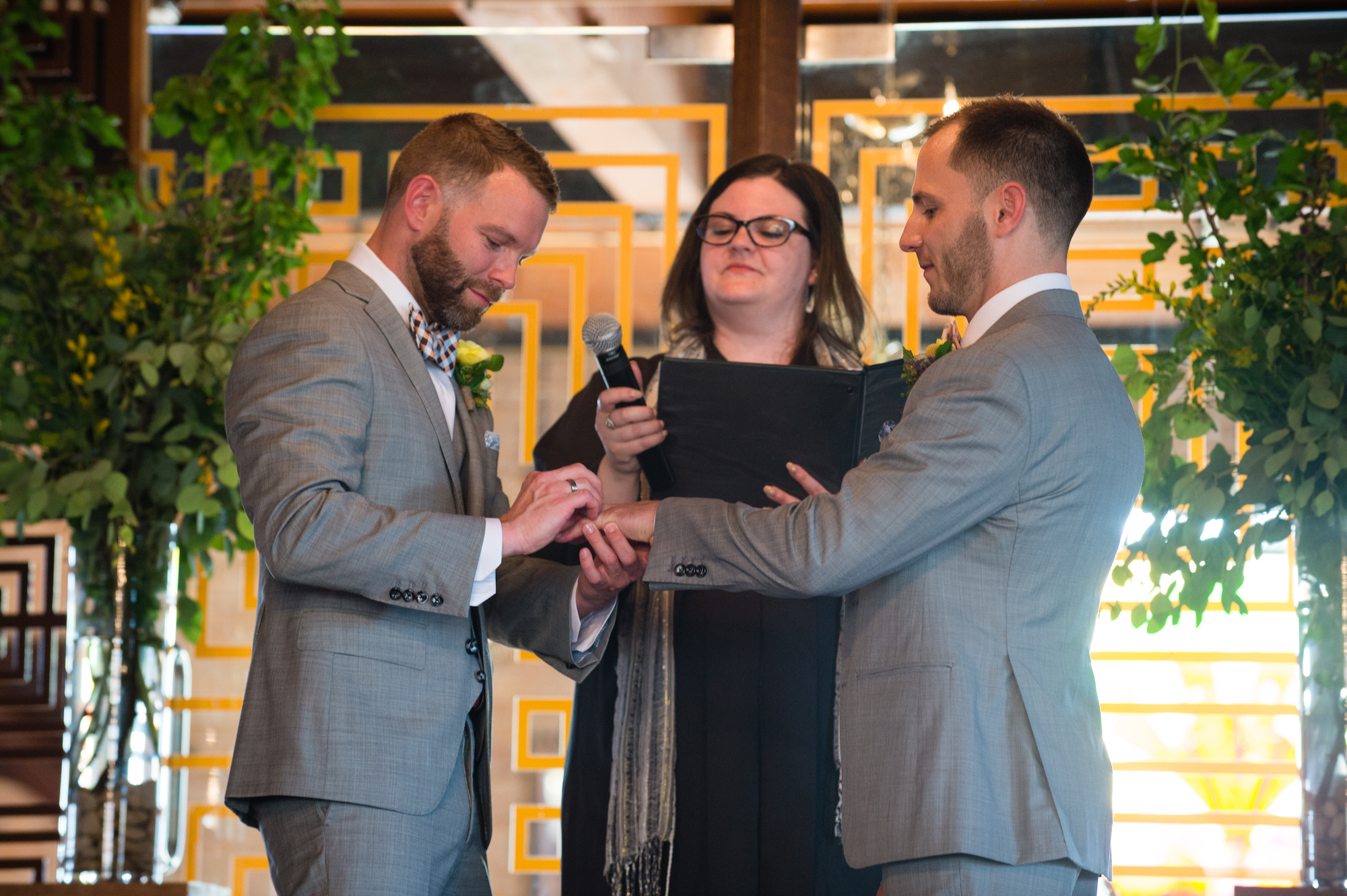 Another standout element of their ceremony was the music. A cellist and guitarist accompanied the ceremony, playing contemporary songs ranging from John Legend's "All of Me" for the processional and Janet Jackson's "Love Will Never Do Without You" for the recessional. Janet appeared throughout the event as Michael is a huge fan. Two of the wedding party included her in their toasts and, needless to say, the DJ included Ms. Jackson throughout the set.
For the cocktail hour guests sipped a signature sangria created by Michael and Whit. With sangrias in hand, guests made their way to the reception. Whit noted, that "so many weddings are start-and-stop: let's cut the cake, now let's toss the garter, OK first dance, now so-and-so wants to say a few words. We wanted to get that all out of the way so that the energy could turn up and stay up!" As promised by Whit, everything flowed effortlessly: the couple was regaled by speeches, indulged in dinner and the cake cutting, and had their first dance to Ed Sheeran's "Thinking Out Loud." Once done with all the formalities, the evening gave way to a huge dance party.
"We got to watch everyone we've ever cared about throughout our lives
all having the best time ever. It was an indescribable feeling."
Michael and Whit really spent some time ensuring their dance party was one for the ages. "We decided we'd go with a DJ that was paired with a live drummer," Whit said of the music. "We wanted that live music aspect, but wanted the current songs and variety of music types, which was a huge hit with everybody." So too were the variety of light up props they continuously brought on to the dance floor! "What is it about light up maracas!?" Michael asked laughing. Whatever it is, these items got everyone on their feet, especially the older guests.
To further help with the shimmying, Michael and Whit brilliantly opted for bite-sized desserts! "We didn't want anyone getting too full," Michael said. "So, when people needed a pick me up, they'd make their way to a mini-cupcake or cookie and right on back to the dance floor!"
Another unique experience was a photo backdrop made from a massive chalkboard with the likeness of Michael and Whit rendered in chalk by one of the groomsmen. In the image, the two were dressed in their wedding suits and had one arm around each other, and their other arm out as to put around the persons posing in front of their image. This photo op became a signature "event of the event!"
As most couples probably try to have a Saturday wedding, one of the advantages of getting married on a Friday was that the couple got to spend the rest of the weekend visiting with all of the guests who'd flown in for the wedding. Rather than immediately fly off to their Greek honeymoon, Michael and Whit spent a day-and-a-half enjoying the Chicago summer alongside their friends and family, which was just as memorable for them as the wedding day. "There were people at the wedding that we sadly didn't even get to talk to" said Michael. "Staying in town that extra day let us get in that face time that you just can't get with every guest in the course of one evening."
Looking back, the couple had a simple bit of advice for those following in their wedding footsteps: "trust your gut." By which they meant: "if you like the first DJ you meet, go with her." They went on to say: "don't overdo it. It is so easy to go overboard with frills, and money doesn't equal fantastic wedding," said Michael. "It just means more sh*t to take home afterward!" Traditional weddings can have so many trinkets and unnecessary items that can drive up a budget. "Pick and choose these things according to what you actually like and not what you think 'has to be there.' Put the money for super fancy printed menus or programs toward the photographer that you love but is just out of budget. You'll cherish those photos more than a menu, trust me," said Michael. He went on to say: "enlist people who genuinely want to help you realize your vision. This will be the one time in your life when everyone is there to make sure that you have the best day possible, so gently take advantage of that. You can be heavily involved, as we were, without being a 'groomzilla.' Everything we wanted, we got, because we asked. When we look back on our wedding day we see ourselves all over it. That is very gratifying and something we know will bring us happiness when we are much older."
"I think the thing that makes me most happy about our wedding, is the overwhelming love and support that everyone brought along with them. Everyone was just beyond gracious in their outpouring of emotion and in creating a positive atmosphere for us throughout the day. Everyone that you love, just loving you back, is so so so fulfilling," said Michael.
Michael went on to describe how his cousin's husband, a military man from West Virginia, had been uneasy to come to a same-sex wedding, a fact the couple was unaware of. But, at the end of the event, the couple found out their guest said he had never been as touched by two people connecting the way Michael and Whit had. This military man went on to say that his view on gay marriage had changed completely simply from feeling the love in the room as Whit and Michael said their vows to one another.
For Whit, it was "the ceremony itself and just the way it touched not just me, but everyone. It was so heartfelt and genuine and unexpected. The way we wrote our ceremony and the way it was told was like a story. It was so much more open and real than just a procedure to get married."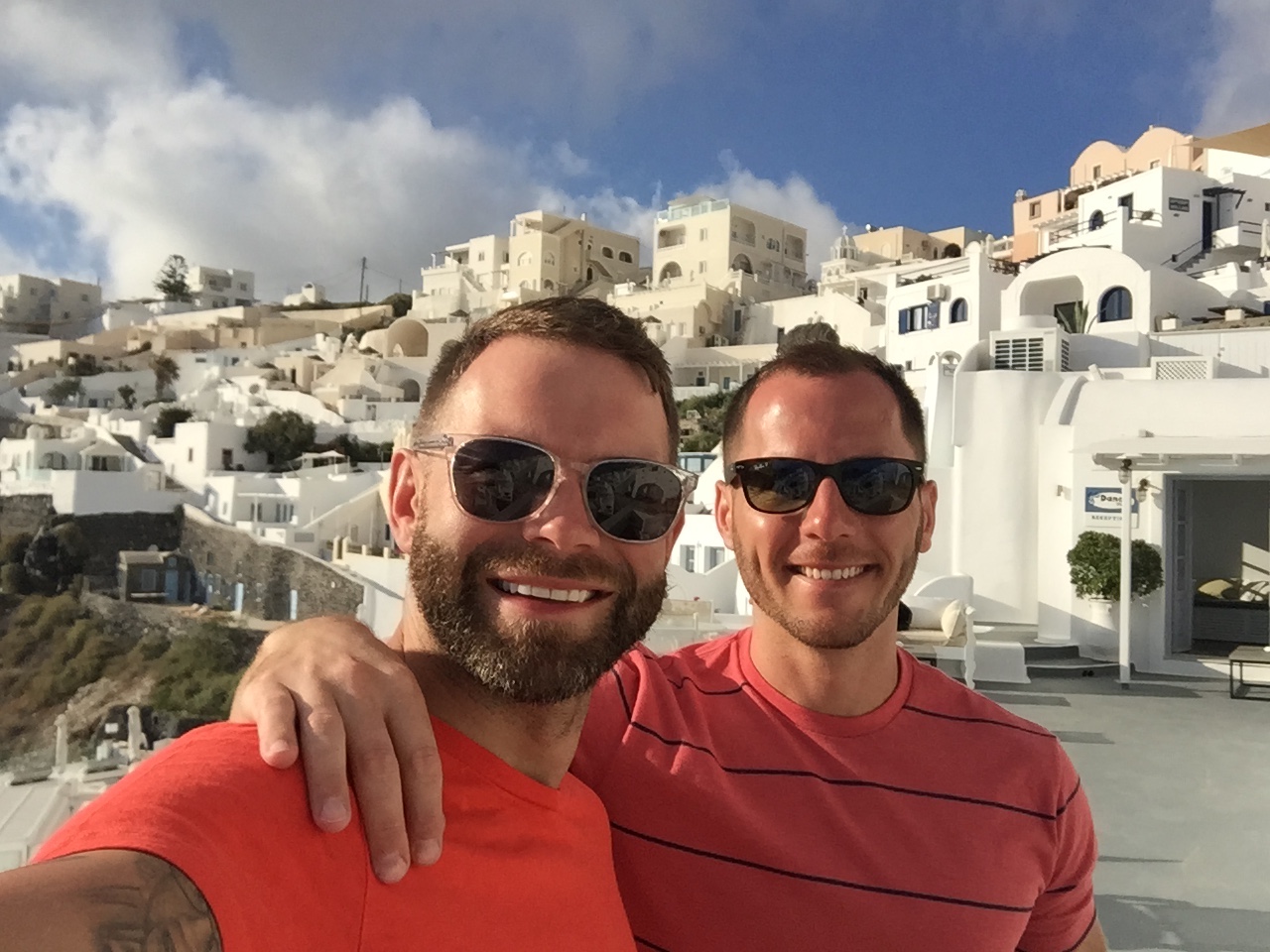 "Our connection grew more than I expected after we got married and it has been so nice to enjoy that," Whit pointed out. But, now, their lives are dictating that they are ready to move to the next step. Based on those early gut feelings that they were the one for each other, Michael and Whit are focused on deepening their connection even further and starting a family. "Instead of registering for gifts we shared our desire to become fathers with our guests and created an unofficial "baby fund" which was met with a great reaction." The couple hopes to have their first child next year. "My biological clock is in hyper drive" Michael laughed.
This time the gut instinct is ours when we aver, Michael and Whit's children are destined for a life full of love, wonder and ease.