ENGAGEMENT STORY: GREG & CHRISTOS
We can't get enough of a couple chuckling when asked how they met! We know what's behind the knowing reaction but, more meaningfully, we delight in the fact that there's always a good story that follows.
This story is about Greg and Christos who, with a collective intake of breath, an "ooooh!" and a laugh, began their engagement story. The two met online and were friends for a year before making their relationship known. "We were definitely not one of those Starbucks stories," said Christos, but it was because both gentlemen were in complicated situations at the start of their relationship.
Greg's relationship of ten years was coming to an end and Christos was dealing with the complexities of his Greek Orthodox upbringing and family and how those two stymied his coming out. "I was in the middle of struggling with myself," Christos pointed out. Greg added: "in other words he was classifying himself as a straight boy when I met him. But, I basically loved Christos as soon as I met him," said Greg.
As the two spent more time, Christos was unable to separate the emotions he was developing for Greg from the family expectations that he'd marry "a Greek virgin girl" and the fact that his brother is a priest. "Greg was someone I could trust with all the stresses I was going through.
Curiously, religion became a factor in the couple's coming together. On one side, Christos, who was very involved with his Church and the community in it, began to feel the rejection from it and slowly backed away. On the other, Greg "stepped back" to the church (having been a Catholic-turned-Agnostic) and, in the process, prompted his boyfriend at the time, to break up with him, suddenly leaving Greg with nowhere to live. With one growing in faith and the other losing his, they found love and support in each other and slowly began working on their faith together.
He moved in with Christos's where the two got a "month or two glimpse of what it would be like to be in a relationship." Much as Christos confessed his want to be in a relationship, Greg needed to get back on his feet and, more importantly, didn't want this to be "a rebound relationship." But, he went on to describe that even while he was out and about, having a good time, he always felt as though he was "cheating on Christos" and the two weren't even in a relationship.
One year into knowing each other, Christos had to issue an ultimatum: he wanted their friendship to become something more. Which it did, when one day Greg turned up at Christos's house asking him to make it official with a four-minute music video set to Ben Haenow's Something I Need. For their first official date, Christos flew (and we mean he was the pilot!) the two from Vancouver to Portland for a weekend-long adventure.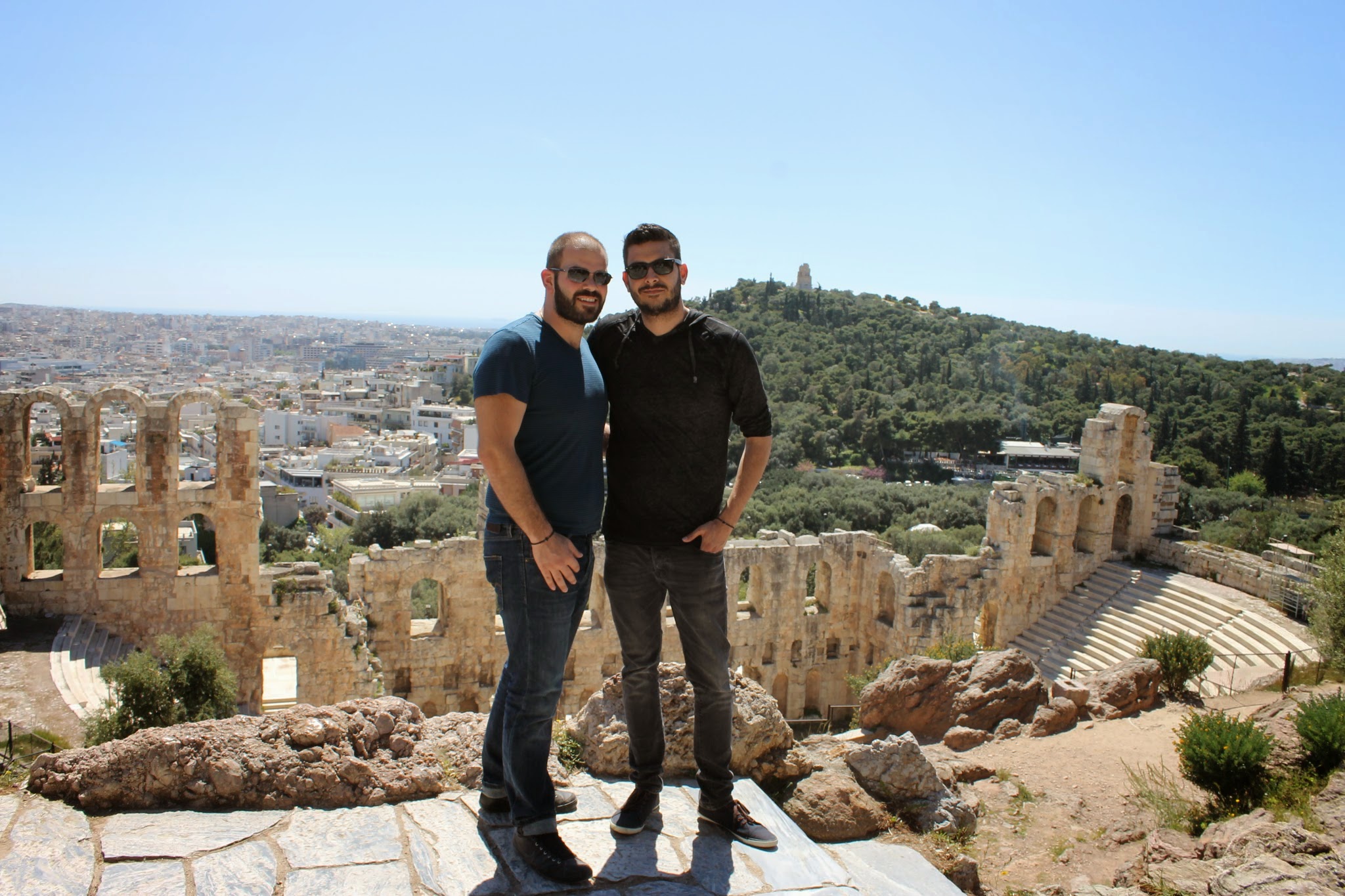 Their next adventure was Greg's first trip to Europe. As the couple was settling into their relationship, Christos's family was decidedly not. As a result, the couple took off for France and Greece. While in Paris where they did as couples do painting their own "love lock" and throwing it into the Seinne. And while in Greece they did as Greeks sometimes do: they attended a funeral. Unexpectedly, Christos's great aunt passed away, prompting his whole family to join the couple on their getaway. "There we were with my parents and my grandparents in a 350 sq. ft, 3rd-generation family home," said Christos. "It was awkward."
The family's disapproval came to a point where Christos was kicked out of the family-owned apartment where he had been living. The move prompted the two to buy an apartment together and, in so doing, strengthen their relationship. "I'd come home to find Greg making random Greek recipes for me. Super badass! He was getting to know the culture." As a result, the two plotted to return to Greece the following summer.
Needless to say, this would be the summer Christos would propose. The two had not explicitly discussed getting married, as it was implied in owning a home together and conversations about having a family. But, Christos procured a ring – with his fingerprint embossed on the inside – and asked for Greg's hand in marriage from Greg's parents. Oh and, as he said, "told anyone and everyone we knew! I was shitting bricks that someone would say something!"
Friends accompanied the couple to Kalamata, Greece where Christos would propose to Greg in a castle-turned-nightclub. The evening began with drinks at sunset. The two took pictures. Greg, overcome by the beauty of the scenery, turned to Christos to say: "I am so in love with you and life is beautiful," which prompted Christos to think Greg knew what was coming and that the surprise had been ruined. Greg was simply overcome with the moment.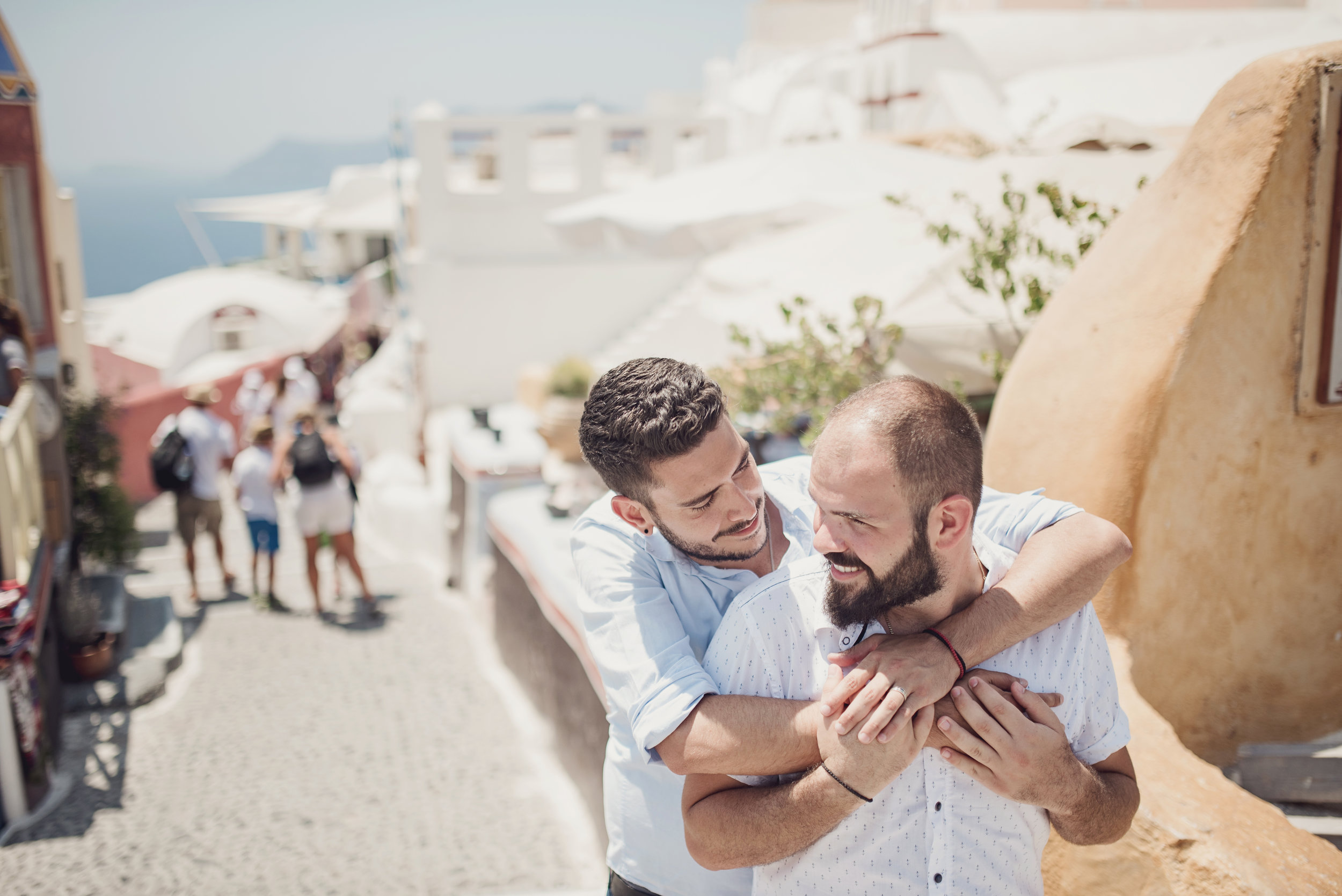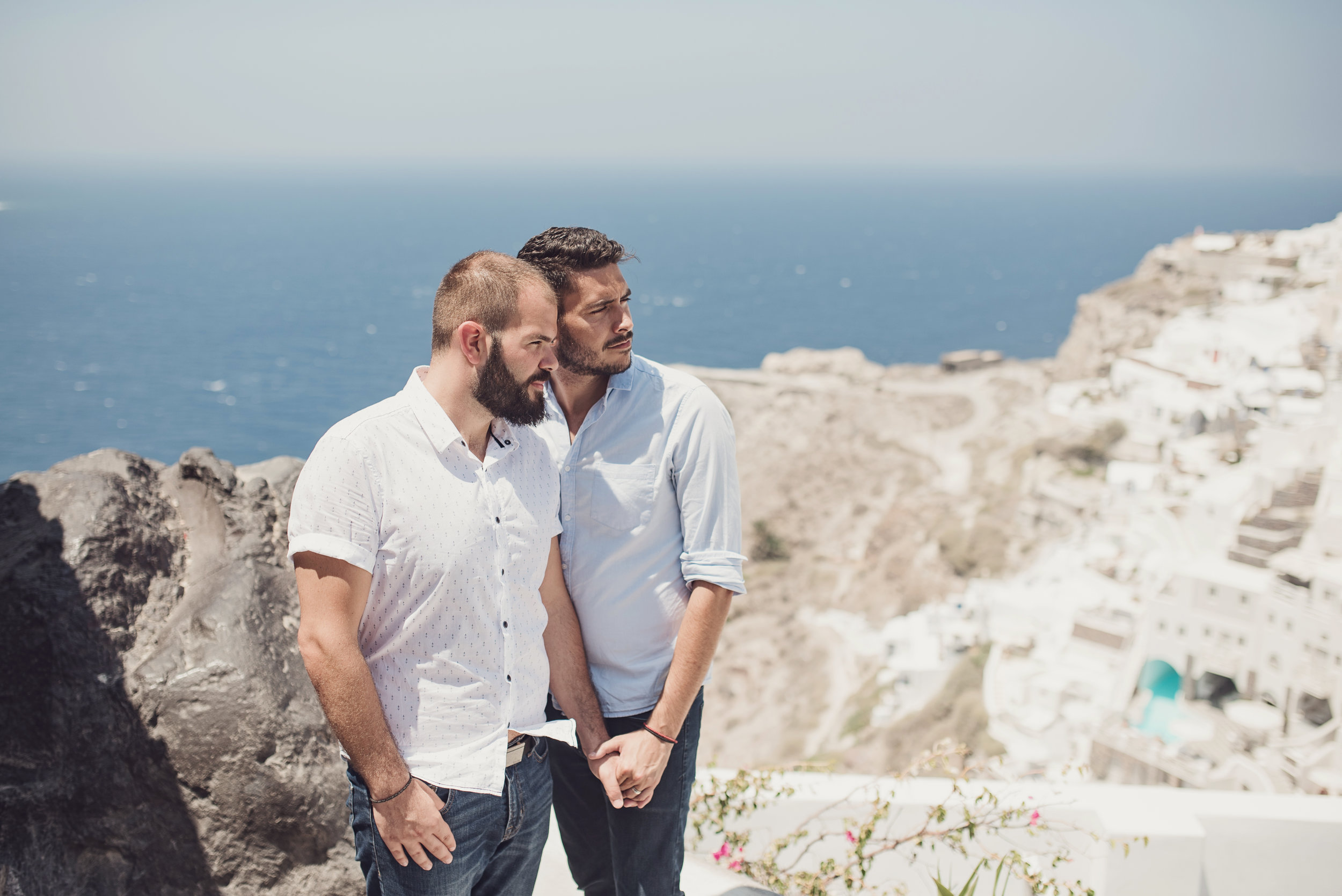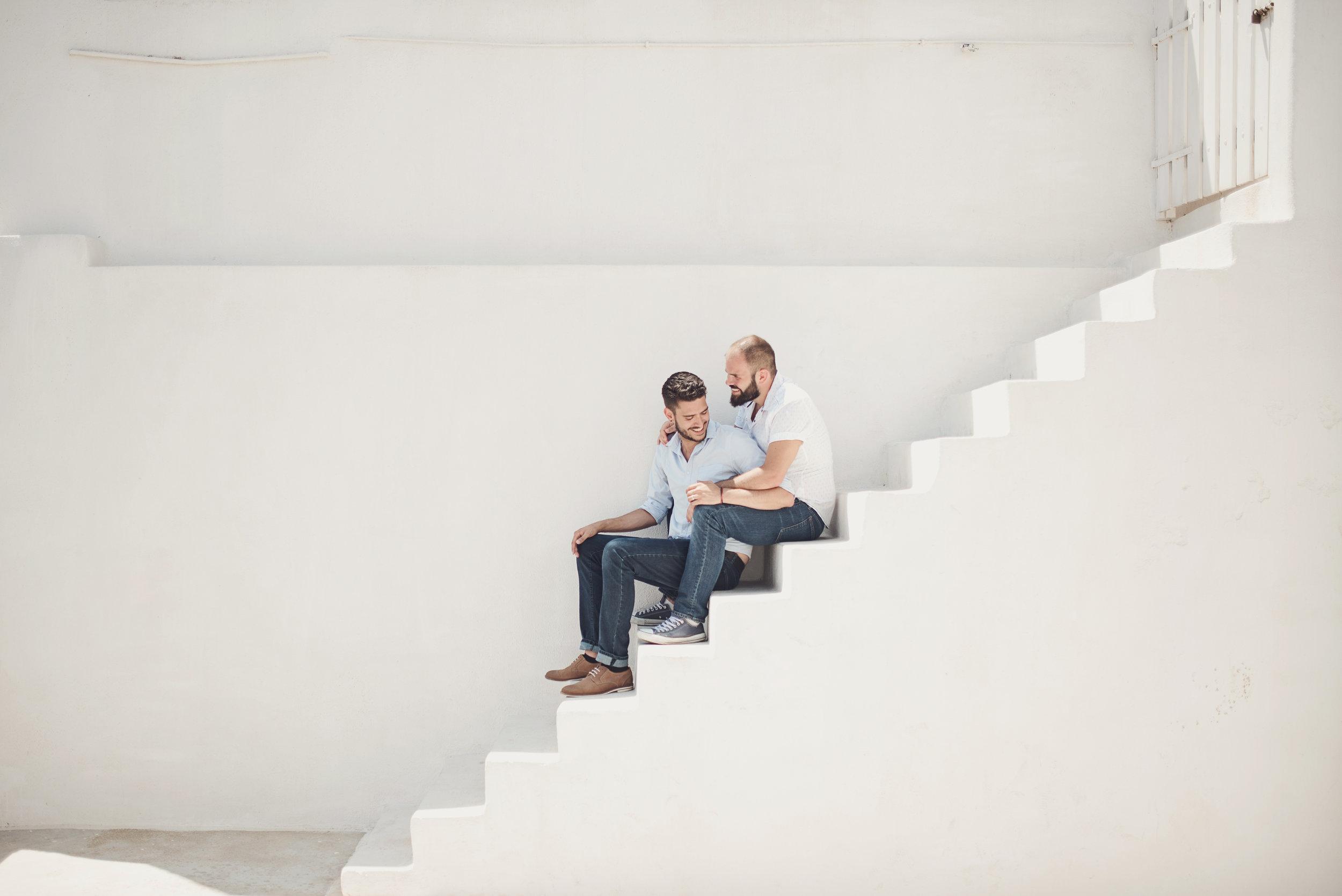 Greg and Christos's engagement shoot. Photo credit: Kimon Kaketsis
The proposal would come when the DJ played… you guessed it…. Ben Haenow's "Something I Need!" Greg surprised by the romantic coincidence of their song playing was overcome and asked Christos to dance. "This was meant to be," Greg exclaimed, but what was meant to be was much bigger than he'd expected. Christos took Greg's hand, got on one knee and proposed to a fireworks show he'd arranged for. "I said the most beautiful thing and neither of us can remember it!"
"Our five-year plan since getting together has always been family, babies, getting married," said Greg. His family is tremendously supportive of their plans while Christos's remains opposed.
Now, the two are on to planning a wedding. Greg points out "two men planning a wedding means procrastination is at the hear of it all!" They have picked a date, which is the date on which two saints of their churches underwent a "uniting of brothers ceremony;" a ceremony which church members participated until the XVII century after which all record of these ceremonies was erased. They've found a priest and church, both fundamental components of this couple's religious life.
And, they've set out to define the guest list. "Christos's family is a big fat Greek family," Greg pointed out laughing. This resulted in the list instantly including 419 guests. "We know some of my family won't come," Christos pointed out. But, Greg went on to explain why to invite those who aren't in support: "when it comes down to it, I don't want to live life with regret. If I don't invite you because of bad blood now, when the blood is good, the regret will be on me. I'd rather the regret be on you for not coming." While theirs is a challenging family situation to address, theirs is a gracious way of setting an example for openness.
Christos and Greg are building a marriage on the foundation of their faith and their belief in family, and with the strength they've shown negotiating the opposition they've faced from faith and family. They are proof that, no matter what comes one's way, life together is still to be "chuckled at" and filled with fireworks.