WEDDING WISDOM: NATHAN & BENNY
We'd be very hard pressed to find a couple whose relationship, engagement and wedding were as over-the-top fun and fabulous as that of Nathan and Benny. In fact, this story might be that of a "wedding unicorn." Buckle up, dear readers.
Benny and Nathan first met on November 13th, 2010 at a local gay bar named Rusty Spurs. Nathan had just left a friend's birthday party and was ready for a wild night of whiskey, short shorts, and booty dancing. After a couple of hours of non-stop drink... dancing, Nathan went to the bar to get another whiskey and coke when he spotted Benny, standing alone, shirtless, and wearing even shorter shorts than he was! Being terribly shy, it took Nathan all he could muster to approach Benny in about 3 seconds! The two talked for a few minutes and Nathan slipped Benny his number.
The funny thing about that night, is when we asked Benny what it was about Nathan that stuck out to him, he said it was "Nathan's amazing, engaging eye contact while they were conversing". Nathan doesn't deny that he was looking directly into Benny's eyes, but he later confessed it was only because "he was so tipsy that he needed to focus on something!")
Benny texted Nathan a few days later and the two had a great back and forth conversation when Benny informed Nathan that he had to go volunteer at OutYouth where texting was not allowed. Nathan's final text in their initial conversation asked Benny if he "wanted to hang out sometime?"--a message Benny did not notice as he had already silenced his phone and was busy volunteering.
Several days passed and Benny didn't notice or reply to Nathan's inquiry. Eventually, a disgruntled Nathan deleted their entire conversation from his phone. Yet, no more than three hours later, Benny noticed he had never responded to Nathan and sent a message stating, "If you really want to hang out, it would be helpful if you sent me some dates and times :p"
While Nathan's former Drag Queen and Pisces-self wanted to text back, "OH HELL NO!" he took a deep breath and decided to reply kindly with some dates and times and the two eventually set up their first date for a few days later. There was only one problem. While Benny had Nathan's name on the piece of paper he had handed him with his phone number, Nathan had no idea what Benny's name was. His phone contact simply read 'Cute Guy From Crusty Sperms.' Surely that wasn't right! Even worse, Nathan couldn't remember what Benny even looked like!
As Nathan waited outside the Roaring Fork before their first date, he hoped that he would be able to spot Benny when he arrived. Lucky for him, not only did Benny recognize Nathan, he was cute, and he even introduced himself!
After great conversation over dinner, the two decided to continue their date with a round of miniature golf. "I beat him. I never beat people at a sport," exclaimed Benny. We will set to one side the idea of mini-golf being a "sport?!"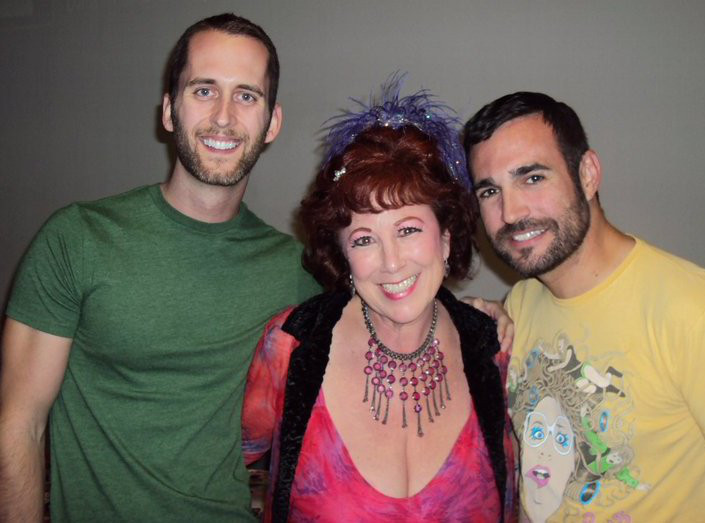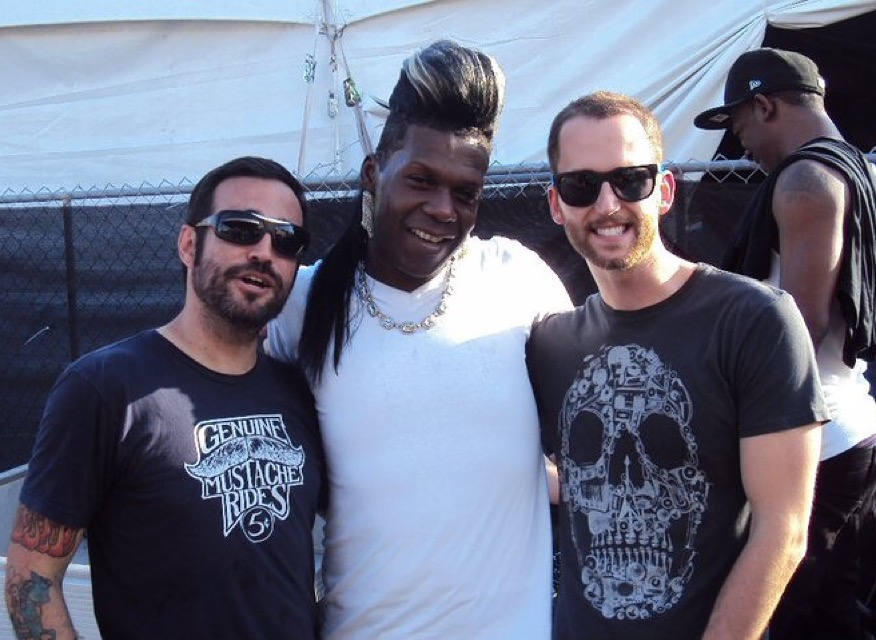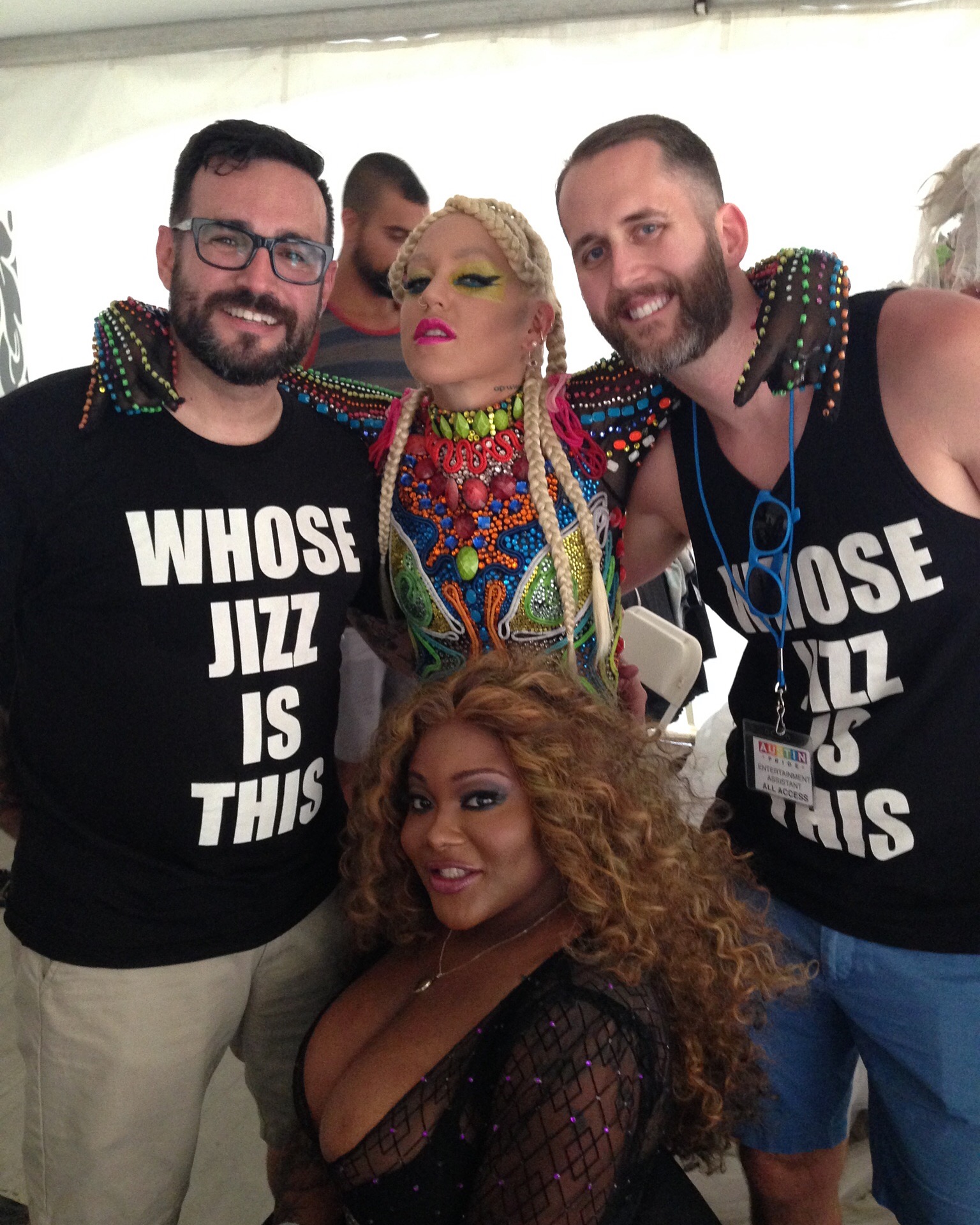 Their next few dates involved everything from movies, concerts, and art shows to various 5K races. In fact, it was at the Urban Adventure Race where they coined their team name 'Whiskey & Donuts.' The morning of the race, they enjoyed a few donuts for breakfast. When they arrived at the bar to check-in at 9am, they were asked to provide a team name, but they couldn't come up with anything good. As they brainstormed ideas, Benny's friend who worked at the bar came up to say "Hi" and offered them a free drink. They said 'Whiskey shots, please!' and the rest is history.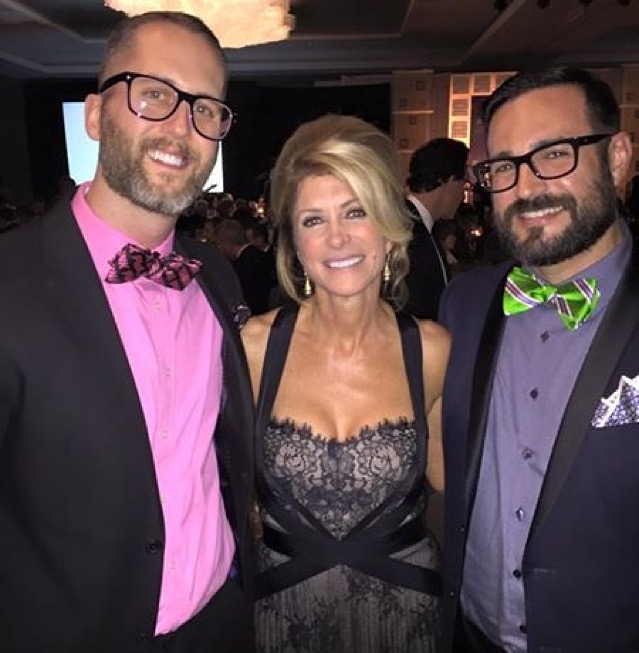 When it came time to talk engagement, Nathan brought it up first, and… Benny shut it down! But, the more the two fell in love, the more Benny came around to the idea. So much so that he even thought about popping the question "which Nathan would never see coming!" But, readers, we are all glad Nathan was the one who took charge.
The couple have volunteered with Austin Pride since 2011 and Nathan books and manages all the Main Stage entertainment. For the 2015 celebration, Nathan hired Peaches as the event's headliner. While bonding with Peaches after her set, Nathan pitched the idea of proposing to Benny on stage during her next appearance in Austin at Fun Fun Fun Fest. "The idea was that we'd be presented as surprise backup dancers, and at the end of the set, she'd hand me the mic and I'd propose to Benny." Nathan clued in a small group of their friends on the surprise who joined the couple at the festival in order to be in the audience for the big moment.
"Peaches called us out to the stage between her songs "Dick in the Air" and "F*ck the Pain Away." While I look all smiles, in my head I was cussing the heck out of Nathan because he's a really good dancer and I'm a tall lanky white guy," Benny admitted.
Peaches directed the couple to get up on her platform to dance, but as soon as they started to wiggle she turned down her music and handed Nathan her mic. "That was the moment I knew something was up and I immediately started to ugly cry," confessed Benny. Nathan got down on one knee and Benny said yes with Peaches immediately shouting into the mic "HE SAID YES" and popping champagne as the crowd of over 5,000 witnesses cheered on!
As the couple walked off stage, an overwhelmed Benny asked "Do my parents know?!" Rather than answering his question directly, Nathan pulled out his phone and sent Benny a text with a link to an engagement website he had created which included congratulatory videos from both of their families, friends, and even some of their favorite bands and entertainers: Hi Fashion, Big Dipper, RuPaul Drag Racer Shangela, internet sensation Jan Terri, and TS Madison. Not only did his parents know, they were a part of it!
What was Benny's immediate reaction to one of the coolest engagements ever? "You know you could've just proposed under a tree!" Defending his response, Benny explains, "The answer would have been the same!"
With that as their engagement, where were these two going to set their sites for their wedding? When initially asked by Vice Magazine the next morning, Nathan jokingly answered: "GWAR!" the grotesquely costumed rock band. "Wouldn't it be amazing if our wedding party and moms went into the monster's mouth and came out all bloody!" Fortunately, they opted for a decidedly different vibe. After exploring several Austin venues to no avail, Nathan asked one of his friends to help make sure they weren't missing anywhere unique. Sure enough, she suggested the Prospect House in Dripping Springs. "The polar opposite of Gwar!," Benny exclaimed, "but the owners immediately knew who Peaches was which was the barometer we were using!"
Planning the big day came easy for the couple given so much of their relationship has centered on volunteering together to help produce the annual Austin Pride celebration. Not to mention the couple spent a lot of time visiting local Wedding Shows, something Nathan loved! "Hello?! Cake samples!" shouted Nathan.
While whittling down viable options from a list of dream wedding officiants the couple created (a list that included, RuPaul, Michelle Visage and Kate Pierson of the B-52s), Nathan discovered that the B-52s were actually kicking off a new tour in Austin the week before their big day. While it was clear that the chanteuse would be too busy touring the country to participate as hoped, Nathan got an idea and secretly reached out to the B-52s management team.
Two days before the concert and nine days before the wedding, Nathan got the word that Kate was game to marry the couple backstage immediately before the show to kick off the band's "Spring and Summer of Love Tour"! Now to let Benny know the amazing news! "I wanted to be really dramatic and sit him down all serious to say, 'I can't marry you next week', but I simply couldn't!" Benny's immediate response was pure shock. "What about next week? What about our suits? What about our hair?!" But, in the spirit that clearly defines this couple, they worked together to resolve all issues, calling their families, scheduling haircuts, and coordinating with designer and Project Runway alum Daniel Esquivel, to pick up their suits early. The two anxiously made their way backstage before the concert and were married by the iconic Kate Pierson, exchanging vows swiftly written that incorporated lyrics from the band's songs. The couple's first dance as a legally married couple took place on stage while the band performed "Love Shack!"
When it finally came time for their planned wedding day, the couple had everything laid out, including a well rehearsed lip-sync and dance performance at the altar. But Nathan was not done with his surprises! While Benny waited at the alter for his groom to walk out, hip hop beats blared from the sound system and one of their favorite 90s performers, Sweet LD, from Oaktown's 357 walked out as a flower girl wearing the outfit she sported in the music video for their song Yeah Yeah Yeah. Later in the ceremony when the officiant asked if anyone objected to their marriage, Nathan coordinated for a drag queen dressed as Kim Davis, the infamous Kentucky County clerk, to stand up and shout in objection to their wedding. In a final ceremony surprise, Miss Davis was told to "sit your ass down" by professional wrestler Nasty Boy Bryan Knobbs who, of course, bore the couple's rings, which they exchanged after reciting heartfelt vows they each wrote to each other.
"The thing is," Benny said, "I don't like to be surprised! But, what I do love, is seeing his face glowing and how excited he gets surprising me."
Now, dear readers, brace yourselves for the reception of a lifetime, including roasts by Nathan and Benny's sisters, drag acts, lip-sync battles, costume changes, video toasts, art installations, cartoonists and so much more.
Let's start with the "Dollar Dance" a tradition in which guests pay the grooms (or bride if you happen to be at that kind of a wedding) for the pleasure of a short dance. But, in their inimitable fashion, Benny and Nathan turned their dollar dance into a "flash dance," which in strip bar parlance is an express lap dance! Benny didn't even make it through a third of the room before Genuine's "Pony" finished. It took two more songs before Benny had finally collected all guest's dollars! Nathan, dressed in full-on Minnie Mouse regalia, worked the room like a pro to Beyonce's "Run The World". The gents shimmied and shook their way to $490 with all proceeds being donated to Austin Pride's effort to establish an LGBTQ Center.
Furthering the fun (or madness?!), Benny and Nathan's mom's competed in a head-to-head lip-sync battle to "It's Raining Men" in order to earn their right to a mother-son dance. Nathan said, "We prepped our moms by giving them videos of our favorite RuPaul's Drag Race performances and said 'do with this what you want' and man did they take it seriously!" Benny added, "To my surprise, half way through the performance, Nathan's step-mom joined the competition with a troupe of backup dancers trying to earn herself the mother-son dance!"
Lest you wonder what taking it seriously looked like, Benny's mom opted for a spangled leotard with cone boobs and tassels, created an umbrella prop that had cards from a deck of "naked men" cards hanging from the inside (taking care to tastefully cover up all the naked bits with smiley-face stickers!) and, after being told that a "death drop" was the only true way to end her number, and likely guarantee her the win, she dropped into a chair at the end of the number and held up a sign indicating that this was her death drop. Bitches, PLEASE, this is how it is done!
Spoiler alert, the couple had secretly always planned to dance with all of their moms!
As the sweetest of counterpoints, Benny shared a father-son dance with his dad, dancing to the song "Thank You For Being My Dad." To Benny's surprise, while dancing, tears streaming down both their faces, Benny's dad sang the lyrics to him switching the word "dad" with "son". We dare you not to be wiping a tear from your eye right now.
As Benny noted, "the whole day was cry, laugh, cry, laugh. Not just me, but everyone! Though I am a pretty easy crier!" Nathan interrupted to say, "he cries at Jerry Springer!"
And then the video toasts and drag acts came fast and furious: Michelle Visage, Martha Wash of the Weather Girls, Seven Year Bitch, Deven Green, Wendy Ho, Toni Tennille from Captain & Tennille followed by a local drag queen's performance of "Love Will Keep Us Together," Exposé sent a video message to the couple and the Kim Davis impersonator performed "Point of No Return," world-famous back-up singer Robin Clark and her family covered a Simple Minds track adapted to be about the grooms, two members of The Jets also sang a tribute to the couple, and finally, a toast from Peaches, culminated with a rousing drag performance of "F*ck the Pain Away!"
The 193 guests present did not know what hit them.
If music was one "through line" to their wedding, art was the other. As Benny said, "when we were thinking about a theme for the wedding, we thought, why not theme it around art that we love." The couple own multiple sculptures by artist Elizabeth McGrath and her worked featured prominently throughout the wedding from the altar to the tables. "For some of our closest friends, as part of their save-the-date package, we even made resin hatchets from molds that Liz McGrath gave to us!" Benny explained. The couple also made all their table arrangements, sculpting their own art pieces in homage to Liz's work in addition to using vintage ceramic figurines, taxidermy, skeletons, and childhood toys, for a sort of a morbid woodland meets cabinet of curiosities look!" Benny clarified, "but the animals had top hats and bowties on!" Of course they dressed up their taxidermy.
For a more real-time artistic experience, they hired a "Quick Draw Photobooth" where guests took their photos and an artist drew cartoons of the pictures.
And, why not give all of your guests an 8-track tape containing all of the grooms' images and cover art of them and their dog designed to look like a Bee-Gees album cover?
As a final surprise, taking Benny's original idea to incorporate "art that we love" into the big day, Nathan commissioned 12 original artworks from favorite artists celebrating the couple and their dog, Theo.
Now, if you're not yet overwhelmed by the creativity and originality, when it came down to cake time, the grooms' sweets included a cake decorated to look like wood topped with a white chocolate conjoined fox cub skull topper designed by Conjurer's Kitchen, a doughnut cake of Peaches created by Voodoo Doughnuts, and a custom menu of freshly made gourmet doughnuts served out of a streamline trailer by Gourdough's Big. Fat. Doughnuts.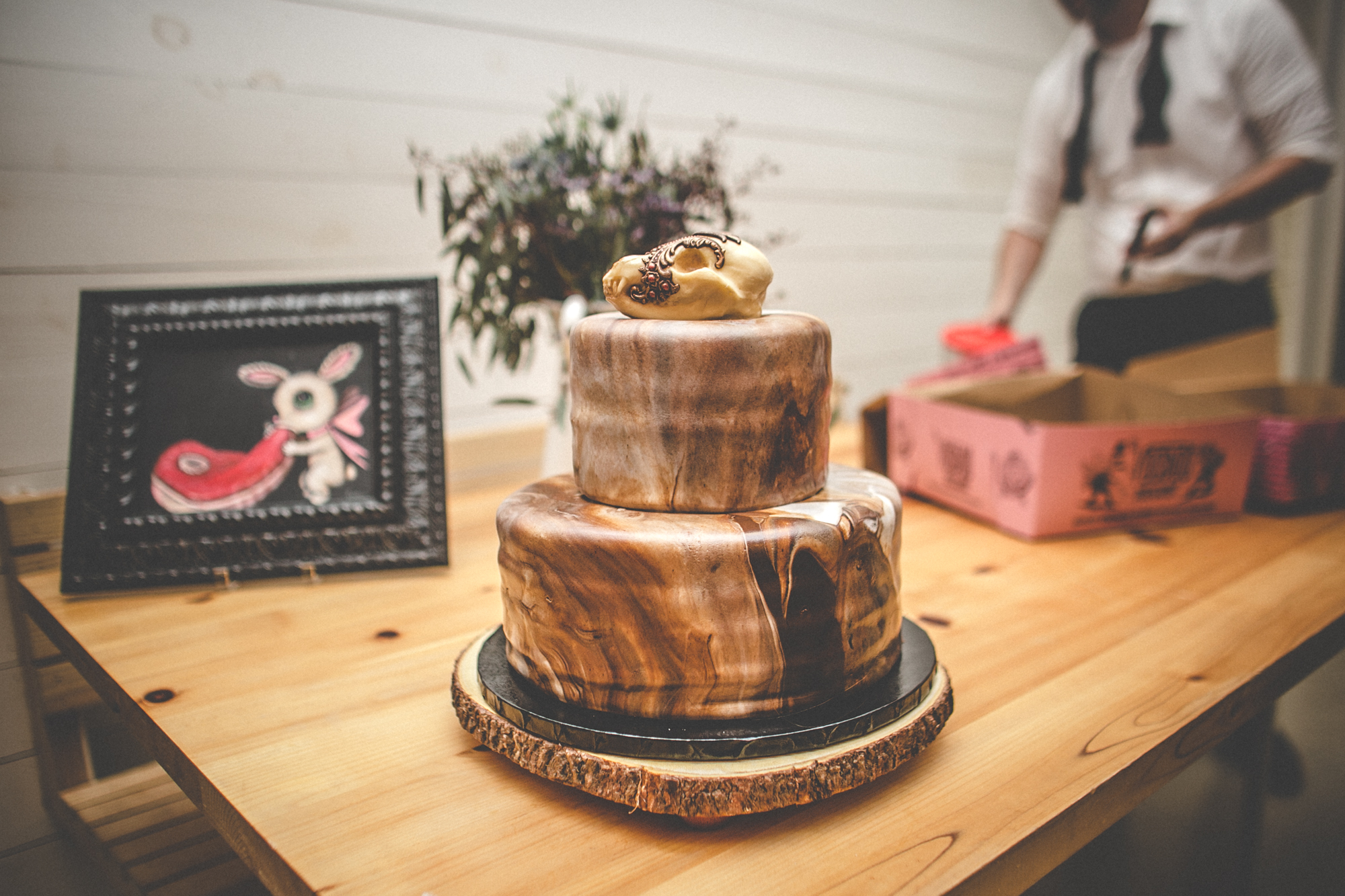 PHEW!! Can y'all keep going??
When it came time to picking their favorite part of the wedding, Benny instantly said he had two: "The first was dancing with my father. I've never felt a closer bond with my father, and I have never been more proud to share that with the world. Aside from gender norms, I do not know why every groom would not dance with his father. The second was definitely my mom's lip-sync. She fucking killed it!" For Nathan, "it was just about sharing our world, all the pieces of our lives, with our family and friends."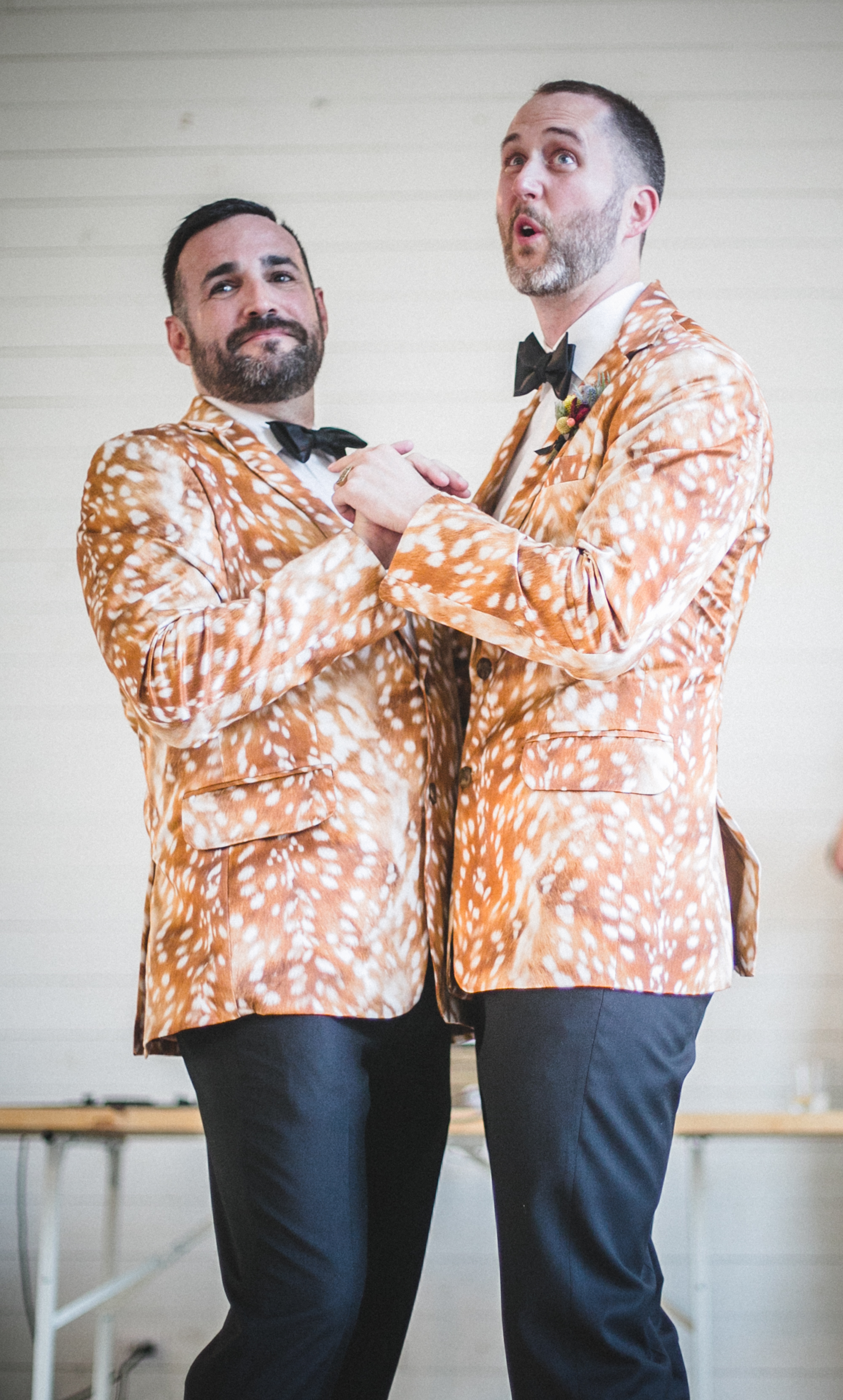 Photo: Ryan Adkins
As for advice, "we created a wedding about who we are and reflecting who and what we love, without regard of whatever anyone else thought," Benny said with conviction. "People don't realize how many cool things they can do at their wedding. They limit themselves." "Make it yours," Nathan added. "Don't make it about what is being fed to you." When pressed about how they pulled off all that they did, and included everyone that they did, the couple's answer was simple: "We asked!"
With Nathan now bitten by the wedding planning but, all we might need to do is ask him for help on planning a wedding!
We've never enjoyed a Wedding Wisdom piece as much as this one, especially because Nathan summed up their experience so well:
"It's just a wedding, but more fierce!"
Our hope is that everyone's wedding and life be as fierce as Nathan and Benny's!