ENGAGEMENT STORY: DUSTIN & JEREMY
"I knew who Jeremy was for a while. I'd seen him on some of the dating apps and around the Indy area," Dustin explained when asked how he and his now fiancé Jeremy met. "But, he was someone I deemed as out of my league!"
When the two first met, Dustin was involved with someone else and Dustin didn't pay Jeremy much mind. The second time they met and actually spoke, that same said someone else had recently cheated on Dustin, so he paid Jeremy a little more mind. "He loves to tell this story… He says that after he approached me and introduced himself, that I looked at him with a catatonic expression and immediately rushed out of the bar," Jeremy said of Dustin. "I didn't want to do anything bad as my boyfriend and I were trying to work things out."
It goes without saying that Dustin split up with his boyfriend and so took to Facebook to connect with Jeremy, only to discover that he'd moved from Indianapolis to Texas! But, Dustin reached out to Jeremy anyway, exchanged numbers and spent the whole of 2015 becoming friends and learning all about each other, including the fact that Jeremy had moved to Texas to be nearer to his two sons from a prior marriage.
"Over the year we were getting to know each other, Jeremy would call every day, regardless if I answered or not. I'll say he was fairly persistent. He'd sing songs to my voicemail. He'd write me letters. But, most importantly, he always asked about me, my boys, and wanted to know how we were doing. He genuinely cared about me and my boys and that was something I truly admired about him."
On Jeremy's return visit to Indy for Christmas 2015, the two met for dinner and their connection was instant. "From the first drink to the time Jeremy left, we were together the whole time," Dustin said. "My boys were able to meet him that week as well and they were just as crazy about him as I was. We went to Chuck E Cheese, Petsmart, Toys 'r' Us and just enjoyed going on "adventures" as Jeremy calls them. His attention and love for my boys made me fall even harder and faster for him."
The couple negotiated the distance until their feelings for each other were too strong to handle being apart. So, Jeremy found a job back in Indy that afforded him the time and resources to regularly visit his sons. "We learned how to live with each other and how to communicate – which was a challenge as I'd been living alone for a few years – and we have been going strong ever since,"
"Jeremy is a guy's guy; when it comes to planning, he struggles," Dustin described when asked how their engagement came about. "And, I like things a bit flashier – if he'd organized a flash mob, I'd have been really excited – but I knew that wasn't his personality and I wanted the engagement to come from him."
And, Dustin had an idea it was coming when friends of his started asking not-so-veiled questions like: "if you were to get engaged, what kind of ring would you choose?!" So, as one does, he started second-guessing dates and outings the couple were on as occasions for Jeremy to pop the question, but he never did.
When the day finally came, Dustin was none-the-wiser. The couple were preparing for family pictures with Dustin's boys. And, as to be expected, it was a manic process getting the boys ready and out the door. Things continued less-than-smoothly (or so Dustin thought) as the boys and Jeremy were playing and giggling, instead of posing. Little did Dustin know that Jeremy was asking Dustin's sons permission to marry him!
As Dustin made his way to Jeremy and his boys to join the picture taking, Jeremy got on one knee and proposed. "I blacked out for a moment, but eventually grabbed his face and put my head against his and started crying. My oldest son cried, too, while the youngest was laughing hysterically, and the photographer was taking pictures. When I came to, Jeremy asked me again, and I said YES!"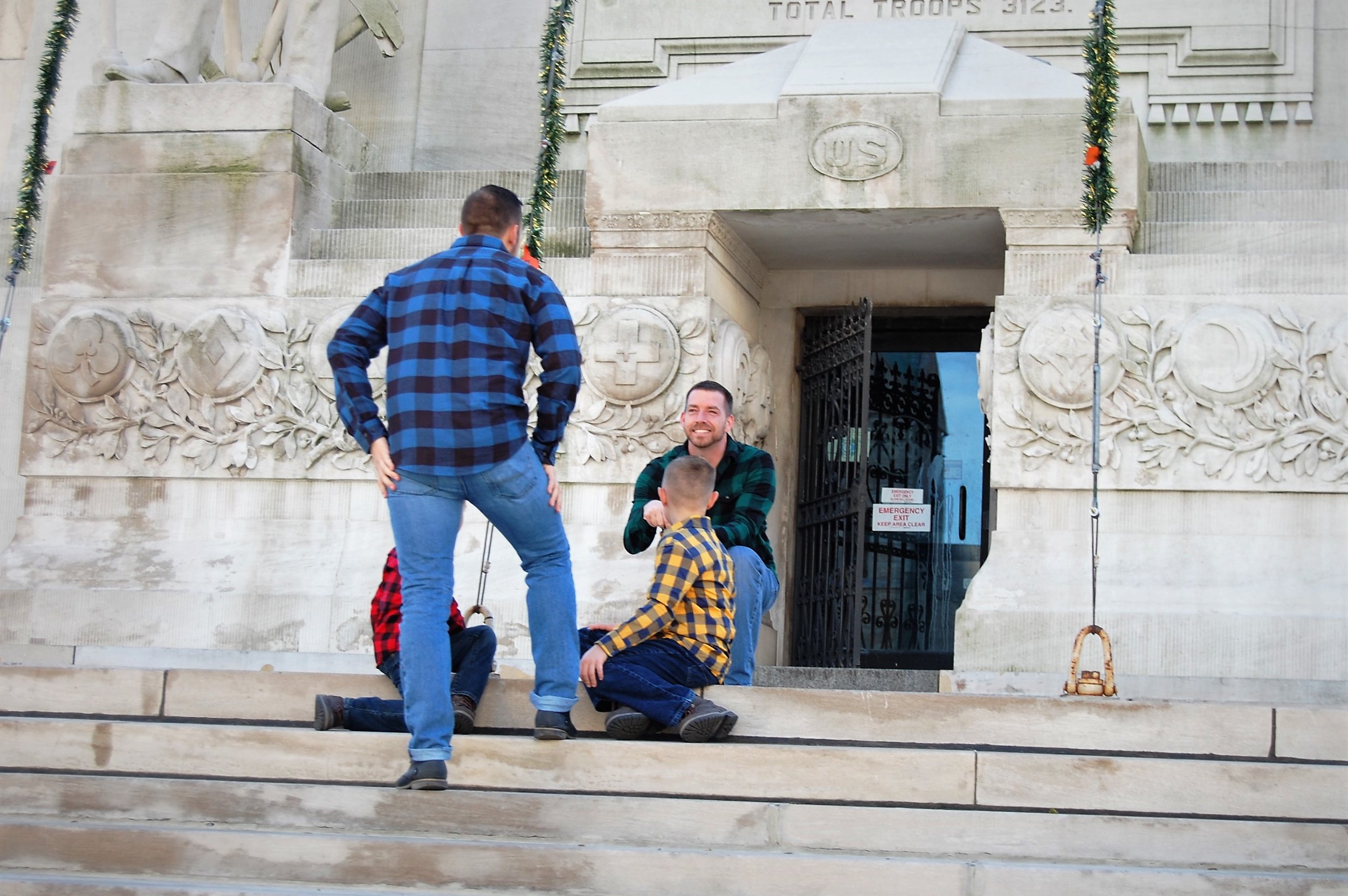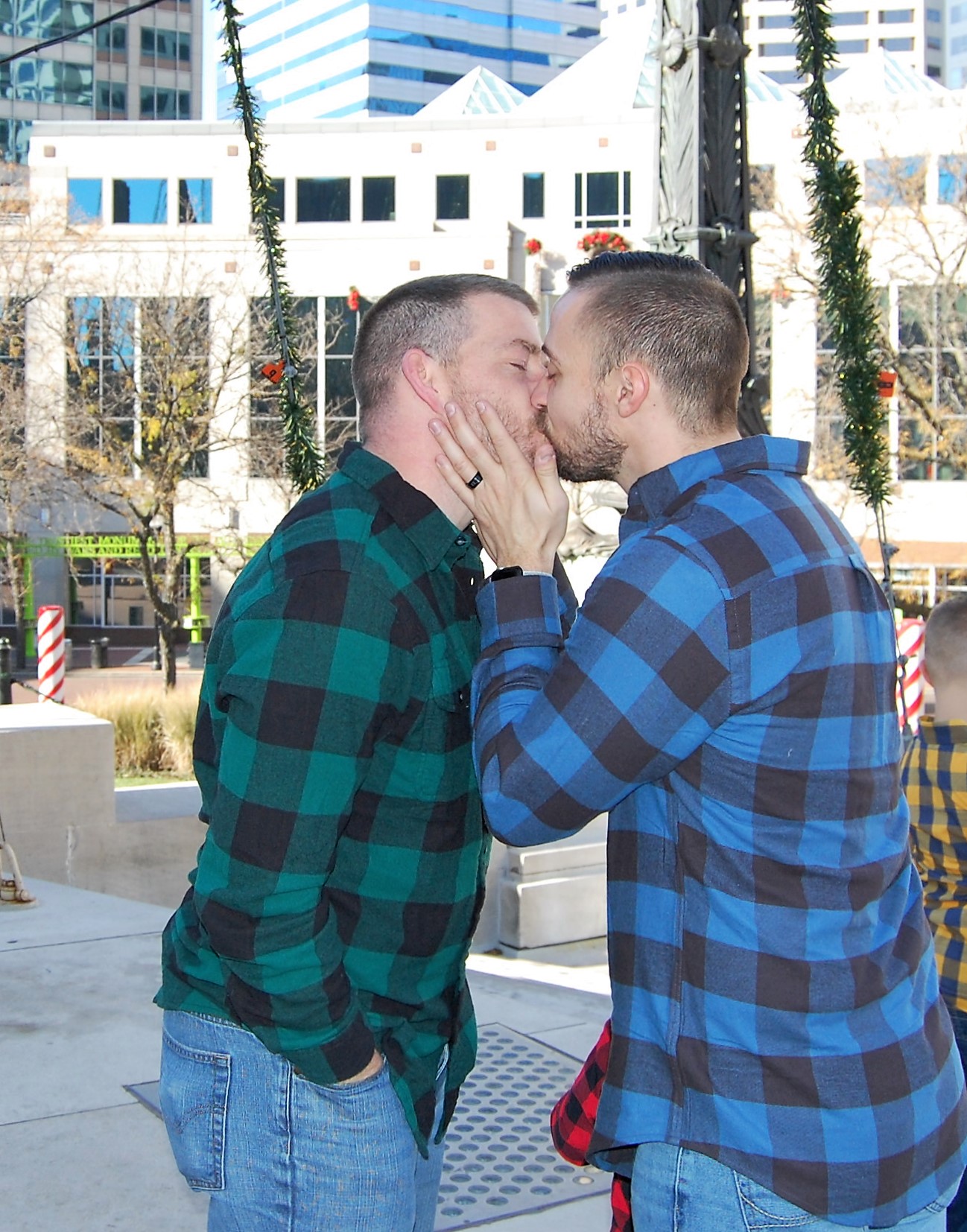 Photos by Melody Vinyard (IG: @melodysue8)
Jeremy presented Dustin with a black diamond ring. "He was very traditional about it the proposal. I knew he didn't want an engagement ring. He said that if I liked the ring, then he'd get one to match for the wedding. Or, we'd get two new ones."
Having gotten enaged on December 3rd, the couple haven't yet taken time to think about planning the wedding. But, as Dustin said: "I don't want to be traditional, but I do want to be cost conscious. So, we are thinking a destination wedding near San Diego. What we do know is that I will do most of the planning!"
For now, the ones who are most focused on the wedding are Dustin's son's: "They've never been to a wedding, but they want to know what they will get to do!"