WEDDING WISDOM: FELIPE & TOM
Tom was already at his local Starbucks in Miami for his morning routine of coffee and a little bit of work, when Felipe walked in. They caught each other's eye and began the "coy little thing of me not looking and you not looking thing" as Tom described. Felipe asked to join Tom at his table, despite there being other open tables. And, for the next while Felipe asked Tom questions, listening to the long responses, and simply replying "good, in his sexy Colombian accent." But, Tom thought that Felipe was "bored out of his mind" and that, despite exchanging numbers, this encounter would lead nowhere. However, that afternoon, the phone rang and Tom and Felipe went out on a date that night… and the next night… "and pretty much every night we've been in the same city for the last six years."
Three months into their relationship, the couple
really took their relationship to a whole new
unconventional level.
"Instead of figuring out how we were going to live our lives together, we ended up in a major project to develop together," Felipe explained. "It is shocking we are still together as most couples don't do something like this in the first few months of a relationship," Tom added. Early into their dating, a friend of Tom's, approached him about investing in restaurant in the hot Wynwood district of Miami. Tom was, at first, lukewarm about the idea, but as he and Felipe discussed it, it because apparent that if they combined Felipe's development and design experience, Tom's business and art curating expertise, and coupled that with their friend Rocco Carulli's respective culinary skills, it became clear that these two were going to be partners in every sense of the word.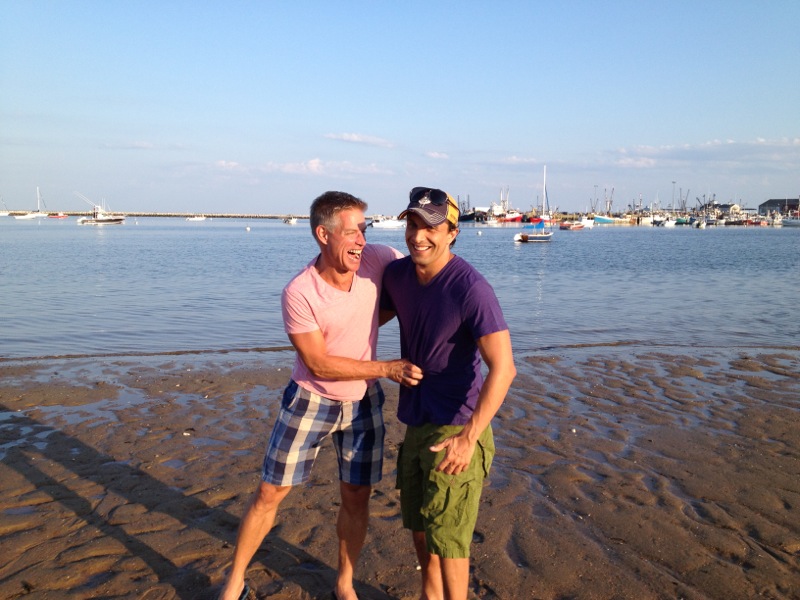 Dating was one thing but as Tom pointed out, meeting someone of substance, who is interesting, self-sufficient and a self-starter was quite another. "Oh, and, who also happens to be drop-dead gorgeous Colombian… that is a hard combination to find." After the idea was hatched and after a lot of hard work from everyone, R. House Wynwood restaurant and the White Porch Gallery that curates the art at R House was opened in time Art Basel Miami 2013.
Getting married was in the stars, if not on the Wynwood Walls! Felipe described one of their favorite pastimes: "Every Sunday, we would sit on our terrace drinking rosé while enjoying the sunset over Biscayne Bay and Miami while talking about our hypothetical wedding." The couple hashed out every detail of their wedding, but beyond both knowing they liked white gold, neither had figured out how to get engaged!
On their 4th Anniversary, Felipe had made plans to go out for dinner. "I had made reservations, but when I got home Tom told me we were going somewhere else. I thought he probably didn't like my choice of restaurant!" Before Felipe knew it, he and Tom were at a small airport boarding a helicopter. "I had a feeling something was going to happen," Felipe pointed out.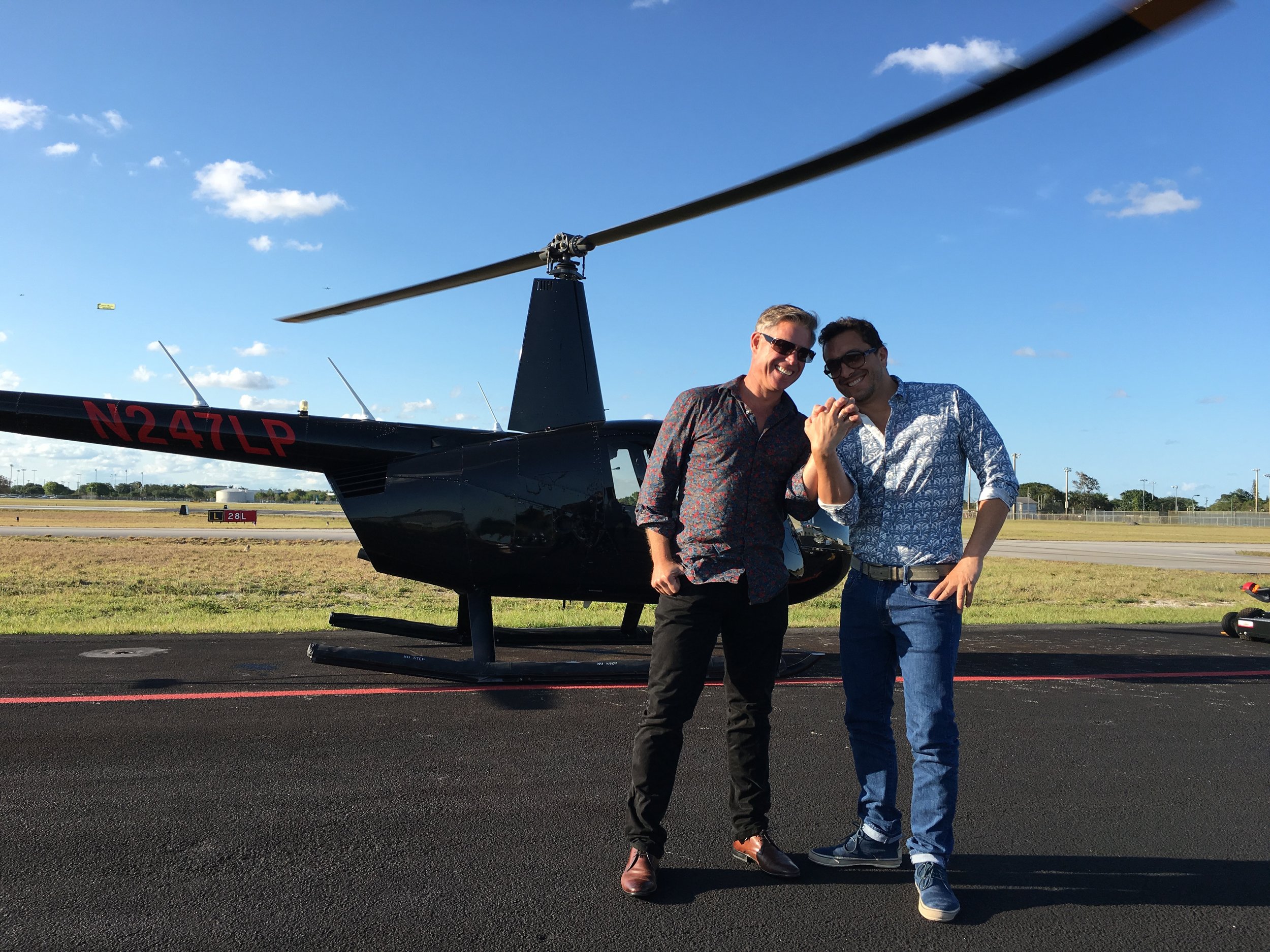 When it came time to propose, the helicopter was turning around South Point Park in Miami Beach and facing the city and sunset, Tom pointed out that they both became "illiterate in all the languages we speak!" He tried to pop the question in Spanish, but couldn't get it out. And, when he did, in English, Felipe was only able to answer "si, si." No matter the language, a band of white gold presented in the sunny skies over Biscayne Bay said it all.
But later that same week, the newly engaged couple found themselves at the art hotel they own in Provincetown – The White Porch Inn Art Hotel – hosting a group of LGBTQ foster children and their mentors from a charity the couple supports, Silver Lining Mentoring. On the first evening of the P'town Foster Youth retreat, on the balcony overlooking Cape Cod Bay, Felipe proposed to Tom, "closing the loop" on their engagement. This time, language came easily, and a white gold engagement ring set against the moonlit skies of the cape, said it all, again.
Having developed and opened a restaurant and gallery together with partners in the early stages of their relationship while planning their wedding over many years of Sundays, it was inevitable that curating the wedding would be swift and detailed. "We decided on getting married in Cartagena, Colombia," Felipe explained. Before you knew it, the two had met a team of 8 wedding planners to help them plan at a distance, because as Felipe underlined "we started designing down to the last detail… everything." Tom added to say: "we showed up to our first meeting with an 8-page outline and a timeline for planning."
One thing the couple decided on while planning a wedding of the scope of theirs was a simple rule: "if anything started to get stressful, we stopped and didn't let it become an issue. Planning was going to be fun, and it was," Tom noted.
In 1621, the Clarisa nuns built a massive convent in Old Town Cartagena Colombia in what is know as classic Spanish colonial style. This former convent is now the Santa Clara Sofitel Hotel which became their venue and the inspiration for the overall theme of the couple's wedding on September 2nd, of last year.
"We wanted masculine, incorporating the big, heavy wooden antique tables that were part of the convent and wrought iron chandeliers we had made to complete the look of the time period," Tom said. "We even picked the light bulbs," added Felipe. "And, because in Colombia they aren't as worried about liability, we had a lot of candles, as the convent would have had for lighting too."
To kick off the wedding, the couple hosted a rehearsal dinner at Sinko Bar to which all 200 guests were invited! The colonial house setting and court yard provided the perfect place for everyone to mix and mingle. "We kept running out of rosé," said Tom, but as they kept considering pulling the plug on the evening, they realized their guests were having too much fun. Having everyone get to know each other before the the big reception the next day would make for an even more fun wedding event, the couple would later point out.
In keeping with the theme, Tom and Felipe's friend Roger, who holds an Order of the British Empire title, married them in front of their family and friends. Never to pass up a "project," Tom and Felipe managed to find the one spot in the property where no one had yet married: in the center of the courtyard, standing over the convent's former water well. "It took a lot of charm and convincing powers," Felipe said. "It was the first, and last time, they did it!" But, by being in the center of the courtyard, the couple was married surrounded by their loved ones.
Music accompanied the grooms as they were led to the center of the courtyard by Felipe's niece and the young son of a friend of theirs, who carried signs saying: "Here Come the Uncles!" It wasn't too long before Tom and Felipe were crying as friends read poems and they exchanged their original vows, and became husbands. A fanfare of trumpets led off a chorus of "All You Need is Love" which their guests clapped and sang along to as the ceremony was completed.
As the Beatles faded away, local live Colombian music kicked on the upper deck overlooking the ocean, the old wall of the city and…. fireworks. "The planners had to get a special permit to close the highway so that the fireworks could take place," Felipe said with a laugh and a bit of pride. "People were getting out of their cars to look at and enjoy the show!"
It goes without saying, that the two took a moment for a costume change, while the guests made their way to the reception in the hall which was the former chapel of the convent. As Tom described, "it took a while for everyone to actually get settled as people would walk in, gasp and walk back out of the hall!" Felipe pointed out: "it was really beautiful."
To really get the party started, Tom and Felipe flew in Randy Roberts, who was on America's Got Talent. Randy, who is an unparalleled singer and drag act who has performed in Las Vegas, Provincetown, and currently Key West, opening the evening by singing live "Let's Get This Party Started" as Tom and Felipe entered the room full of guests. Later Randy continued performances of varied set of diva anthems throughout the night. (Note: when we tell how this couple tended to every detail of the wedding, we are talking about them even having ostrich feathers for Randy sourced and assembled in Colombia!) While a drag act can really get a party going, so can taking the time the couple did in assigning their tables and determining the seating chart. Making the effort to really figure out who is going to have the best time with whom at a table really pays off.
With Randy off readying her next act, the lights went down on the group and "Gregorian monks" entered the reception, Naturally, they were accompanied by a Metallica tune set to chant, dimly lit and laser-beamed! Tucked up their robes' sleeves were bottles of champagne that they procured to everyone's astonishment. That's one way of serving guests champagne for the upcoming toasts!
Food was served among the 12 speeches from friends and family, "each a maximum of 2-minutes, which flowed really well followed by the first toast," Tom pointed out. Randy then again regaled the room with a tune from Jersey Boys, the first Broadway show the couple saw together on the evening they decided they'd be each other's boyfriends. It isn't a surprise that the song was "You're Too Good to be True!"
The real surprise came when the song hit its up-tempo and Felipe and Tom took to the dance floor. The couple had rehearsed, for three months, a choreographed routine to the surprise and delight of everyone at the reception. Felipe pointed out, matter-of-factly: "The people really loved it because we were doing drops and handstands. It was really cool." Tom countered: "I wasn't nervous about the wedding, but petrified about the dance!"
And, that is when the couple declared the party started!
The DJ brought in from Miami, expertly handled the Latin, American, and European guests' dance preferences. Randy came back out as Cher for "an amazing performance which felt like being at a real Cher concert." This was followed by something that is customary in Latin weddings, called "la hora loca" or the crazy hour. A group of traditionally clad carnival Colombian dancers, with hats, costumes, feathers, accompanied by another Colombian band, led everyone well beyond eleven hours of celebratory bliss as confetti guns from the ceiling added to the energy and fun into the wee hours of the morning. To write of this wedding is exhausting and exhilarating. Imagine what it was to have been there.
But, in and among the drag acts, fireworks, monks, lasers, confetti, dancers, feathers and joy of family and friends from around the world, Felipe points out that it was the vows and their dance that stood out as his favorite memory. For Tom, in addition to those, was the quiet moment they spent, following the ceremony and before the party realizing "this is what it feels like to be married."