ENGAGEMENT STORY: WES & GREG
Not all relationships start out as a love-at-first-sight story. Some don't even start with love at all! Greg and Wes first met while attending drama school in London. They were best friends for three years, acting as each other's wingmen while having nights out. Going from university roommates to best friends, neither could really imagine the other as their future boyfriend, let alone future husbands. However 10 years later that's exactly where they find themselves, as loving fiancés, living together in London, England.
Wes recalled that around the time they first met in 2008, "We randomly had a night out where in order to stop a couple of guys unwanted advances we pretended to be boyfriends. For some unknown reason they told us to prove it, so we kissed!" Greg adding, "And it was weird! It was awkward! That was our first kiss, but it didn't seem like a real one. We continued as friends and even moved in with each other for a year. Friends would ask why we didn't get together, but we really were just great mates! We actually found each other pretty annoying as housemates!" Obviously, not everyone's dream first-kiss scenario, but things took a different tone as the two friends left university.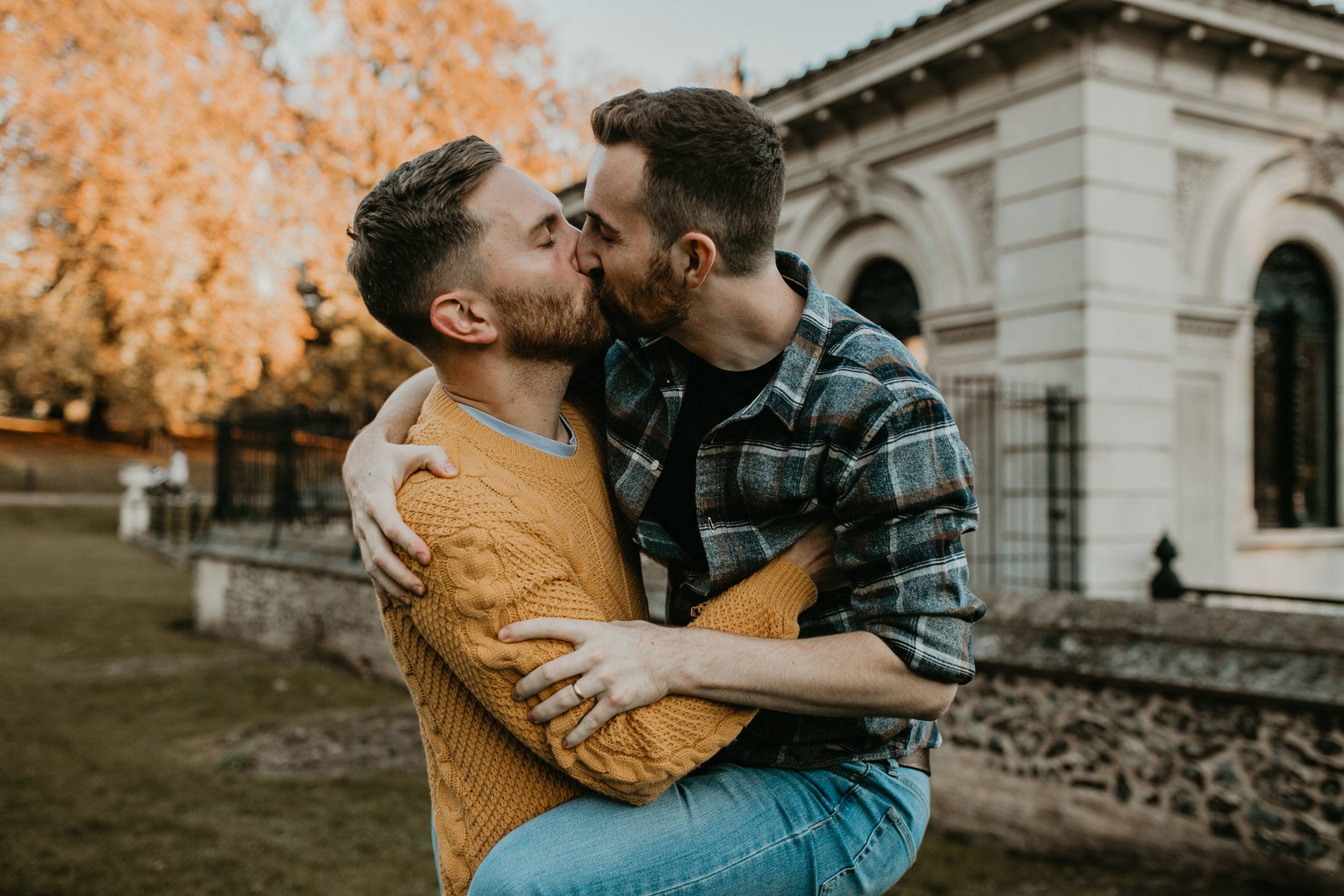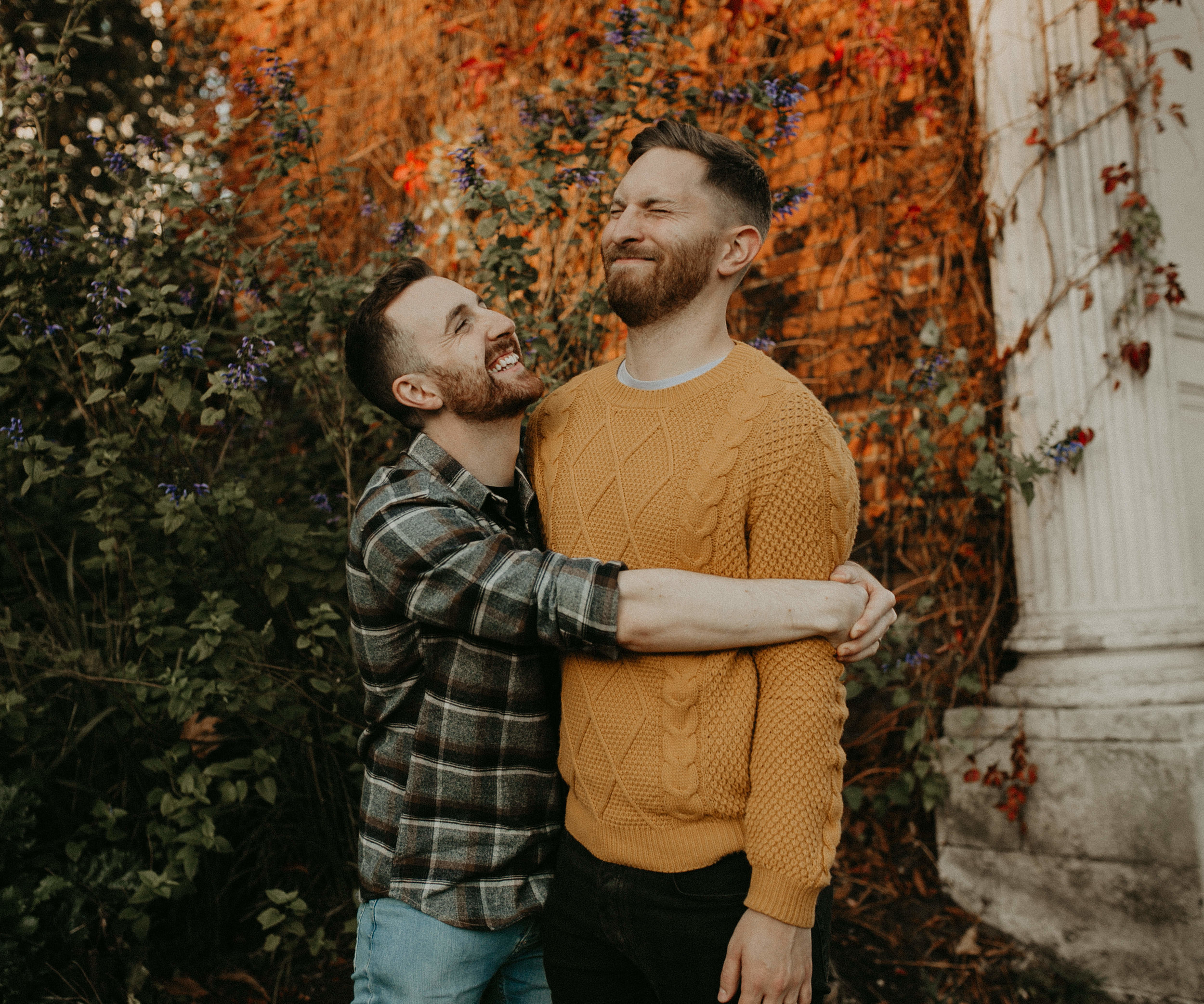 As their group of friends dispersed after graduation, Greg and Wes continued to spend more and more time together. One evening in late October, Greg was hosting a Halloween party at his flat and invited Wes to come along. The two stayed up late into the night, Wes sharing a bed with Greg. "I remember being really nervous even though we had already had loads of sleepovers on movie nights. I still can't tell you now what was different, but my heart was racing. I swore he could hear my heart pounding next to him. This was when we had our first real kiss."
The weeks following the party, Greg and Wes made it a point to spend even more time with one another. Their friends from university started talking, but nervous of how it would change their group's dynamic, they kept their feelings secret. Greg explaining "It culminated when one evening we were walking around St. James Park near Buckingham Palace, and I managed to tell Wes how I felt. It felt a bit like a film moment and was actually really romantic. Neither of us had been in a situation where we were close friends with someone and had it turn into romantic feelings." Wes adding, "Everything seemed really easy. It was so simple. There was no drama, it was just nice and we enjoyed each other's company so much." Both in a little disbelief, the news of their relationship wasn't revealed immediately to their friends, and they took their time to define the relationship.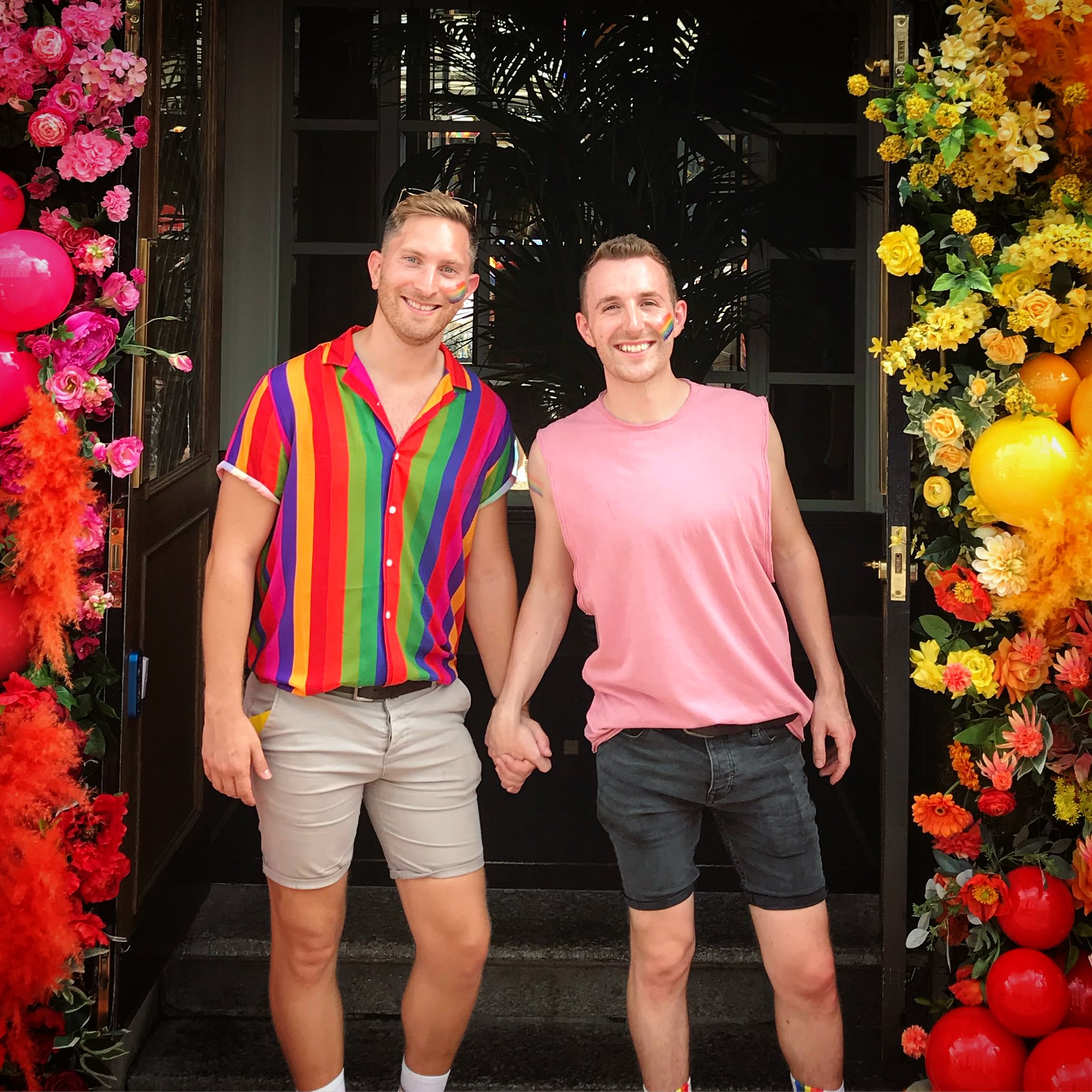 Four years later, Greg and Wes left London to work as singers on a cruise ship sailing around the world. "By that time, I had it in my head to propose." Greg said. Saving the money they earned, Greg and Wes planned a road trip through much of the state of California. Greg extensively researched a remote viewpoint at Yosemite, and decided that the proposal would take place there, about 10 miles into a 16 mile hike. After four years of being together, Wes was particularly on the look-out for signs of a proposal. "Every time he would get down to tie his shoelace I would think, 'Oh my god, this is it, it's happening!'" However the proposal itself came as a complete surprise.
10 miles into the hike, Wes was quickly becoming more and more irritated at Greg's frantic hunt for a specific dead tree, and other generic landmarks Google had unhelpfully provided as clues to find the hidden viewpoint. Eventually, Greg, determined but feeling a bit lost, decided he had found the said dead tree, and pushed through an overgrown, thorny trail to the edge of a dangerous cliff. "Our legs were cut to shreds and it was very dangerous, but I just thought it's now or never! Unfortunately, I couldn't get down on one knee because I would have fallen to my death, and that wouldn't be the dream start to our engagement. We sat down next to each other, with our legs dangling off the cliff, and I gave him a beautiful wooden ring box. He didn't understand what the box was, or why there were two gold bands inside, and he actually nearly dropped them over the cliff!" Once Wes realized what was happening, he immediately turned to Greg asking, "Are you joking!?" Laughing, the two realized they couldn't get the rings onto their fingers due to the high altitude making their hands swell up. Greg explaining that they waited until they were back to the safety of the main trail to really celebrate, "When we weren't fearing for our lives anymore we realized what had just happened and happy cried. I joked that the reason I proposed a huge cliff was just in case he said no!" Just 5 minutes later down the main path, they spotted the dead tree they had been looking for and the secret trail which led to the actual spot Greg had researched, with the most incredible view they had ever seen. Without further ado, Greg got down on one knee to propose a second time, only to be interrupted by an incredibly angry bee which caused Wes to run away. A memorable and real proposal indeed, stirred by nature.
Wedding planning took a back seat as Wes and Greg spent the following two years travelling the world together, spending many months teaching in China, and many months more working in Australia. After moving back to London a year ago, Greg and Wes are putting together the details for their dream wedding after seven years of being together. Planning to hold their wedding in a shabby East London warehouse, the two will contrast the grungy aesthetic with elegant tuxedos and a big band to get everyone up and dancing. The warehouse to be brightened with string-lights, and candles set everywhere. Greg explaining, "It's very easy to get tied up in tradition, but we just want a big party, celebrating our love for each other with the important people in our lives."
When asked what advice they would grant to others in a relationship, Wes commented, "Don't compare yourselves to other people. Every relationship is different. Be a team, be kind, have patience, look after each other and you can't go wrong."
As for a honeymoon, Greg and Wes plan on taking an excellent adventure in Iceland, and after that who knows where they will be off to! You can follow along with Wes and Greg's travels on their Instagram, @AGayAdventure