WEDDING WISDOM: JULIAN & ROB
We are all too familiar with coming across a photo of someone you find attractive on social media, but how often do you get to meet that person face-to-face?
This is exactly what happened to Robert and Julian. Something about Julian's photo stuck in Robert's mind. Not intending to find Julian, what happened soon after came as quite a surprise. As Robert arrived to an event at a casino in Florida to meet a good friend, Julian walked up seemingly out of nowhere.
Throughout the next couple months, the two kept running into each other. "We had a lot of weird serendipitous meetings." Robert explained. Their mutual friend worked at a magazine in their home city of Miami and continued inviting them to events, slowly bringing Julian and Robert together
Robert made the first move by asking Julian out on a date. Prior to the outing, nerves got the best of Julian. "I was so nervous. I made up an excuse that I was sunburnt and flaked out. I never really dated guys and it was just too much for me at the time. I wasn't sure where it was going to go."
Regardless, Robert gave it a second shot and asked Julian to come with him to a friend's birthday dinner. Being in the midst of a large group of Robert's friends made for an uncomfortable first-date setting, so the two made a deal that their next outing would be one-on-one, with plenty of sushi.
"When you first start to date someone, they put their best foot forward and then after a while you really start to get to know them. When I really started to get to know Julian, it was so much better and so much sweeter. After that, things started to get way more serious." Robert recalled. "We loved to laugh all the time and I could take him out or we could stay home and it was all just as enjoyable."
Julian, just beginning law school, was a bit unsure about jumping into a relationship without knowing where things may lead. "It was seeing how he made me laugh all the time that I started little by little letting him in, getting a little more personal and a giving him the actual Julian and not just at the surface level." After ten months of being together, they were ready to take their relationship to the next level.
For Julian's birthday, Robert planned a trip to Las Vegas to celebrate by seeing Britney Spears in concert. Julian explained, "I already thought we would be getting married, but I didn't think he was there yet." During the weekend, Julian noticed that Robert was acting a bit strange. He was quieter than usual, nervous, even his hands were sweaty. "I thought he might break up with me."

Robert's mind was completely preoccupied with the details of his plans to propose. After a fantastic time at the concert, they walked together to the front of The Bellagio fountain. Conveniently located next to the casino where they first met. Robert's mentality was to try his luck again! In an instant, Robert was down on one knee, ring in hand.
Emotions flooding in, Julian gave a definitive YES. "Now I look back on the proposal video and see this 24 year old kid who thought he was getting broken-up with, and then just pure shock and excitement on his face."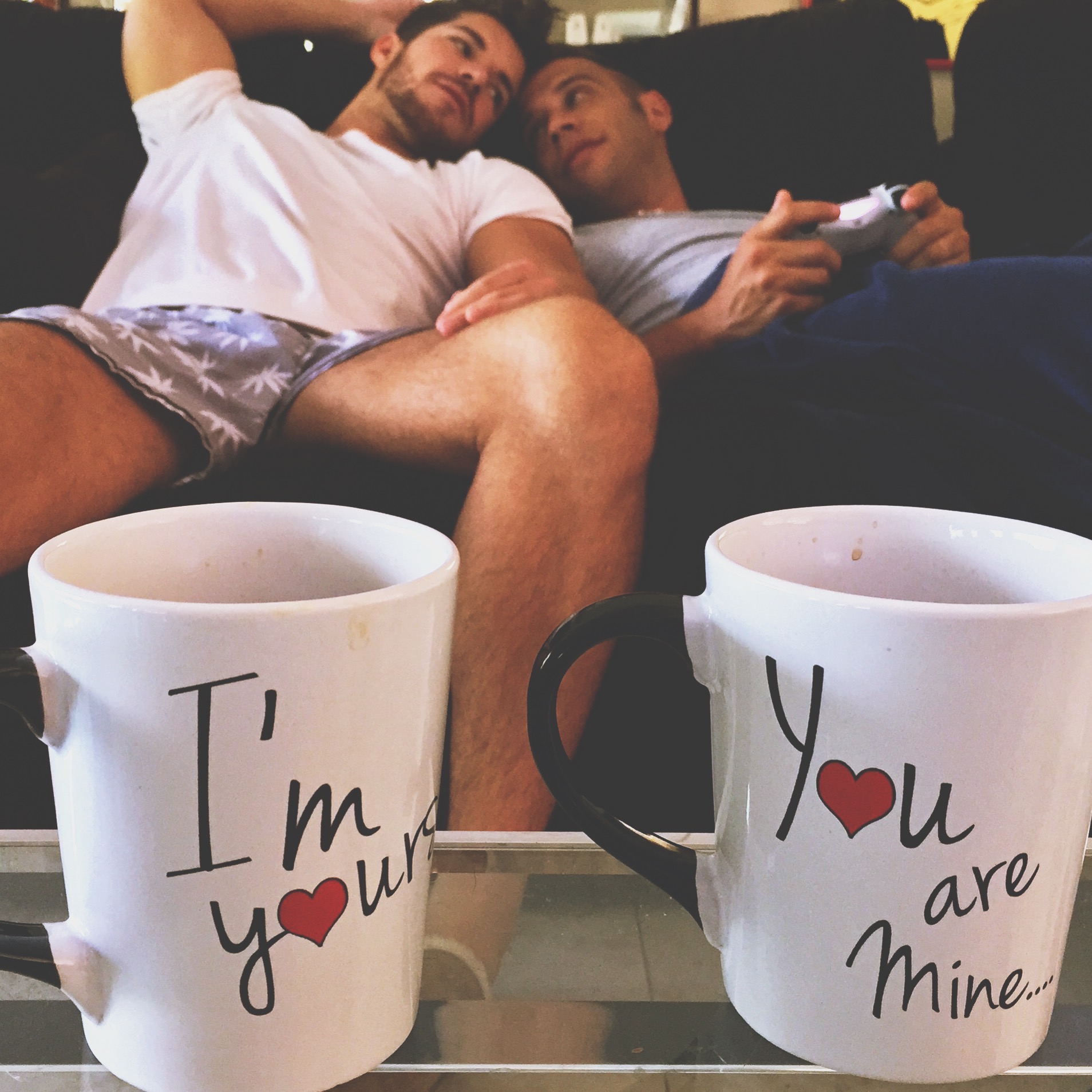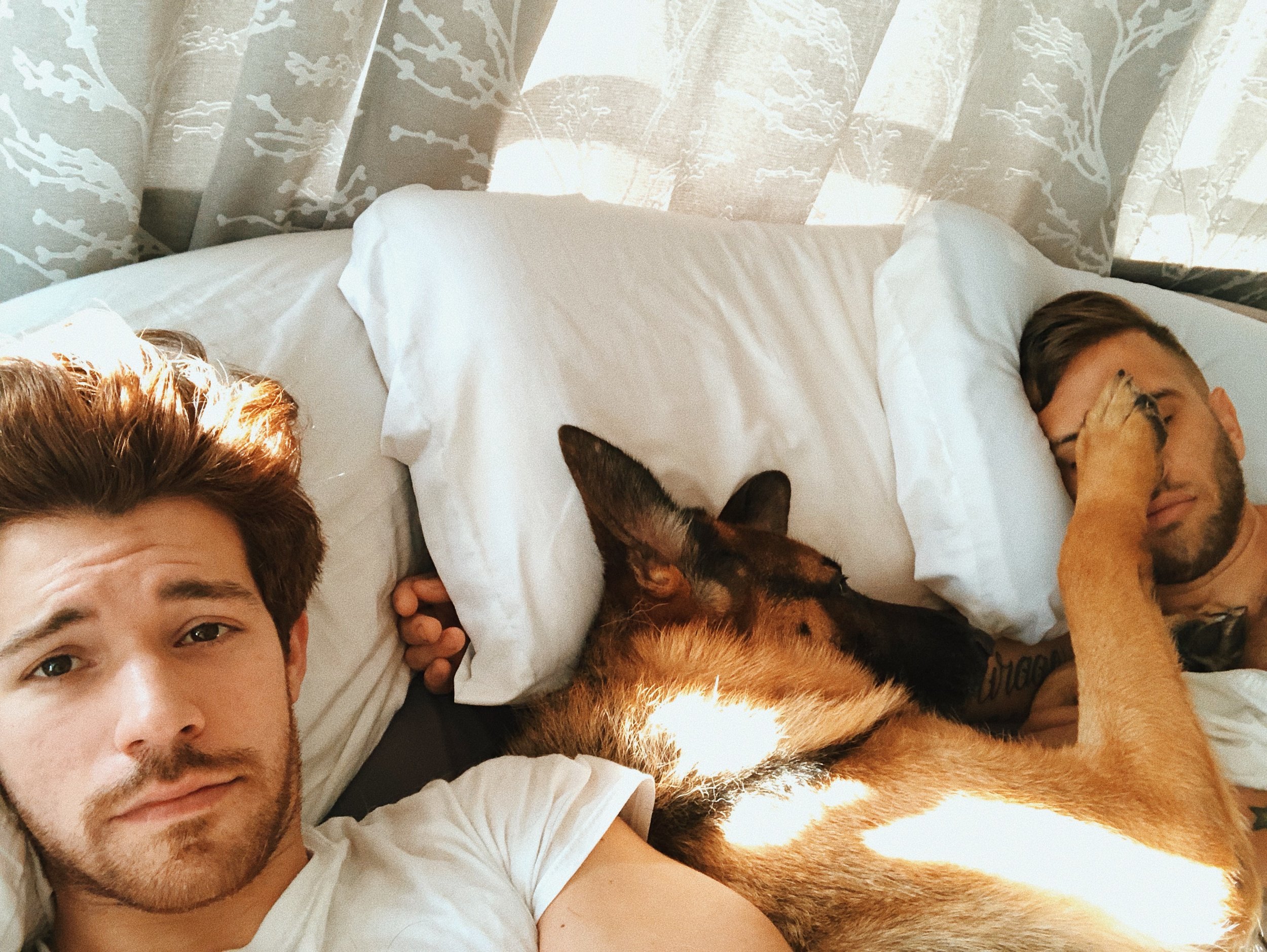 The newly engaged Julian and Robert returned to Florida with full knowledge that they would need to save money for the next couple of years in order to pull off their dream wedding. However, as they began to plan, two years became three and three years became five. "The beginning seemed very intense and quick, and then we waited years before we got married." Robert said. Julian adding, "We had the real-life 5 year engagement movie!" Family sickness and death tragically pre-empted the celebration. "Every time we started planning the wedding, something terrible would happen, like some crazy horrible black cloud would ruin it."
Julian emphasized that they wanted a uniquely designed wedding, free from the typical tropical themed celebrations of the Miami area. Over the years, Julian and Robert became increasingly fond of The Rocky Mountains. "We loved hiking trails and staying in cabins in the woods. It was kind of like that 'aha' moment when we realized instead of trying to make Miami like Colorado, we thought 'why don't we just get married here?' At first it was like, that's crazy we could never afford something like that." As they looked into this option, realizing it was the perfect setting to begin their married life, they decided to decrease the wedding guest count to make ends meet.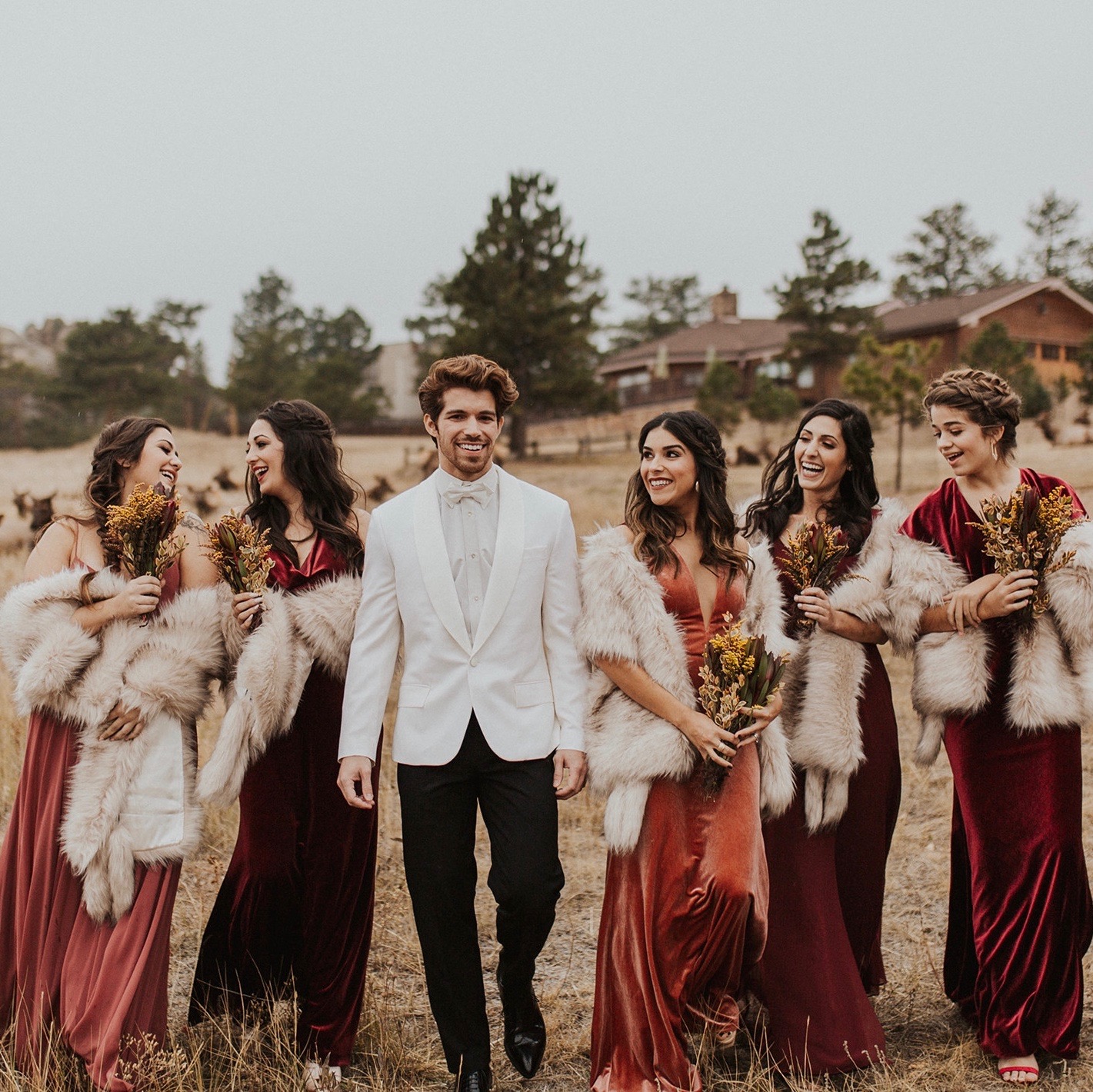 After assembling and gathering many decoration pieces locally in Miami, they shipped 27 large boxes to Colorado. Julian and Robert arrived in Boulder two weeks before the wedding to set up and prepare. Looking back, both agreed not having a wedding coordinator made it quite stressful, as much of the responsibility was left to their direction. "It was all very beautiful, and we did it the way we wanted to, but it was a lot of work." Julian stated. "We really only went to Colorado once to meet with the vendors. We had to do almost everything from home."
After the chaos of gathering the shipments, hauling it all to Estes Park, and setting everything up, it was difficult to immediately dismiss the stress as the wedding weekend began. "The Welcome Reception was just a complete blur. I had a glass of wine and was talking to people, but I was still very much the planner in my head." Julian said. However, the chaos started to dissipate as the family took part in a relaxing game of softball on Saturday. By Sunday morning the two entered into their wedding day in a state of complete bliss, complete with fifty elk that greeted them on the front lawn of the venue!
"It was just perfect. I was able to work out all of my anxiety Friday and Saturday, and when Sunday came I was comfortable." Of course, the rain clouds made their way over the mountain tops as the ceremony approached and the ceremony had to be moved inside, but at that point there was nothing anyone could do. Julian and Robert admitted that the day would be wonderful no matter if it took place indoors or outdoors. "I thought the florals got damaged in the rain, and I kind of laughed at myself because it was just too late! I'm going to get married in a couple of hours, this is all done at this point!"
As the ceremony began, it was clear that everything was perfectly in place. This was the moment that made all the stress worth it. Robert explained, "When the ceremony was over and we were walking down the aisle, I felt so free - I was really able to enjoy myself after that."

Julian described the overwhelming emotions surrounding the wedding day. "Never in my wildest dreams would I think that my Cuban-Spanish family would be sitting here in Colorado, flying thousands of miles to be here with me at my wedding. The journey that my family went through from the beginning, not really even allowing Robert inside their house to now… I got to plan my wedding with my mom just the two of us visiting vendors. I wish I could have told my 14 or 15 year old self, "You are going to have all of this." I just never thought it was going to happen, and then it happened."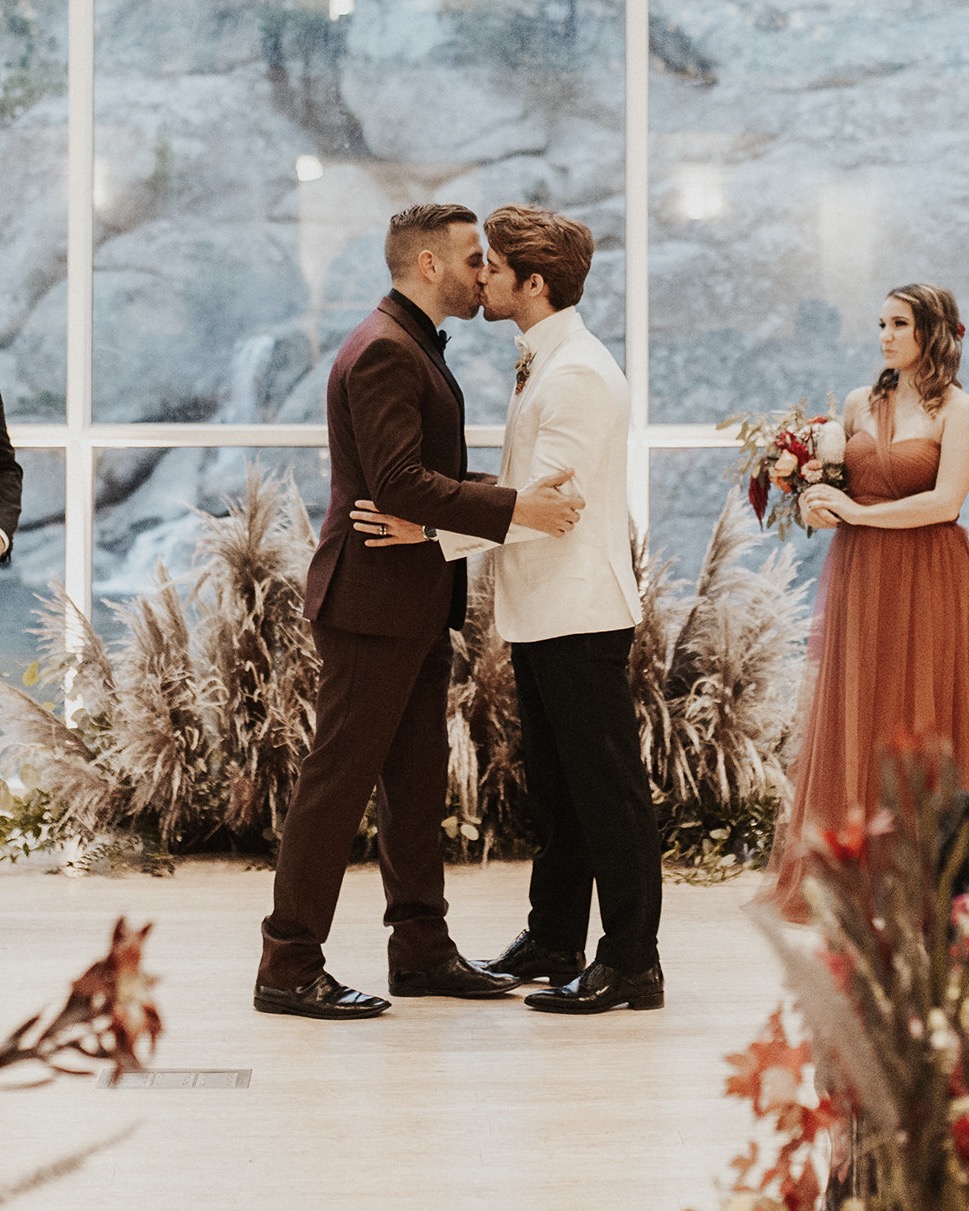 Light-hearted guests filled the dining room with laughter. The atmosphere exemplified pure joy. Dinner gave way to a hilarious drag show that really got people up and dancing. The celebration is something Robert and Julian admit they will cherish for the rest of their lives.
"To think of what we pulled off is shocking. Everything was beautiful. When I walked into the dining room I just thought, 'Wow.' I was in euphoria, it was just a dream. I would have never imagined when I was growing up that I would ever be able to have this and for it to be as beautiful as it was." Robert exclaimed. Julian adding, "What I remember feeling the most looking back, was that even though I was planning the wedding, I never thought I would actually have a wedding. I didn't think I would be privileged enough to marry the man of my dreams. I just assumed that I would have to marry a girl, or I would never get married. From my family background, there was never going to be a wedding. I just didn't see that in the cards for myself. I'm happy that I had a beautiful wedding, but I'm even happier that I had a wedding."
Julian and Robert moved to New York City part time, just two weeks after their wedding day. Not yet venturing out on a honeymoon, they hope to one day visit the Maldives or Australia together, as these are destinations they've shared excitement about since nearly the day they met. Both active on Instagram, you can follow their adventures on @ijulian_ and @robjmarks.