WEDDING WISDOM: STEPHEN & GABRIEL
"He hates when I tell people this, but Gabe definitely 'superliked' me." Just a few days after First Lieutenant Gabriel Beck returned for his final semester at the United States Military Academy at West Point after Christmas Break, the two matched on, you guessed it, Tinder. What started as a typical work-week flirtation quickly developed into a possible attraction that had both contemplating going on a date.
"Even as a senior at the Academy, you can't really leave during the week, so I had to push off the possibility of a date until the following weekend; I think we planned something tentative for Saturday, but that didn't work out. Stephen cancelled last minute, and I honestly thought I'd missed my chance," recollects Gabriel.
"Yeah I think I cancelled," Stephen responds. "I think I wasn't feeling well, but more importantly I honestly had my doubts he was real. It was hard to believe this person four years younger than me was using this flawless grammar and sounding, well, mature. The fear of a catfishing scenario really did cross my mind."
Thankfully, it didn't end there. "We opted for a Sunday afternoon date instead," Gabe says. "It was complicated though. I had to report back to my unit for accountability at 7 pm that Sunday, so we had a strict timeline. It was about as conservative a start to the relationship as you can get these days, especially in the gay scene — a quick movie, and then a quick dinner, that's it."
After a brief meeting and a fifteen-minute drive together to the theater, Stephen and Gabriel's relationship of nearly four years started in almost complete silence. "Honestly, the movie was super awkward," recalls Stephen, "we barely spoke."
"But dinner made up for it; it was really comfortable. Stephen was so understanding about the not-so-ideal timeline, and that kind of set the tone for our relationship, rolling with the punches so to say. I was super excited about it!"
Stephen adds, "I was so nervous meeting him. I remember him pulling up, and he had a really cute, forest-green trench peacoat on. I just loved listening to him talk. I thought he was the most mature person I had ever met in my life." The old-fashioned date ended with a conservative kiss goodbye as Gabe giddily rushed back to the Academy.
It wasn't long before Stephen and Gabriel planned to see each other again the following weekend for a romantic dinner in downtown Manhattan. The strict schedule at West Point proved extremely difficult to plan around, but Gabriel was determined to make it work. He rushed out of his last class as fast as he could so he could change out of his military uniform and take the fastest shower of his life. Gabriel recalled actually running a mile uphill to his car in the senior parking lot in order to drive the two hours into the city to make the reservation on time. It's as if the first few weeks of their relationship are straight out of a romantic blockbuster.
From the start, the two completely hit it off. "The next morning, Gabriel went back to West Point and it was only a few hours later that he actually asked me if I wanted to hang out again, that night!"
Since Stephen was living with his family at the time, Gabriel got to know everyone from the beginning. "They were so welcoming and kind to me since day one," remembers Gabe. After a short time, Gabriel felt comfortable inviting Stephen to one of West Point's traditional date nights, where the Cadets celebrate the 100th night until graduation. It was then that Stephen got the opportunity to meet Gabriel's closest friends. "It was so intimidating though," recalls Stephen. "I was meeting all these Army guys for the first time in a huge banquet hall with like two thousand people, including a bunch of Generals and everything!"
"It was actually intimidating for both of us, to be honest," retorts Gabe. "It was the first time I had ever taken a guy to an event like that. We certainly weren't the only non-hetero couple in the massive hall, but the gays were few and far between that night, definitely."
From then on, the relationship only deepened. Stephen reminisces that, "Two to three months into dating, I parked my car in front of the West Point Chapel and pulled him in for a kiss under a lamppost on the hill overlooking his barracks. That was one of the moments I knew I was going to marry him."
However, not everything was easy. "In the middle of it, I was like, let me push you away for a bit… then let me bring you back. And then I got this bombshell that Gabe was moving to Germany to get a masters degree because he just received a scholarship there. I wouldn't be able to go with him because of immigration and everything." But the relationship continued. Gabriel graduated and spent the summer with Stephen before moving to Europe. "That's when we were really tested," acknowledges Stephen.
Despite the distance and time difference, they managed to find the groove to their relationship. Even if they couldn't always be in contact, they always texted goodnight before going to sleep, and woke up every morning with a good morning message. It wasn't long before they started making plans on how to be together again. Stephen explains, "I had a really good job in the city working as an account executive at Calvin Klein, but I just wasn't happy. I saved up, and at the end of December 2016 I met him in Germany and proposed."
Stephen used to leave messages for Gabriel in the bathroom mirror after showering. So, when Stephen visited Gabriel that winter, he thought this would be a cute way to propose.
"I don't want to tell the story, it was an absolute fail. It was horrible! He didn't know I was proposing to him and just walked away. I was standing there in the bathroom with the ring in my hand. Then he realized what was happening and I just started crying. He said yes, accepted the ring, and finished cooking dinner. Then it was a great night."
Gabriel defends, "I was in the middle of a bunch of different things in the kitchen, I was making coq au vin, a French stew. I had asked him to help me with the food, but he decided to take a long shower so I was already annoyed. Then he yelled that there was a spider in the bathroom."
Stephen continues, "I yelled for him to kill it, and when he came into the bathroom he didn't see the message on the mirror." Despite the proposal not going quite according plan, the two were finally engaged and immediately started planning their wedding.
They chose none other but West Point Chapel on Gabriel's New York campus as their ceremony space. The gothic architecture dominating the space and providing the perfect elegant setting for the event. "The word chapel makes it sound small, but it's actually massive, like a military cathedral. Not only was it beautiful, but it was really special to me. I'd participated in a lot of choir performances there, and I'd been in love with the massive pipe organ there since my earliest days at the Academy."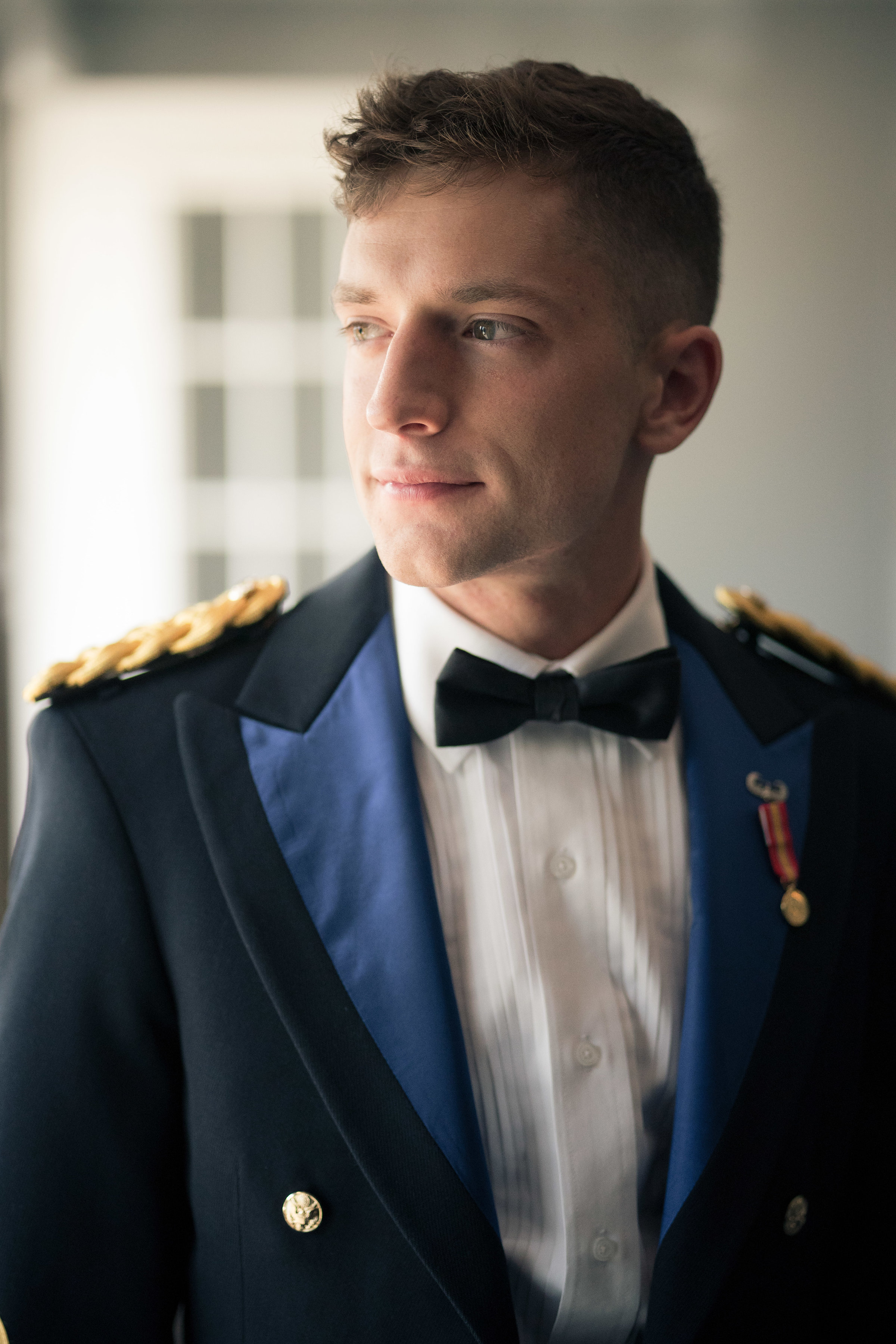 Gabriel focused on planning the ceremony, while Stephen planned the reception. "The wedding reflected our personalities, I think. The ceremony was pretty formal, but passionate and emotional at the same time; meanwhile to say the reception was fun would be a huge understatement. For the ceremony, we had readings from Walt Whitman and Alfred Tennyson, and I spent hours timing the organ pieces I'd chosen to how everyone in the wedding party was going to walk out."
"We actually did all the marriage paperwork earlier at my hometown's city hall," remembers Stephen, "so that's technically where we got married. It was actually really intimate and special! My family was really close to Joan Skinner, the City Clerk who officiated the legal ceremony, and she wanted to make it special since it was the first same-sex wedding she was doing at the courthouse. It was so special we ended up using the vows she wrote for us in the actual ceremony! The first words were, 'I take you to be my best friend, lover, and partner for life,' and we just fell in love."
On July 21st, 2018, a little nervous, but with much excitement, Stephen and Gabriel joined hands in front of their friends and family and exchanged those heartfelt words. Immediately following the ceremony, the grooms escaped for a few moments alone together where the emotions of the day caught up with them. Then, exiting the chapel, Stephen was welcomed into the Army by way of a sword arch held by Gabriel's groomsmen. The two grooms walked through the arch, and were embraced into their new life together.
The reception, just a quick bus ride from the chapel, was backdropped by dramatic mountains and the banks of the Hudson River. The Thayer Hotel provided a romantic setting for this New York summer celebration. From wall to wall, dark wood lined the interior. Candles and flowers adorned all sides. "I knew I wanted the reception to be white and gold. I didn't have a theme, I just wanted it very classic with tons of flowers, white table cloths and gold silverware. We used fake flowers, but they looked real. My mom did an incredible job on them. While Gabe and I were still in Germany, she helped me with an immense amount of the planning and arranging for the decorations and we can never thank her enough. It was everything I ever wanted."
The joy bubbling up throughout the day was palpable. Stephen reflects, "I never thought that I would get married, ever. I never thought in a million years that I would have a wedding. I was overwhelmed with happiness. It was tough because my grandmother passed away a few days after the wedding, and she wasn't able to come. There were some family issues leading up to the wedding, but they did everything in their power to make the wedding day about us. We had our friends from everywhere come. Everyone knew it meant a lot to us."
"We had just under one hundred guests. It felt very close from the beginning of the ceremony to the end of the reception. Everyone including us appreciated how intimate it was. My parents didn't come, but my family's representative was my amazing oldest brother. He was the stand-in for my family, who either chose not to be there or couldn't because of the long distance. It was very emotional for me and him. He's also bisexual, so we've had that bond a while now. That context contributed to the emotionality of both the ceremony and the reception; Stephen and I had debated for months whether or not we were going to do have a mother son dance at the wedding. In the end, we ended up actually not planning for it."
However, the mothers of Gabriel's groomsmen (the same best friends Stephen had met at 100th night several years earlier) got together and decided that they were going to have a 'mother's dance' with Gabe instead, all of them. They danced one at a time to the song 'All You Need Is Love' by The Beatles. "It was an extremely difficult, yet powerful moment for me. I really didn't like having that element of pain on display for everyone to see, but the intent there was very sweet. In the end, I was also very happy that it gave Stephen and his mom the opportunity to have their special moment."
"At the end of the day, everyone at the wedding had our back. Everyone at our wedding truly loved and accepted us. We felt it in the room," Stephen remembers fondly. "Definitely," agrees Gabriel. "Apart from just the sanctity of the wedding itself, it was that showing of support that made it a day I will never forget."
Gabriel and Stephen's honeymoon actually occurred over the nine months prior to the wedding, while they still lived in Europe. "It just made sense for us to spend the money then, when everything was so close by. We went everywhere. Barcelona, London, Paris and many other parts of France, three different trips to Italy, Belgium, the Netherlands, Austria, the list goes on. Traveling with Stephen was a really special experience. I think we did way more than the average honeymoon," smiles Gabriel.
Only a few months after they first started dating, the two attended an annual celebration the LGBT Cadets and Alumni of the Military Academy called the Knight's Out Gala. "We met a friend there who, at the end of the night, told me, 'Stick to this guy, you're going to have an adventure,'" recalls Stephen happily, "And I have. I don't think I would get to go to so many incredible places, and with someone I love."
Gabriel and Stephen now live together as husbands in Alabama while Gabriel finishes his training to become a helicopter pilot for the United States Army. To follow along with Stephen and Gabriel's adventures, check out their Instagrams at: @s_maraffino and @gabebeck15.
Photo credits: Ryan Kaplan at:
www.instagram.com/smallmomentsny