IN THEIR WORDS: ANDREW & STEFFEN
On March 10th, 2012, Steffen and Andrew found themselves on a double date, but with different people. They sat across from each other at dinner, along with their boyfriends at the time. However, as the date ensued, it was apparent that they were there with the wrong people.
"We immediately felt a connection between us. It took us a few weeks to figure out what that special feeling was, but we decided to immediately leave our partners and start dating each other to see what this feeling was all about. It wasn't long that we realized that we were in love. It was the start of something very special!"
Andrew adding, "The first thing I noticed about Steffen is that he was incredibly handsome! He spoke German, and my German wasn't great back then, so I didn't really understand everything he was saying. However, I could tell he was a very fun person."
"I always told Andrew how I imagined our proposal to happen. To be honest, I ruined a couple of perfect moments by saying to him, "now this would be perfect." Of course, he wouldn't ask after I said that!
I remember when we were standing at the fountains at the Bellagio in Las Vegas, and I said 'Oh my god, this would be thee perfect moment!' He reached into his pocket and I thought, 'It's happening!' I looked over, and instead he took out a cigarette. He then asked if I wanted to watch the fountains again. I thought that maybe he got nervous… but now he will ask. He then reached into his pocket again, and took out a piece of gum. At that point I got angry. After that night, I stopped telling him about what I thought would be the perfect moment."
On September 12th, 2016, Andrew and Steffen were enjoying a cruise in the Caribbean and preparing for a Gala night on the ship with a formal dress code. "Normally, I love dressing up. But that night I didn't feel up to it. Andrew insisted that I wear a suit. I should have known that something was about to happen because normally he would never say what I should wear. But I didn't have a clue! We had an incredibly nice dinner, and afterwards a photographer asked us if we wanted to take a couple photos together. I had absolutely no idea what was about to happen. We took a few photos together, and then the photographer asked if he can do separate photos. He wanted to start with me, so I stood posed in front of the camera. Andrew stepped into the frame and got down on his knees and asked me, 'Steffen, do you want to marry me?' I was shocked! I just stood with my mouth open starring at him until I realized what was happening. I always said that I wanted that moment on camera, and he managed to do that while keeping it a complete surprise!"
Steffen and Andrew found their perfect venue at the Design Offices in Nürnberg. Choosing March 13th, 2018, as the date for their celebration, the two began their long process of planning the perfect party. "We picked a travel theme for our wedding because as the places we've visited and experiences we've had abroad are a big part of our relationship. I knew that Andrew wanted a very personal wedding, without the typical round tables and white tablecloths. It was very important to us that our guests would leave feeling they had a lot of fun and an unforgettable day with us. For our color scheme, we decided to go with black and gold to give it a modern touch but still feel elegant."
Establishing the wedding's attire turned out to be a more complex task than anticipated for Andrew and Steffen. Booking a weekend in London, they hoped to complete their outfits simply within they trip! "We thought, how hard can it be to find two suites? Everyone kept telling us, 'It's so much easier to find suits than a wedding dress.' We can attest that this is not true! Every male guest wears a suit to your wedding, and the most common colors they wear are blue, black and grey. Most of the suit stores have exactly and only that! To look for two suits that stand out, go together, but are not the same is harder than we thought. We went to nearly every store imaginable and tried on way too many suits. None of them were special enough to stand out from the other suits at a wedding without coming across like costumes. On our last day in London, Andrew found two very colorful, floral print suits. Both with different colors and floral patterns, but matching well together. I wasn't sure about them at first, but we bought them anyway.
Back home in Germany, I told Andrew that I didn't see myself walking down the aisle wearing such a loud suit for this emotional and intimate moment. I continued looking for suits and I found a white suit with embroidered flowers that I fell in love with. I showed it to Andrew, and seeing how happy I was, we decided to buy it as well.
Now the dilemma, I had two suits at this point and Andrew had one. We came to the conclusion to have one outfit for the ceremony, and one for the reception afterwards. This turned out to be our best decision ever. Since we hugged everyone after the ceremony, our white suits were covered in our guests' makeup. We changed into the floral-print suits for the first dance and it was an amazing moment. After a few hours in our initial suits, it felt great to be able to freshen up a little!
In Germany you have to go to the registration office to get legally married, separate from the wedding ceremony. We scheduled the registration office visit for the day before our ceremony. So, we needed a third suit for this occasion. We wanted to go for a summery look, so we ended up purchasing suits in pastel blue and pink, both made from the same fabric. In all, we had three suits!"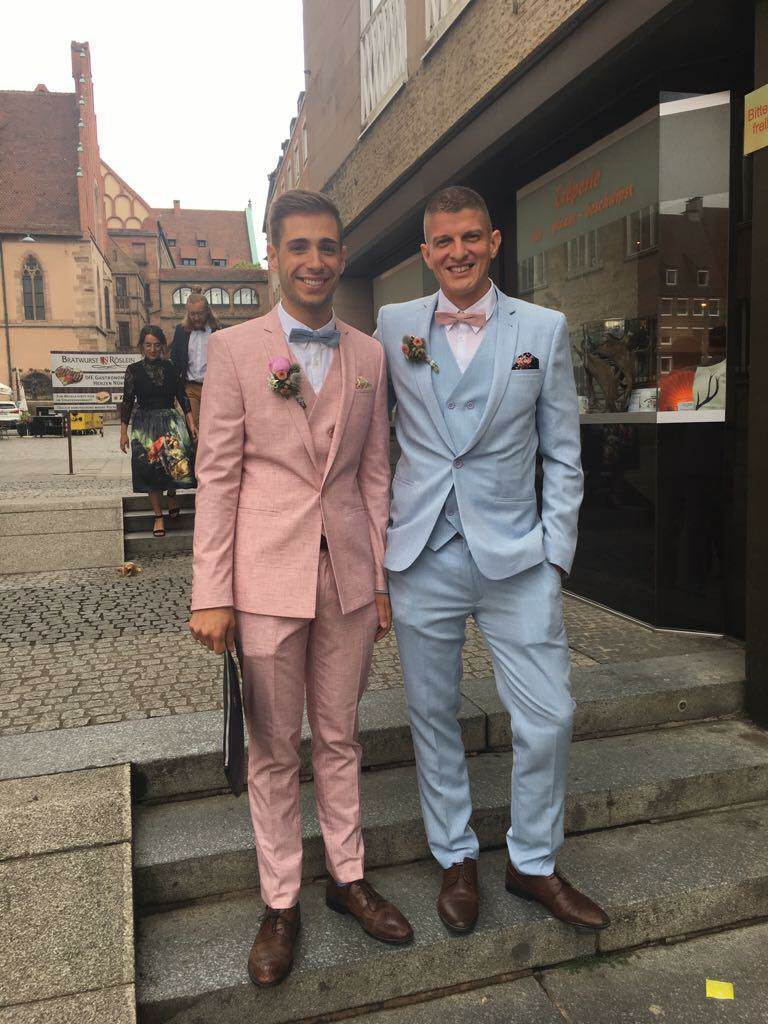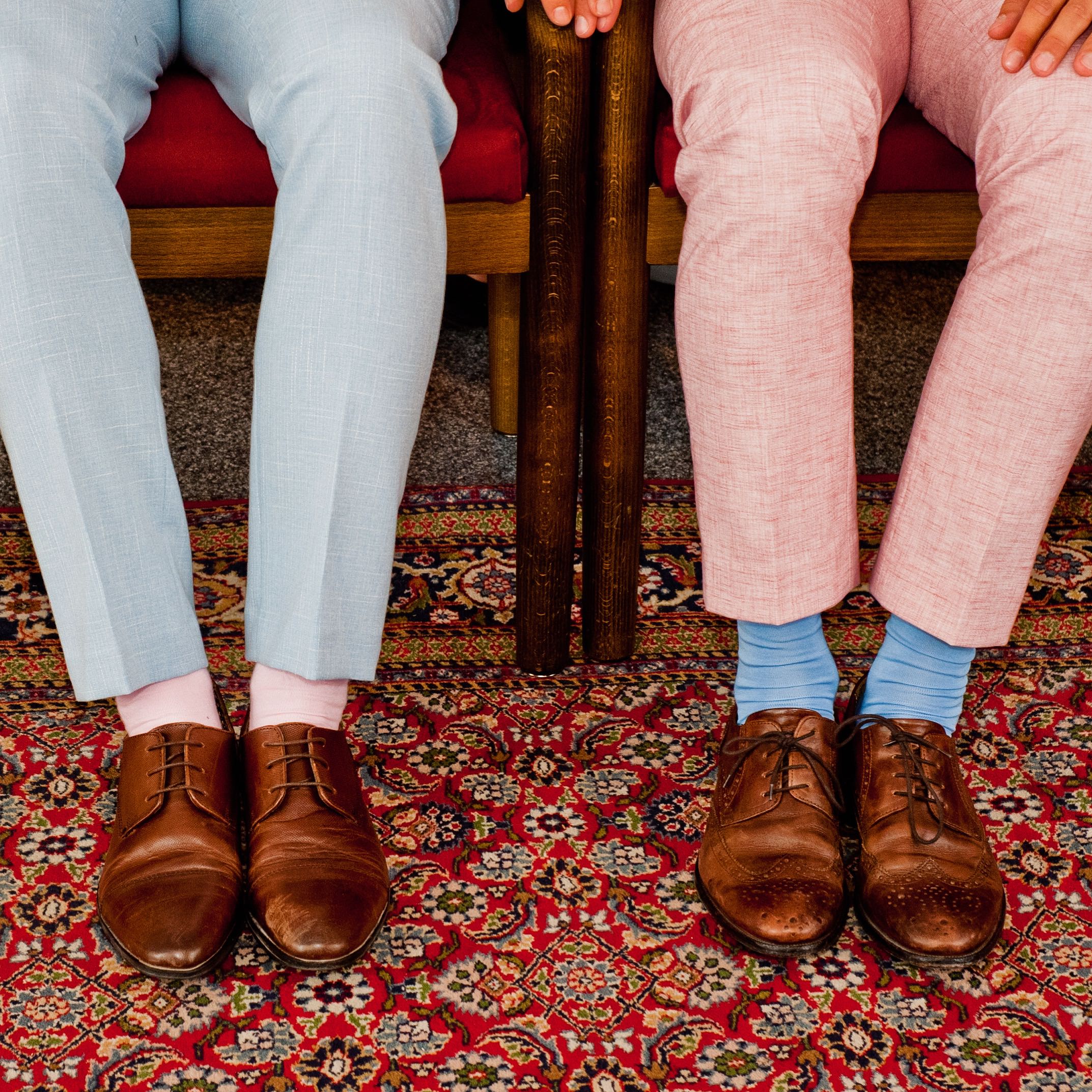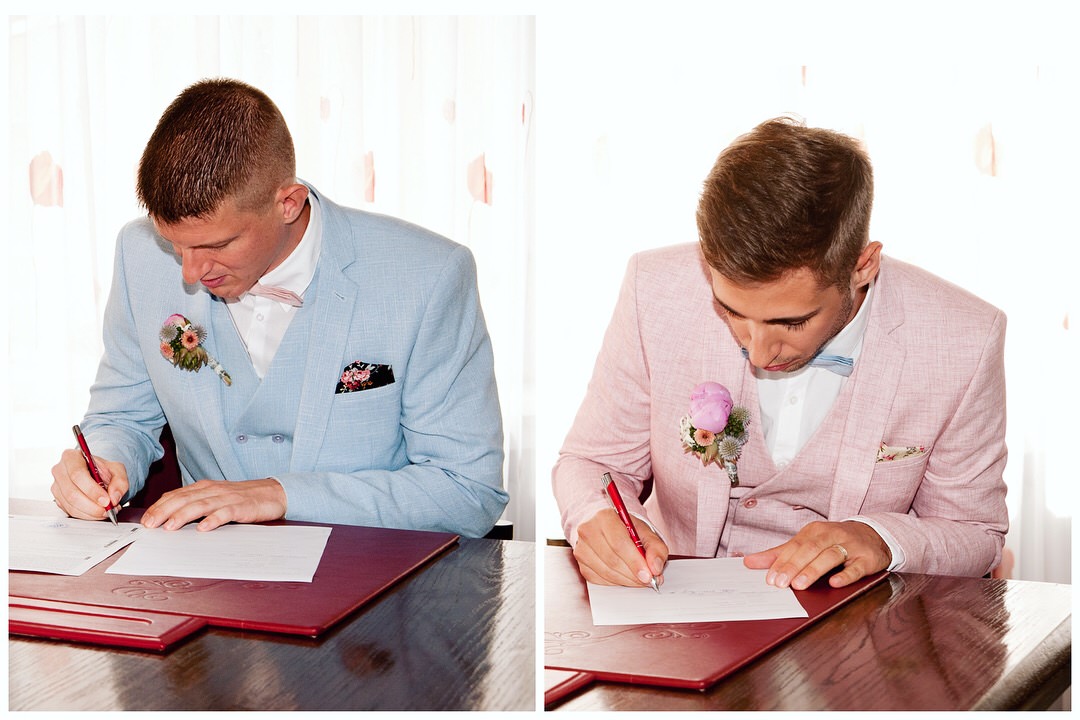 With everything in its place, Steffen and Andrew's wedding day could not have been more personal and heartfelt. A segment from Steffen's vows read: "I Said yes because u are always there for me! When I'm feeling down, you make me laugh. You know me like nobody else. You know me with all my flaws and all my edges. I said yes because you show me your love every day in the little things, like every morning when I wake up, and you are already at your office I find a coffee next to the bed. And it makes me smile every time."
Andrew spoke his vows in German, as Steffen's family does not understand English. A segment of Andrew's vows translated read: "Dear Steffen. You are the love of my life. The last 6 years and 77 days have been incredible. I have so many wonderful memories with you; happiness, excitement, romance and just pure love. As I think back, it makes me so excited about the future. I'm excited about waking up each day, cuddling and seeing your smile"
As travel is extremely important to the grooms, their honeymoon was no exception to the care and precision in which they planned their wedding. Steffen and Andrew set out for a three-week journey around the world. "Our first stop was Kiev, Ukraine, which was only planned for one night as we could get cheap first-class flights from there. However, we had a great time and would definitely go back. Next, we flew to Shanghai and spent a few days sightseeing and eating delicious food before taking a cruise to Tokyo." Andrew even surprised Steffen with a trip to Disneyland Tokyo there. "From Tokyo we flew to Bali. We had a private villa, which was just perfect for relaxing together and having romantic evenings by the pool. The food in Bali is also super delicious and we went rafting through the jungle in Ubud! Our last stop was Bangkok for few days of big city life and street food. A highlight was receiving our wedding video while in Bali. We watched it with a glass of Gin & Tonic near the beach. It was so emotional!"
Husbands Steffen and Andrew happily live together in Germany. Follow along with their adventures on Instagram @Anchors.world!
Photography: Oliver Gold at oliver-gold.com
Decoration: Heidigold Gold Designerie at https://www.heidi-gold.com/