WEDDING WISDOM: STEVEN AND ALEXANDER
Steven and Alexander met the good-old-fashioned way: face-to-face, late night at a bar in Miami. Theirs was first a friendship that developed across the distance between Miami, where Steven lived, and Dallas, where Alexander does. But, as time passed and their hearts grew fonder, the distance was no match and Steven moved to Dallas.
It wasn't long before Steven knew that Alexander was the man for him. Alexander, on the other hand was more cautious and hesitant. Both knew, of course, that there was something special between them. wasn't quite in the same spot, The couple therefore agreed in this circumstance that when the time came, Alexander would be the one to pop the question. "This avoided us secretly planning engagements simultaneously and ending up with numerous rings," said Steven. "There really was no rush. Alexander knew where I stood, and he could do it when he was ready, and surprise me." Not only did the couple want their marriage to be legal, they both desired to get married when they were both ready to start a family.
One morning, February 14th, while on vacation in Maui, Steven woke up to find Alexander on bended knee and the wedding planning began immediately.
"We had a lot going in our lives so we broke down the planning into monthly tasks," said Alexander. Having selected the venue – the Four Seasons in Palm Beach – and the date, a decision that triggers all the rest, the bulk of the planning unfolded from there. Having seen his parents plan events and been a party to his brother's wedding,
Steven took the lead
making some decisions on his own while, consulting Alexander on those matters of interest to him. As Steven pointed out, "we were very aligned regarding our wedding and very decisive. We both wanted an intimate wedding and to be surrounded by a small group of close family and friends. Alexander was big picture. I took on the details. Generally, our focus was to spend quality time with loved ones, capped off with a ceremony celebrating our love. Being decisive of course was key to the planning process, and it kept it all fun and enjoyable - and stress-free. I was surprised how easy it was to make our plan a reality once the tasks were broken down, so long as we didn't second guess any decisions."
"We had a close friend, Meredith Clarin of Kitanim – a Florida Design and Event Company, who is a florist, other family friends in the invitation and music business, another friend who is a wedding photographer, Derrick Tribbey of Derrick Tribbey Photography, and a close friend who managed the Four Seasons hotel, so we asked them if they wanted to be a part of our planning and help create the intimate wedding of our dreams, which they all jumped on board with, without hesitation," said Steven. This made for an incredible team of friends who were truly invested in making the wedding impeccable. Alexander added that: "we also picked the Four Seasons knowing that their standards of service, quality of product, and venue matched our tastes and style, which, made the planning easier and gave us time in the end to enjoy the wedding weekend and really be with our guests."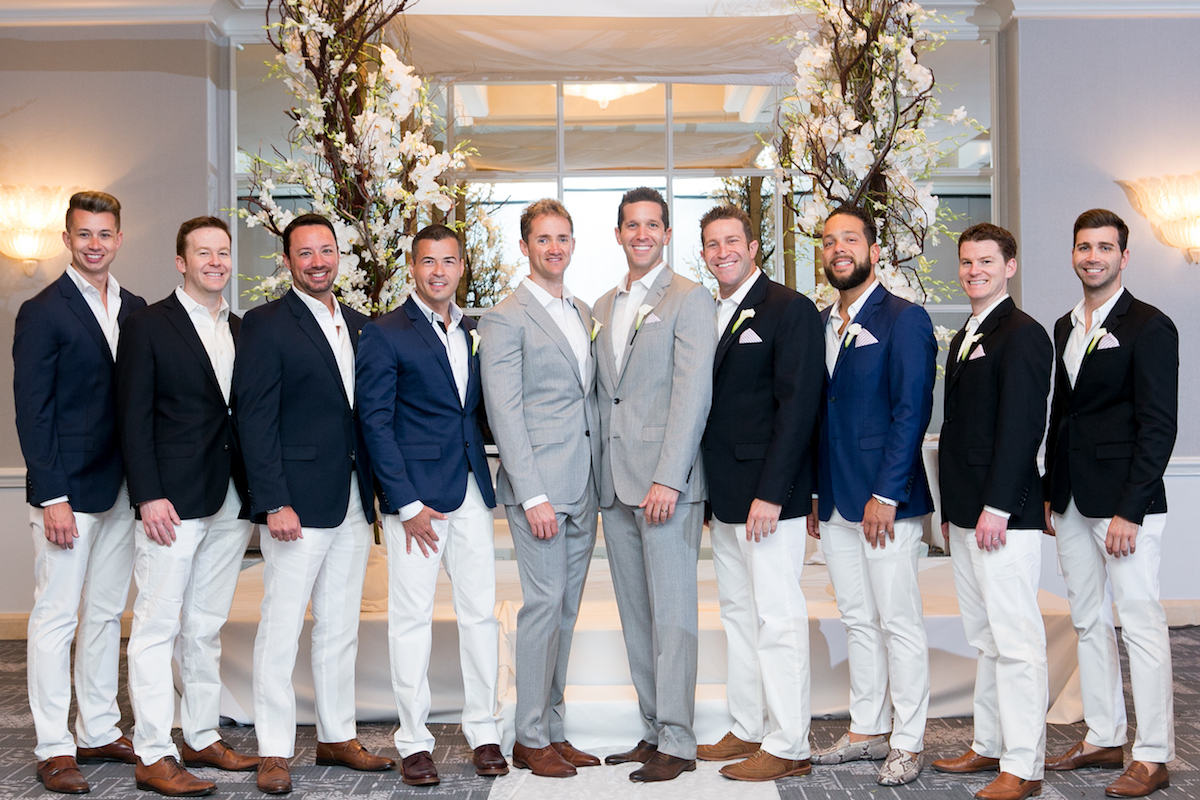 Guests from across Florida, New York, Dallas and Chicago joined the couple for a weekend by the beach. Saturday found them all beachside and in poolside cabanas. That night, guests dined alongside great pop-based violin music. The couple really got to spend meaningful time with each of their guests. And, Sunday morning found the group standing alongside Steven and Alexander as they said "I do."
As for the wedding, Steven's most memorable moment was seeing Alexander walk down the aisle. "It was raw emotion of pure joy and happiness; one you cannot hide or stop or create."
The ceremony was largely a Jewish one, but as Steven said: "we made it our own." In front of the cantor, who is a long-time family friend of Steven, the couple selected
for the ceremony
elements from customary Jewish wedding traditions followed by Steven's family that resonated with them both. They changed parts into English. They rewrote elements to be less faith-based and more about family, togetherness, and home. Steven pointed out: "I really recommend that couples work together on the ceremony, including both of their experiences and beliefs."
Alexander's favorite moment was turning to see their family and friend's joy, smiles and tears alike, upon being declared "husbands for life."
As the couple said: "This wedding was for many, a culmination of sorts. Yet, still, a celebration. Among those in attendance were guests who'd struggled in their own lives with being gay, guests who to this day continue to fight for basic human rights and equality for all, guests who provided love and support to us as we struggled down the path of our own lives, guests who provided similar support to our parents as they coped with a change in their reality, and of course, our parents, who travelled their own path to reach this day where they stood proudly by our side. Everyone that was present understood this and understood that they played a part – sharing tears, providing support, and celebrating love – in making our wedding day possible. It was evident that everyone wanted nothing more than to celebrate together how far we had come. Our wedding ultimately about guests who'd come to appreciate that this wedding was simply about two individuals celebrating their love for each other. In fact, for both of us, it was our first gay wedding!" Steven added, "we have since realized, the wedding itself was also important as it became a means to breaking down barriers by showing others who do not regularly interact with same sex couples that we are no different, we love and marry in just the same way as everyone else."
When it came time for the cake, guests were surprised by an array of petit fours adorned with pink and blue ribbons. Alexander got up to speak and, surprising to most, was too choked up to share what he was meaning to share. Steven stepped in to announce that, true to their plans to marry when they were both ready for a family, they were delighted to announce the pending arrival of their twin boy and girl in October. More joy and tears took over their close family and friends in attendance, as this newly minted couple became newly minted parents.
For Steven and Alexander, "I do" was truly a celebration of love and devotion.
VENDORS