WEDDING WISDOM: DANIEL & JORDAN
Daniel and Jordan first met via the online dating website, "OkCupid," in the summer of 2013. Being close to a 90% match on the platform, Daniel was the first to reach out and the two instantly clicked.
After chatting for a week or two, Jordan decided to drive from his home in Provo to visit Daniel in Salt Lake City. At a quaint pizzeria in central Salt Lake, the two met for dinner and were soon deep in conversation over their similar upbringings within highly conservative, Mormon households. Being still very private about dating, Daniel expressed being a bit nervous in case he was seen by anyone he knew. They continued, however, to talk late into the night. Staying up together until almost 3 in the morning they made plans for a second date the very next day. Needless to say, sparks were flying.
"I think I knew right when I saw him… It was just so easy." Jordan said as he smiled. Daniel added that it felt completely effortless. "I hate to use the word, but kind of like soulmates. It felt like we had known each other for a long time."
Daniel spent much of his time at Jordan's home the rest of that Summer, as they wanted to spend as much time as possible together before Daniel started dental school. After six months of dating, Jordan transferred his credits to the University of Utah, and they moved into an apartment together in Salt Lake City; Daniel's parents under the impression that they were just roommates. As time went on and their relationship deepened, they knew it was only a matter of time until they would need to reveal their true relationship. "It was June of 2014 when I came out to my parents." Daniel recalled, "I wrote them a letter, left it on their bed, and went to Seattle with Jordan for the next 10 days. Ever since then, my relationship with my parents has been a journey, as it is for many gay people. I made it clear to my parents from the very start that if they wanted me in their lives, Jordan was going to be there too."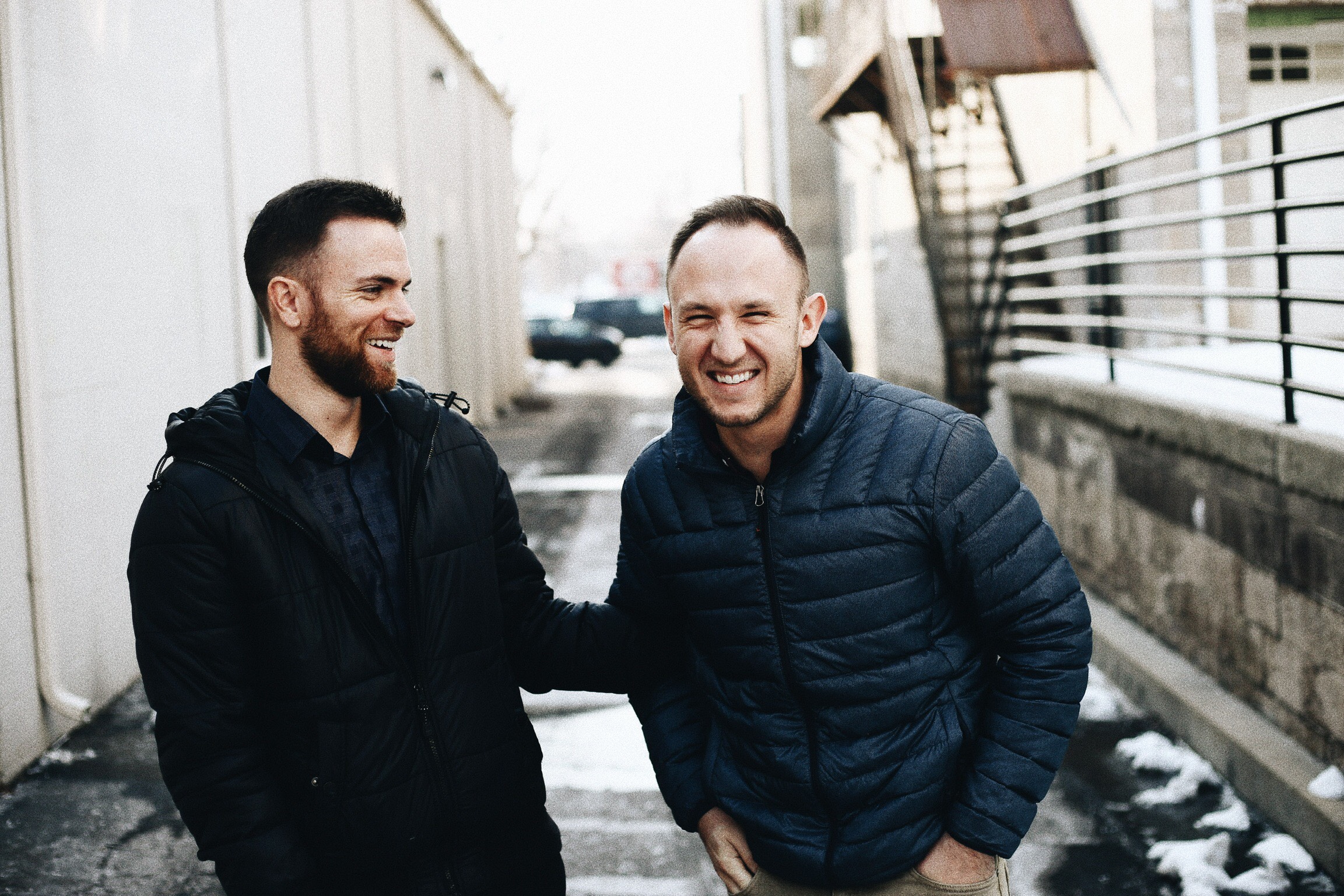 Unfortunately, the news was not well received. Daniel explained that in many Mormon families, "when the kids don't fit the mold, it's a big deal for years and years. They love Jordan but they don't love that I'm married to him; the same can be said about Jordan's parents." Fortunately, Jordan & Daniel leaned on each other throughout their relationship, lifting one another up with love and support.
The idea of marriage first came up in conversation about a year into dating, but their engagement came on as a complete surprise in February of 2017, at least for Daniel.
Since the start of Daniel's orthodontic residency program in Las Vegas was quickly approaching, they discussed getting married beforehand in order to have plenty of time to celebrate with their friends in Salt Lake City. Close to Valentine's day, in the middle of the week, Jordan recommended going by the same little pizzeria in which they had first met for dinner. Daniel, caught a little off guard as to why Jordan would recommend such a nice restaurant on an ordinary weeknight, unassumingly obliged.
Near the end of dessert, the proposal happened quietly just between the two of them, without drawing too much attention from surrounding tables. Jordan explaining, "I reached across the table and told him, 'I just want you to know how much I love you, and I would be honored if you would be my husband. Will you marry me?'" Daniel smitten, gladly accepted the ring. "I didn't want a whole restaurant clapping. No flash mob or anything. So the way he proposed was perfect."
Setting a wedding date less than five months away, Daniel and Jordan began the exciting planning process immediately. "We did everything ourselves, primarily because our parents had no interest in helping to plan a gay wedding."
Beginning to plan what they called a "non-traditional" wedding, Jordan and Daniel opted to forgo a cake and a wedding party all together. However, music being of incredible importance, they hired a jazz quartet to perform.
On the wedding day, 100 of their close friends and family gathered in the same location their second date picnic took place, Memory Grove Park.
Without a hired wedding coordinator, Daniel explained that the responsibility really did land with the grooms! Some family members and good friends received boutonnières and corsages as tokens of appreciation, but without a wedding party with strict responsibilities, they were both left to do a bit of the heavy lifting themselves. "I was stressing out, not nervous to get married, but from an event standpoint. How do we coordinate a wedding when we're up saying our vows, you know?"
As the ceremony began, all stress seamlessly lifted as it was time for the two grooms to join hands and walk down the aisle. With extraordinary care Daniel and Jordan wrote and expressed their vows together. An excerpt reading, "With your help, I vow to you that I will strive to be an instrument of selfless service to help make this world a better place so that love can flourish for all. I promise to remember these vows and I give you my heart, my love, my everything, from this day forward until the end of time."
Jordan and Daniel explained that working with their officiant, a Zen Buddhist Priestess, they discussed how their individualities become greater in unity. Daniel reflecting, "Marriage means different things to different people. Being gay, being non-traditional, we have the luxury of looking at things from a different perspective. But to me, there's more to marriage than the traditional vows. We wanted to do vows that talk about the reason that we were joining together - to be a force for good within the world."
After saying 'I do', there could not have been a better moment than the two walking down the aisle as husbands, hand in hand. "That was the reason why everyone came, that was why we were there that day." stated Jordan. Daniel adding, "it was the first time I realized how much support I have in my life. Like how many people actually care for us."
As soon as dinner ended, the dance floor filled. Jordan expressed an overwhelming joy from the love and acceptance of all those attending. "Growing up, especially in Utah or a conservative town, you think that once you come out your life is going to be turned upside down and you won't have the support system you need… On the wedding day, seeing everyone who was there supporting us, and the love that was there was more than I could have asked for. It was one of those times in your life where you realize that your life is going to be wonderful. You think, 'Oh my god, I'm actually normal. People love me. Life is great. I don't need to fear the future.'" In the presence of love, fear dissipates. "It's really nice to have that realization, that confirmation that everything is going to be okay, and even more than okay." Daniel adding, " And now you're married to the person you love."
Just four days after the wedding, Daniel and Jordan packed their bags and hit the road for their big move to Las Vegas, Nevada.
When asked about what advice they would give to others planning a wedding, Daniel commented to not obsess too much over the small details. "Keep the big picture in mind about the wedding. What is the point? What is the goal?" At the end of the day, getting married to the one you love is all that matters. "Do what you want, it's your day. It doesn't matter what other people think!" Overall, both agreeing a wedding planner would have made the logistics on the wedding day much easier.
Daniel and Jordan are now happily living as husbands. They deeply enjoy hiking and do it as often as possible - and they also share their adventures on Instagram! For more of what this adventurous couple is up to, visit them @TheHikingHusbands.