WEDDING WISDOM: TAYLOR & SHANE
Love was already in the air when Taylor and Shane first locked eyes at their friend's wedding.
Taylor, being the wedding photographer at Shane's friend's wedding saw him from across the reception hall. As he was working, he knew he shouldn't be hitting on any of the guests at the wedding. However as he saw Shane depart from the reception, he wished he had.
Over the next couple of months following the celebration, Taylor replayed the night over and over again in his head. Finally Taylor decided to ask his friend for the name of the charming individual he saw from her wedding, later connecting with Shane over Facebook.
After chatting over Facebook Messenger, the two exchanged numbers and immediately began discussing where they could go to meet in person for the first time.
Shane recalled, "We ended up going to get pizza, then bowling. It was a true Midwest first date!" Taylor adding that when asked if he wanted a beer at the bowling alley, Shane returned with an entire pitcher. "I looked at him and was like, 'Alright! I guess we're drinking tonight!'" They hit it off, talking late into the night.
"The conversation was easy and I felt immediately comfortable. I mean, I guess first dates are kind of awkward but there was never a moment where we had silence or we didn't know what to say next." Taylor said. "At the end of the night when he dropped me off, we both went in for the kiss but we were wearing baseball caps and they rammed into each other. It was really awkward! I remember just thinking that we just botched the first kiss!"
Despite the funny first kiss, they couldn't wait to see each other for a second date. Initially things moved slowly. Shane was flying out of state every week for work, so they took turns planning dates every couple of weeks when they were both available. Taylor mentioning "It was nice because it kept us really excited for the next time we got to see each other."
After five months of dating, things started to get serious. Shane's job allowed him to stay in Minneapolis more often, and they began spending a lot more time together. Ten months into the relationship they found a place of their own and moved in together.
"The more we spent time together, we just started planning for the future unintentionally with marriage in mind." Taylor explained, "Eventually your lives just start becoming the same life and to a certain extent you just start planning the future together. The natural next step for our relationship was marriage. Once I knew that I didn't want to be with anyone else and I knew this was my person, I wasn't going to wait five years to get engaged."
Shane had won a trip from work to anywhere in the US, the Caribbean or Mexico. Planning the trip together, they decided they would vacation in Cancun. Taylor quickly realized that this was the perfect romantic opportunity to propose.
"We were on a balcony overlooking the beach and the ocean, and it was the first morning of the trip. I was totally taken aback. The first thing in my head was that Taylor's kidding around. Then all of a sudden for it to be real, it's kind of crazy!" It was the perfect timing, giving them the next 4 days to celebrate their engagement with one another in paradise.
Planning to move to New York City just 6 months after the proposal, Shane and Taylor put the wedding planning on hold. Once they settled in, Taylor described the wedding planning process as fortunately seamless for them. "With my background in wedding photography, I already had my dream team of people I knew I wanted to be there with us. In terms of taste and aesthetic, we were very in tune and in sync. It made for a very easy wedding planning process." Shane adding "The hardest part for us, the last month leading up to it there were just so many little things - and the fact that we were planning it from New York City. We were planning the wedding to be in this really small town in Northern Wisconsin."
The wedding was set to take place in a barn halfway between Shane's hometown and Taylor's hometown atop a hill blanketed in fields. Just ten miles away was Shane's family's cabin that they would go to every summer for as long as he could remember. "It had a lot of emotional resonance for both myself and Taylor."
In describing the vibe of the wedding, Taylor said "We both wanted it to be a very comfortable and relaxed day, almost like people were showing up to a summer cookout where two guys were just happening to get married." The dinner boasted midwest classics such as pig roast, corn-on-the-cob, potato salad and homemade cookies. They even had a yellow school bus to shuttle the guests to the barn. Overall the outdoor wedding could be described as a gorgeous, rustic, yet casual experience.
The ceremony itself took place in a hay barn with slatted open sides. Everyone sat on quilt-covered hay bales, and the guests spilled out of the old hilltop shed into the middle of the field. Writing their own vows, Shane recalled his nerves prior to reading his. "I was feeling pretty much like I couldn't start right then, and then I heard gasps and sniffling from the audience, which gave me a little confidence to get through."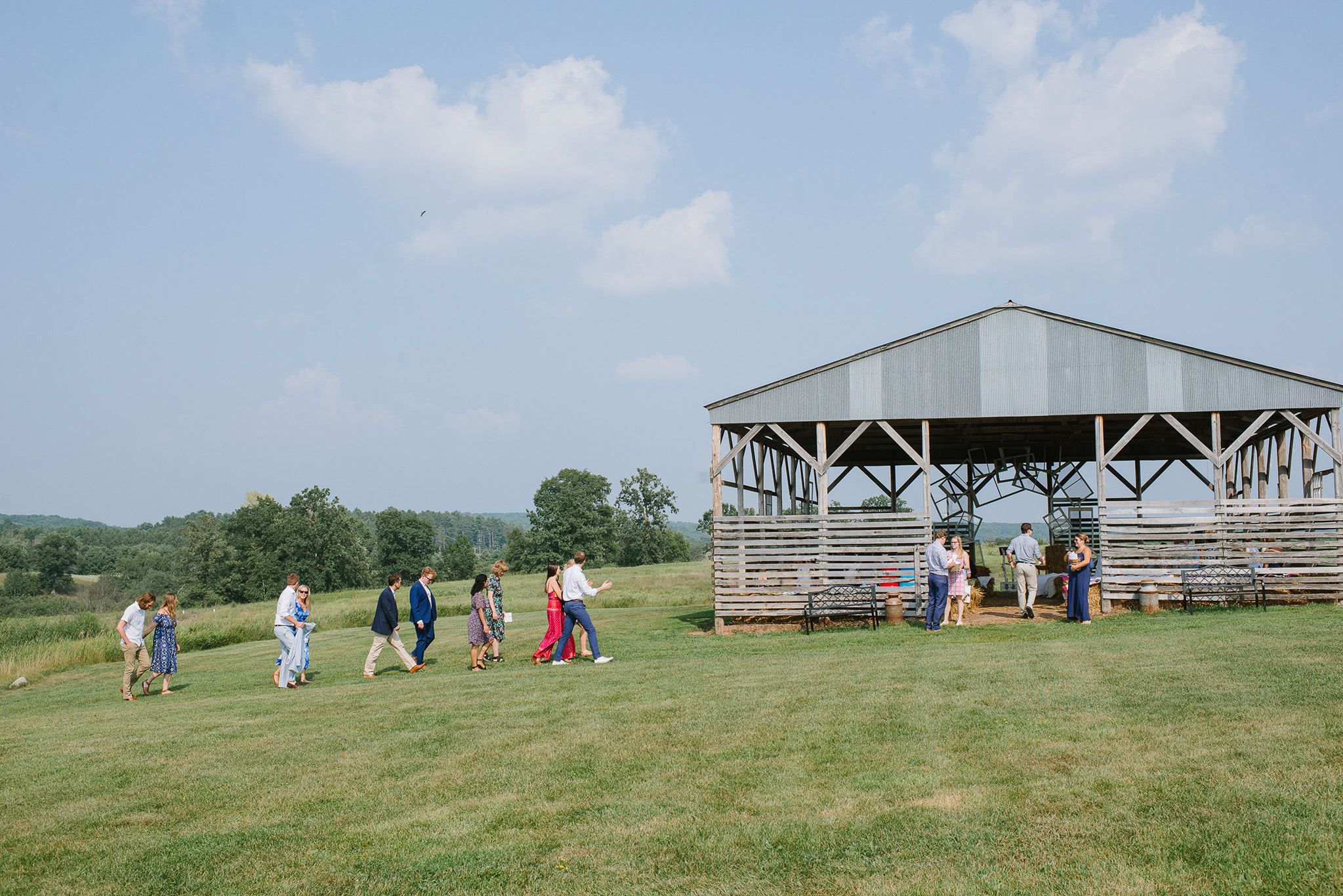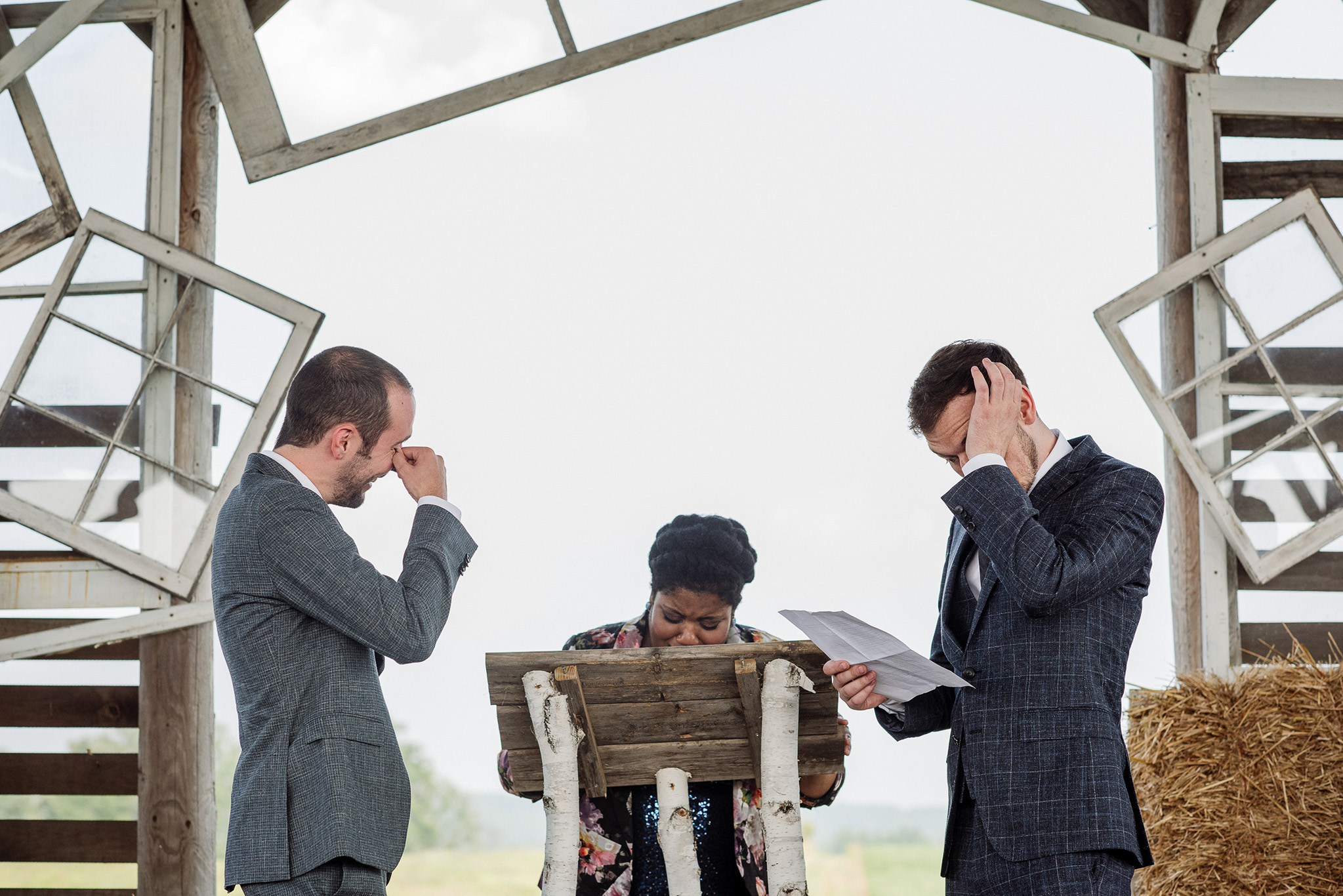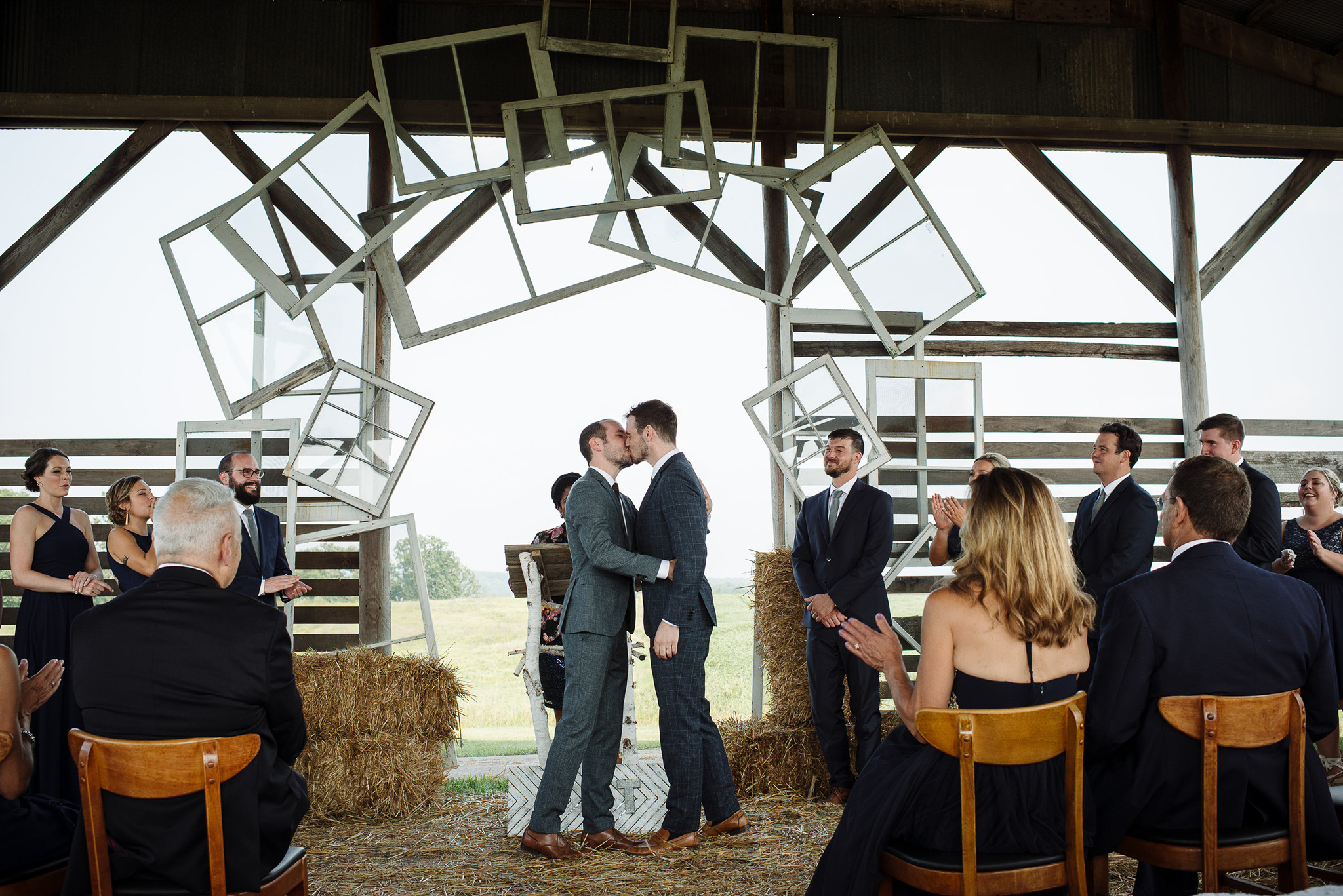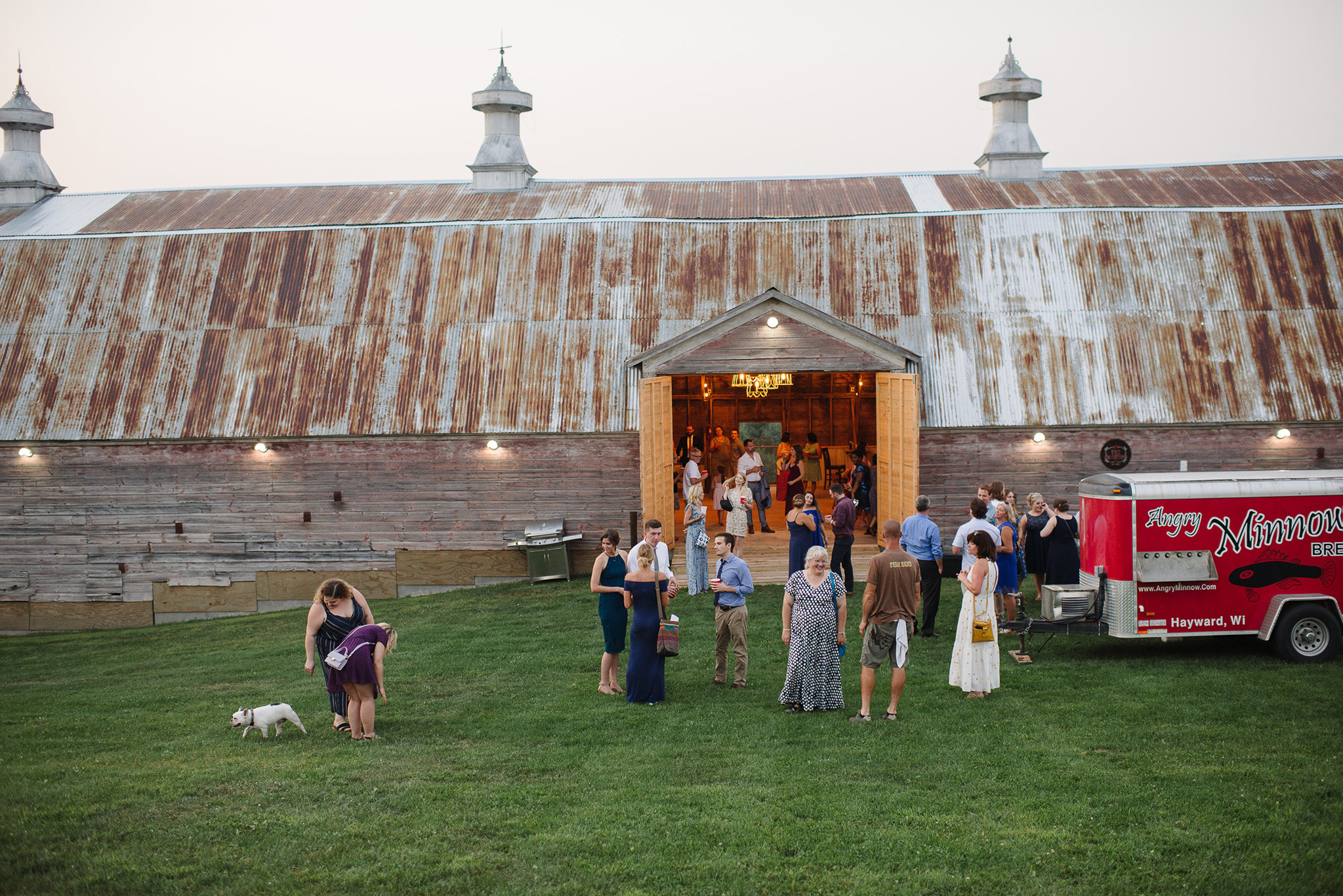 Following the ceremony, everyone congregated in the barn where they had a huge dance party complete with plenty of beer and brats. "Our first dance at our wedding was really like our first official dance ever. I grew up in a town of one thousand people and Shane grew up in a pretty conservative community in Minnesota. So you know even when we go back home for weddings, there's a certain level of… we just, we didn't really dance because it's not the easiest environment to do that. For our wedding, it was really nice to be in the middle of the dance floor with 200 people who we knew loved us and cared about us — it was literally like our first dance together as a couple and as husbands."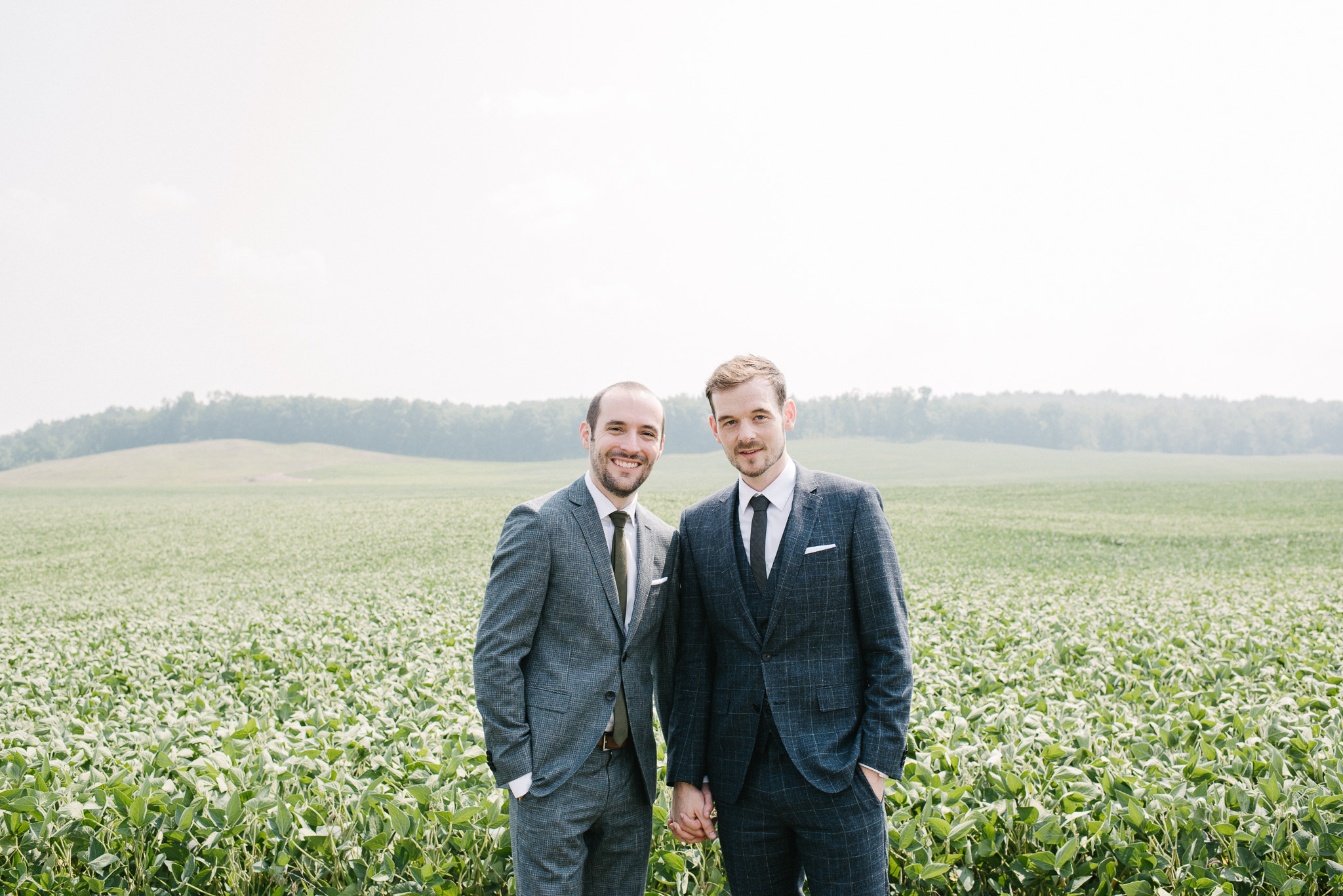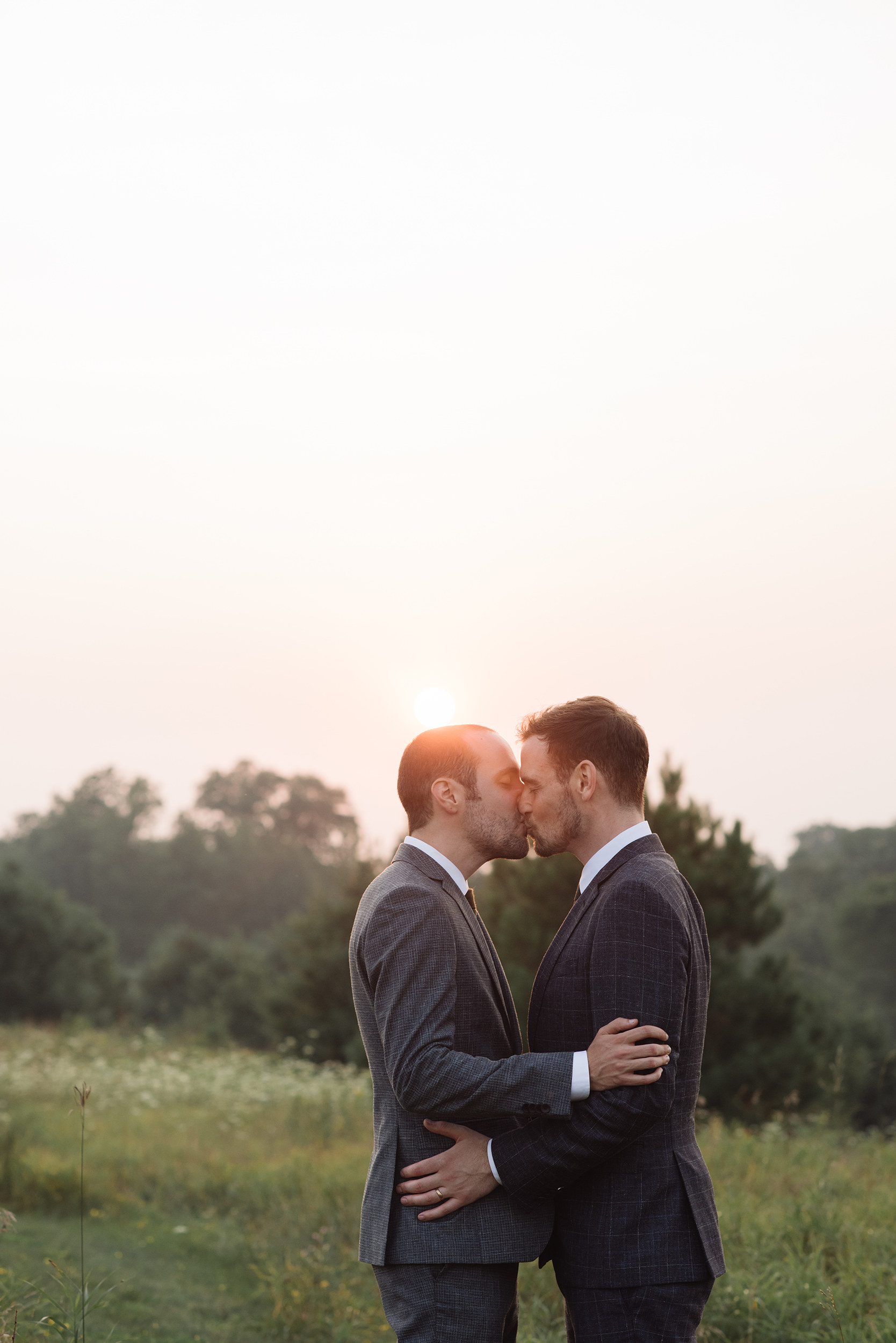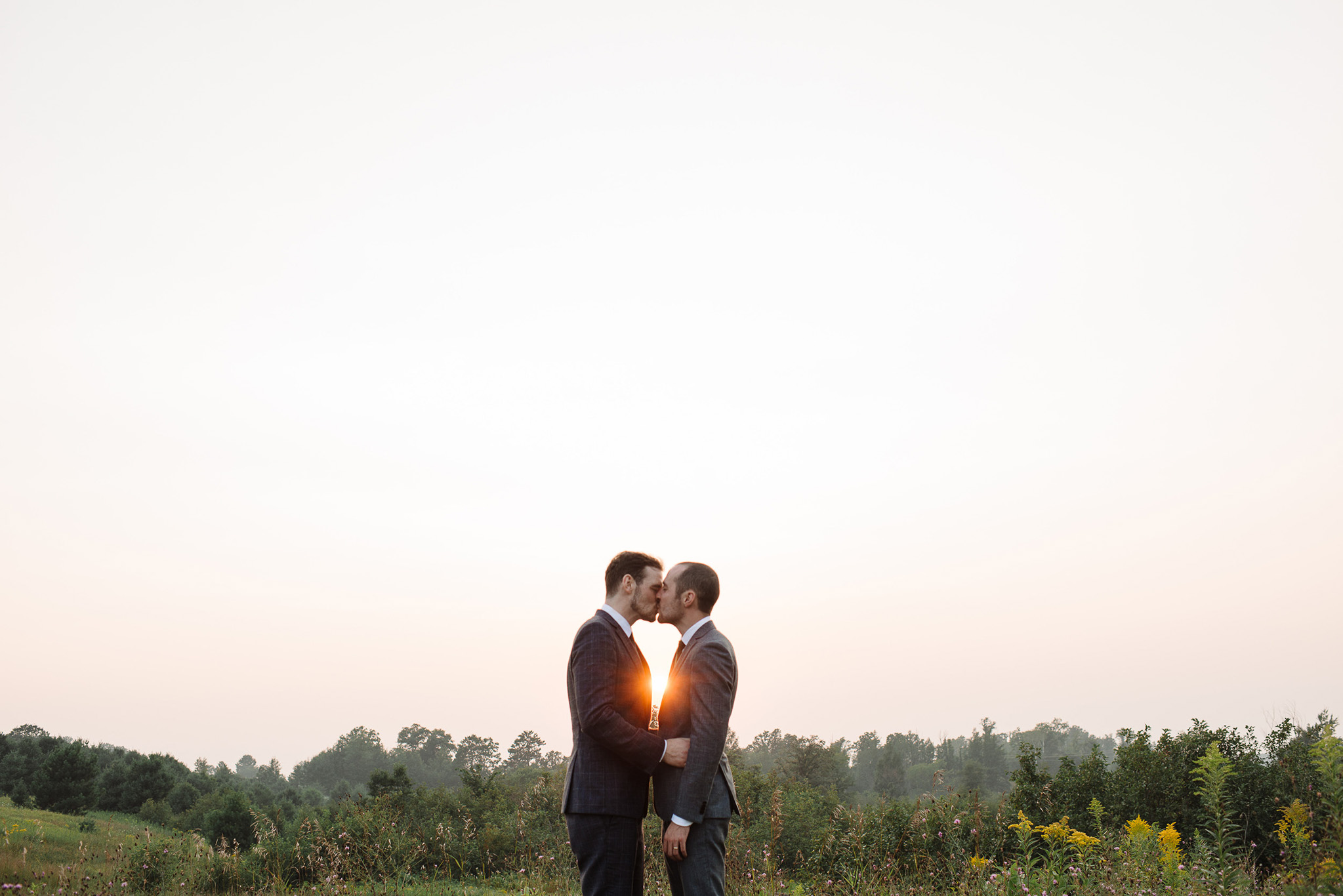 After the celebration, Taylor and Shane took a mini-honeymoon at their family's cabin just 10 miles away from the venue. However, the two are extremely excited for their upcoming actual-honeymoon in Europe this next summer.
When asked about what advice they would give to other couples planning their wedding, Taylor responded, "Pick your three to five things you really care about and put your energy into those things. Just remember that this is your time to focus on you two as a couple." Shane added that "The more you can make the tasks fun and personal will help them go by a lot easier."

Now husbands, Shane and Taylor happily live and love together with their dog Barley in New York City. You can follow their adventures on Instagram at @barleysboys.