ENGAGEMENT STORY: MICHAEL & JAVI
"It's a funny story, I was in DC two years ago for an internship. I didn't really know anyone there, but one night I just decided to go to the only under 21 gay club in the city. I saw Javi dancing up on the stage, and I recognized him through a mutual friend!"
Michael and Javi found themselves at a club as complete strangers. However, Michael swore he had seen him on social media before through his friend. "It seemed like everyone was watching him. He was at the front of the stage dancing, and everyone else was around him." So, before he lost sight of him, Michael got up on stage next to him.
"He tapped me on the shoulder and said he was friends with one of my friends. I wasn't very nice. I said, 'If you were friends with my best friend, I would already know who you are.'" And with that, the conversation abruptly ended. Javi didn't want to be at the club. He protesting not to go, but his friends insisted. "I didn't want to talk to anyone because I just didn't want to be there."
After Michael turned to leave, Javi's friends immediately started pressing, asking who that was. "We went on a hunt to find him, and then I had a conversation with him. At this point, it was love at first sight. By the end of the night I looked at him and said, 'You're mine!'" Michael added, "We closed down the club. They turned on the lights and were kicking people to because they were closed. He started the night kind of mean, and then came back looking for me!" Javi drove Michael home at 6:30 in the morning. "I woke up my mom as soon as I got home from dropping Michael off and told her, 'I just met my future husband.'"
The very next day, Javi asked Michael to grab ice cream and walk around the rooftop of the MGM Casino in Baltimore. Michael, already playing mini golf at the time, didn't want to lose the opportunity of seeing Javi, so brought their mutual friend along. "It was a little awkward, because it was like a date between Javi and I, with a third wheel… but, it was obviously still a lot of fun." They bonded over ice cream, talking about their families, Javi's upbringing in Puerto Rico, and their soccer and swimming athletic careers.
The day after getting ice cream, Javi asked Michael to go hiking with him. To Michael's surprise, Javi's mom joined. "I was like 'Oh, wow! what do I do? But it ended up being a really great time, and it wasn't overwhelming whatsoever. His mom has always been super supportive of us."
"At this point, I knew this was something special." Javi explained. "After the hike, I told my mom that I wanted to date Michael." On July 4th, just 4 days after Javi and Michael first met, they sat together at the edge of a rooftop overlooking a firework show over Washington DC. As the sun set, Javi asked Michael to be his boyfriend.
At the end of the summer, Michael went back to Indiana to finish his last year of school and start his soccer season. Javi had to stay in DC to finish his studies and last swimming season. "It was just a very busy time and required a lot of transition from both of us. Going from being in the same area and seeing each other every day, to being so far apart and extremely busy…" Michael would visit Javi as often as possible, but between soccer games almost every weekend, long distance proved very difficult. Javi adding, "Thank God for FaceTime!"
When hurricane Maria hit Puerto Rico, Javi completely lost communication with his entire family living there. "Michael was my angel who kept me calm. I didn't know where any of my family was — my nieces, aunts, and uncles. Michael's mom sent a box full of clothes and things that my sister needed after the hurricane along with a note wishing that everything was okay." Javi took the compassion of Michael and his family to heart. He knew they were in this together for the long run. Their love for one another, and their families was something very special.
"Once my soccer season ended, things were a lot easier. We had more flexibility with our time. Javi stopped training for swimming as intensely and started coaching around that same time. We both reached a point where we were done with the super intense parts of our athletic careers, so it was much easier to see each other."
In May of 2018, Michael moved back to DC to live near Javi. "One morning, we woke up, and randomly Michael looked at me and said, 'let's go look at rings!'" Once they found the perfect ring, Michael had a plan. "I knew that Javi was really tired, so I took him back to his apartment and he fell asleep. While he was out, I went back to the mall and bought him the ring he fell in love with. To cover my tracks, I bought a container of Häagen-Dazs and came back to Javi's apartment with it." Javi woke up, completely unaware of what had just been purchased.
Without any delay, Michael began to plan the surprise proposal. Michael called his friend, Amy, who often does fun photo shoots with them and asked about setting up a shoot in which Michael would propose. Javi, excited for the photoshoot, but completely unaware that there would be a proposal, invited a friend to come along. "I didn't tell anyone what was happening. I thought it would definitely some how get around to Javi if I did. The shoot was on top of a cliff, so I sent Javi up before me, and then grabbed the ring out of my parka and walked up. We were there for about 10 or 15 minutes. Amy had Javi pose for some shots in front of me. As he was posing, I got down on one knee. He was kind of confused, and then he looked down."
— "And then I cried." Javi interjected. Michael adding, "It was so funny, because our friend who was there had no idea what was happening, then the photographer yelled at her to take a video!"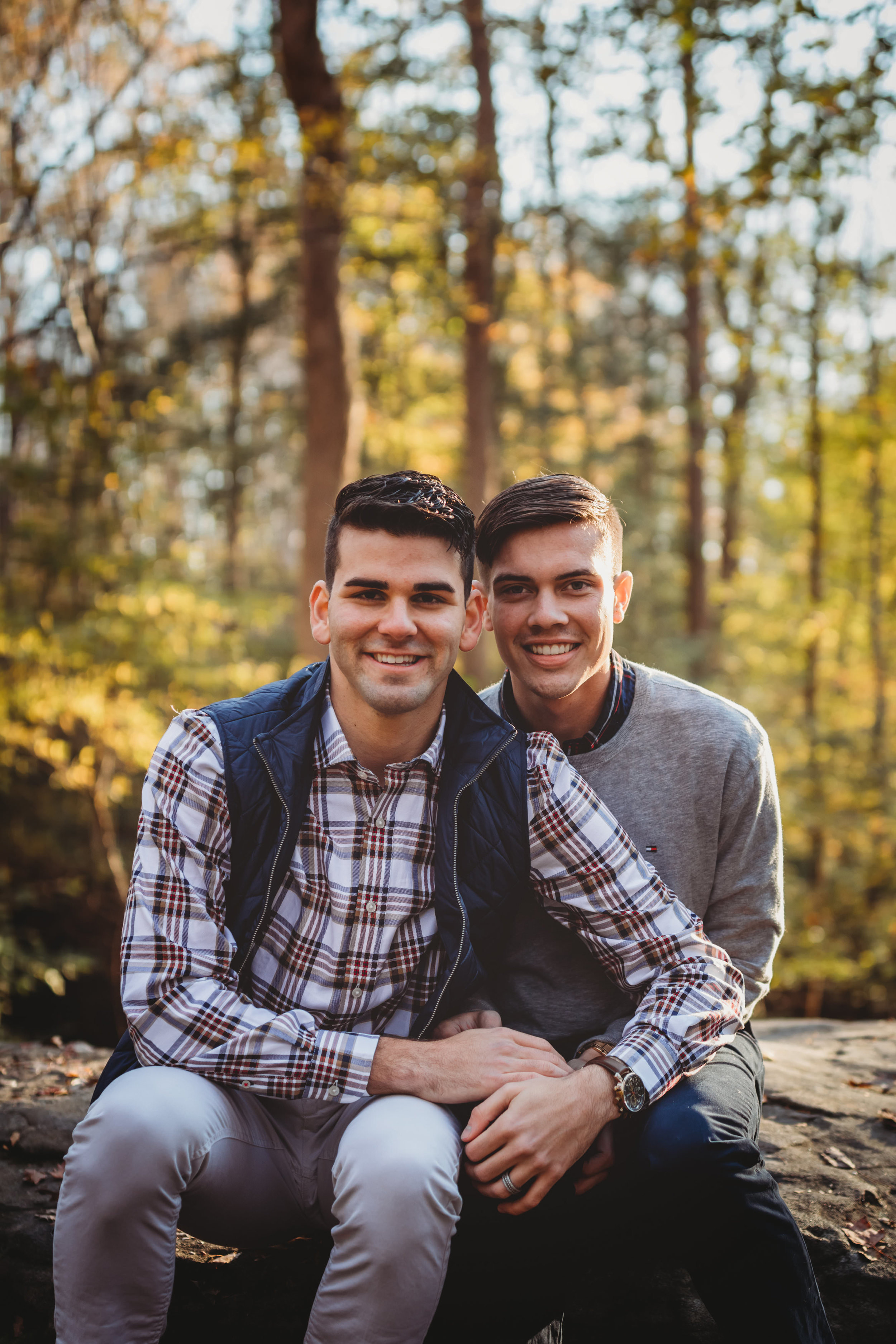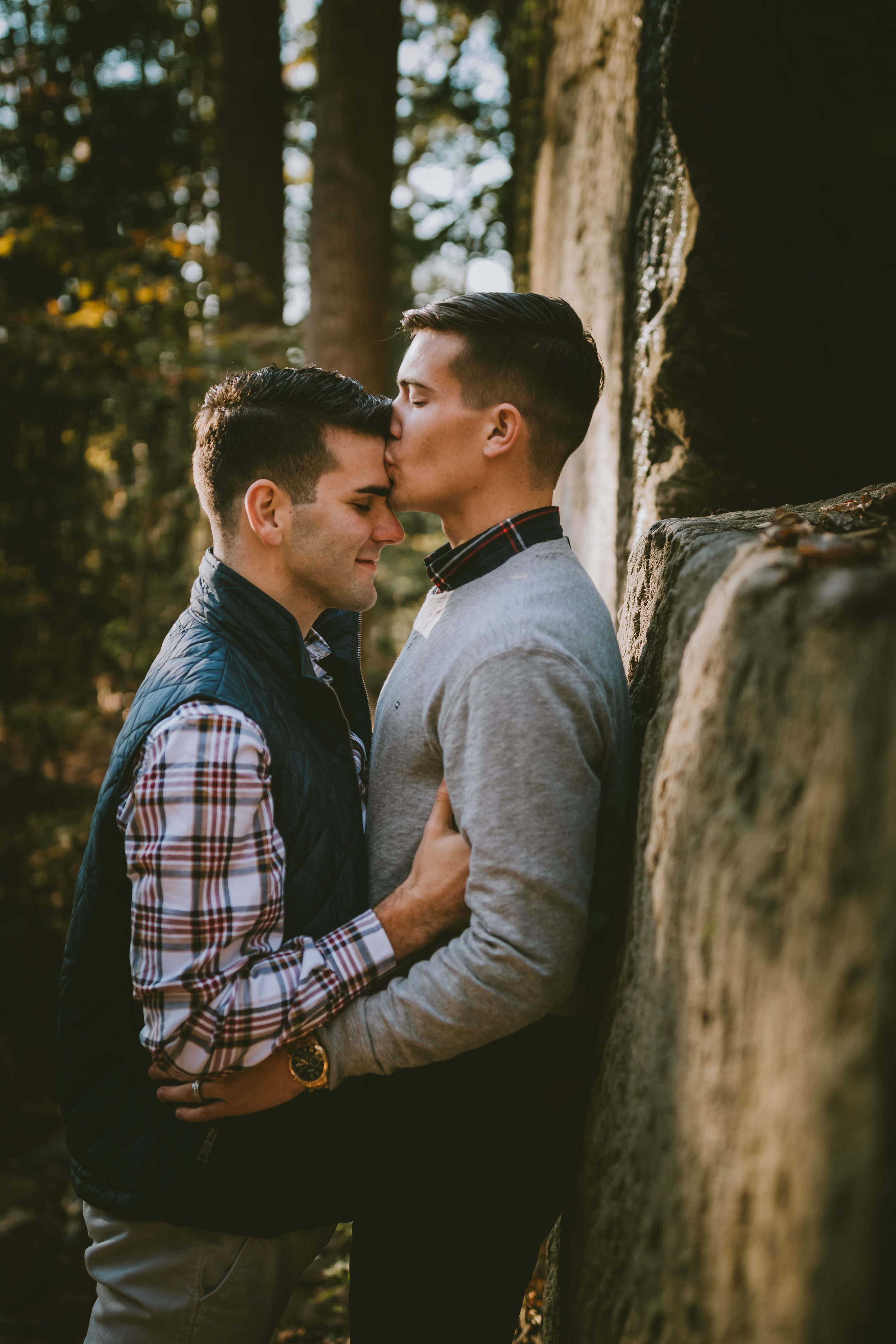 Javi said yes and the two exchanged rings, but that wouldn't be the last of their proposals. Javi had a proposal of his own in mind before Michael had his in the works. "I had a trip to Paris planned. I knew it would be the perfect opportunity to ask Michael to marry me."
On a Monday in March, on a rainy day in Paris, in front of the Eiffel Tower, Javi surprised Michael by getting down on one knee and reflecting the same question, "Will you marry me?"
"I was so nervous, I was shaking!" Javi exclaimed. "He was so nervous that I could tell something was going on. The week before we left for the trip, he changed us from having casual outfits for the photo shoot to having full tuxedos. He told me that the photographer only photographs people in formal wear. I knew something was up, but I was still pleasantly surprised." With two picture perfect proposals on two separate continents, Michael and Javi are now right in the midst of planning their wedding.
Set for August 8th, 2020, the two will say their vows in Puerto Rico. In describing the wedding, Javi emphasized, "I really just want our families to be together on an island that we love." Michael added, "I think too, everything with us is typically an experience. We want to give our guests a great experience with our wedding. Instead of a typical rehearsal dinner, we are going to beach hop and tour around the island. Puerto Rico holds a special place in both of our hearts. It will be a very personal and intimate celebration."
Now fiancés, they couldn't be more excited to tie the knot!
Concerning Michael, Javi leaves us with this — "I love that we can be ourselves with each other, fully. I love that his family has adopted me from day one and they have become my family. I love that he cares so much about everything in my life. He pushes me to be a better person every single day. Sometimes, he believes in me more than I believe in myself. There are just so many things… I love him."

Follow Michael and Javi's journey together on Instagram at @MichaelandJavi.